Main content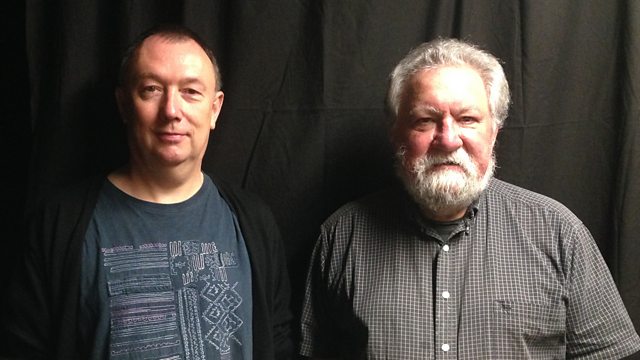 Evan Parker 70th and John Butcher 60th Birthday Sessions
Jez Nelson presents specially recorded solo sessions from leading British saxophonists Evan Parker and John Butcher.
Jez Nelson presents solo sessions, especially recorded for Jazz on 3, from two of the UK's greatest living saxophonists: Evan Parker and John Butcher.
70 this year, Evan Parker has been at the heart of the British and international free-jazz scene for half a century. Working on both sides of the Atlantic in ensembles both large and small, his collaborations read like a roll call of improvised music's great and good: Cecil Taylor, Anthony Braxton, Derek Bailey, Alexander Von Schlippenbach, Kenny Wheeler, and recently, electronic artist Squarepusher. Yet he's best loved for his solo playing. 'One of the music's greatest living instrumentalists' according to The Times, Parker uses a range of complex techniques (circular breathing, split tonguing, overblowing, multiphonics, cross-pattern fingering) to create organic, immersive and hypnotic musical worlds.
2014 also sees John Butcher turn 60. Originally a physicist studying Quarks, Butcher left academia in the 1980s to form the London Improvising Ensemble with pianist Chris Burn, as well as a soprano saxophone quartet with Evan Parker. His solo playing explores electronic techniques like multi-tracking as well as the outer limits of feedback and extreme acoustics: "Some of the best bits come when you're playing near the edge of your control and knowledge. When the music's working, I think it creates its own connections and shapes that are more interesting than ones you might have tried to consciously impose."
Presenter: Jez Nelson
Producer: Miranda Hinkley.
Last on
Music Played
RR-ZZYIMEX-302

Jazz on 3 (Mon Wk 42)

New Release

The Grip

Acorn

Celebrate.
Slowfoot Records.

Evan Parker and John Butcher join Jez in the Studio

Evan Parker session

Evan Parker

Reed Greed 1

Composer: Evan Parker

Evan Parker and John Butcher on their relationship with different playing spaces

John Butcher

Mustard Bath

Recorded in 2002 at Oya Stone Mountain, Utsonomiya, Japan

Cavern with Nightlife.
Weight Of Wax.

John Butcher

Trägerfrequenz

Recorded in 2006 at Gazometer, Oberhausen, Germany

Geometry of Sentiment.
Weight Of Wax.

John Butcher session

John Butcher

Loculus 1

Composer: John Butcher

John Butcher

Loculus 2

Composer: John Butcher

John Butcher

Loculus 4

Composer: John Butcher

John Butcher

Loculus 6

Composer: John Butcher

Evan Parker explains extended techniques

Evan Parker session

Evan Parker

Reed Greed 3

Composer: Evan Parker

Evan Parker

Reed Greed 5

Composer: Evan Parker

Evan Parker

Reed Greed 2

Composer: Evan Parker

John Butcher explains his feedback approach

John Butcher session

John Butcher

Loculus 3

Composer: John Butcher

Broadcast