Main content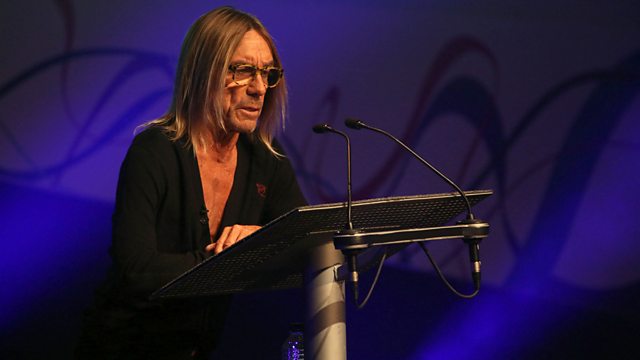 Iggy Pop's BBC Music John Peel Lecture
Another chance to hear Iggy Pop deliver the BBC Music John Peel Lecture 2014 from the UK Radio Festival in Salford on the topic of free music in a capitalist society.
Another chance to hear Iggy Pop deliver the BBC Music John Peel Lecture 2014 on the topic of Free Music in a Capitalist Society.
Iggy has never given a lecture in his life, but live from the UK Radio Festival in Salford he is going to attempt a discussion on the subject of free music in a capitalist society. A struggle which he says never ends.
The annual John Peel Lecture invites a notable figure from the music industry to shape a debate and create insight around music and music-related media. Taking its inspiration from one of the greatest radio broadcasters of all time, and a figure who perpetually challenged the status quo, the John Peel Lecture has been a part of the Radio Festival since 2011. The John Peel Lecture 2014 also marks 10 years since Peel's passing.
'Godfather of punk', Iggy Pop, is considered by many to be one of the pioneers of punk rock music and his musical legacy has inspired and energised rock and roll's alternative spirit since the late sixties. And John Peel was in fact the first DJ to play Iggy Pop as part of The Stooges on UK Radio - introducing listeners to their track, Little Doll from their eponymous debut album, on his show in August 1969. Fun House was released in 1970, followed by the band's third album, Raw Power, which has been cited as one of the most influential records of all time. Iggy has also released music as a solo artist and collaborated with other musicians, including David Bowie, Debbie Harry, Death In Vegas and Peaches. His incredible back catalogue of classic tracks includes Lust for Life, The Passenger, I Wanna Be Your Dog, Search and Destroy, Real Wild Child and many more. Although hugely influential to many of the major acts that came after, Iggy's own wide-ranging influences include blues, jazz, french chanson, art rock, roots, reggae, ethnic and avant-garde.
Iggy Pop joins a list of high profile speakers who have delivered the John Peel Lecture. These are The Who's Pete Townshend in 2011, who explored the implications of digital music media in an age of free downloads and a disposable attitude to music; Billy Bragg in 2012 who's speech explored how music and radio need mavericks to keep moving forward; and in October 2013, Charlotte Church delivered an insightful speech on the theme of women and their representation in the music industry.
Last on
Read about this year's lecture on the subject of 'Free Music in a Capitalist Society'

Download the free podcast of Iggy's seminal John Peel Lecture.

Find out what got the social media world in a tizz over his seminal John Peel lecture

Two hours of Iggy Pop's personal, eclectic, and exciting music choices

Iggy chats about his record collection, played on his 6 Music Sunday show & on Playlister

Watch Iggy Pop's keynote John Peel Lecture from the Radio Festival in Salford.
Music Played
Bow Wow Wow

Go Wild In The Country (David Jensen session 23.9.80)

Bessie Jones

Sink Em Low

Get in Union.
Tompkins Square.

Liars

Pro Anti-Anti (6 Music Session 18/08/2014)

Luke Wilson-King

Swing That Thing

Everlasting Arms.
Bloodshot.

MC5

The American Ruse

Back in the USA.
Atlantic.
008.

The Nightingales

Unpretty
Broadcasts