Main content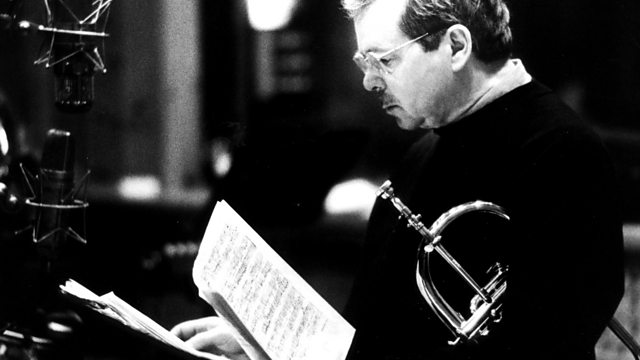 Kenny Wheeler Tribute
Jez Nelson presents a tribute to the late trumpeter and composer Kenny Wheeler. With archive live performances and tributes from musical colleagues of Wheeler's.
Jazz on 3 remembers trumpeter and composer Kenny Wheeler who sadly passed away just over a week ago, aged 84.
Originally from Toronto, Kenny Wheeler moved to the UK in his early twenties and over the course of a half-decade became one of the most cherished musicians on the British scene. His trademark composition style and haunting horn sound inspired a generation - making his mark through projects ranging from free improvisation with Anthony Braxton, to Azimuth with John Taylor and Norma Winstone, to his famed big band work and recordings for ECM.
John Fordham and Nick Smart join Jez Nelson in the studio to celebrate Kenny Wheeler's life and music, revisiting a number of archive live performances recorded by the BBC over the years. Plus, we hear from many of Wheeler's musical colleagues who join in paying their tributes.
Presenter: Jez Nelson
Producer: Joby Waldman.
Last on
Music Played
Kenny Wheeler

Sweet Time Suite: Part I - Opening

Composer: Kenny Wheeler

Music For Large And Small Ensembles.
ECM.

Stan Sulzmann on playing with Kenny Wheeler at last year's London Jazz Festival

Kenny Wheeler Quintet recorded for Jazz on 3 at The Clore Ballroom, Southbank Centre, London at the 2013 London Jazz Festival

Line up: Kenny Wheeler (trumpet); Stan Sulzmann (tenor saxophone); John Taylor (piano);

Chris Laurence (double bass); Jim Hart (drums)

Kenny Wheeler Quintet

A Pretty Lidl Waltz

Composer: Kenny Wheeler

Norma Winstone and Stan Sulzmann on Kenny's Wheeler's writing

Kenny Wheeler

Sweet Time Suite: Part VI - Consolation

Composer: Kenny Wheeler

Music For Large And Small Ensembles.
ECM.

Kenny Wheeler Orchestra in session for BBC Jazz in Britain Series in 1976

Kenny Wheeler Orchestra

Old Ballad

Composer: Kenny Wheeler

Globe Unity Orchestra recorded Live In Wuppertal in 1973

Globe Unity Orchestra

Yarrak

Composer: Alexander Von Schlippenbach

Manfred Eicher on Kenny Wheeler's tone

Kenny Wheeler's 'Angel Song Quartet' recorded for Jazz on 3 at the Barbican, London in 1999

Line up: Kenny Wheeler (trumpet); Lee Konitz (alto saxophone); Bill Frisell (guitar); Dave Holland (double bass)

Kenny Wheeler

Angel Song

Composer: Kenny Wheeler

Kenny Wheeler Quintet recorded for Jazz on 3 at Bath Festival in 2002

Line up: Mark Feldman (violin); Kenny Wheeler (trumpet); John Taylor (piano); Chris Laurence (bass); Adam Nussbaum (drums)

Kenny Wheeler Quintet

Kind Folk

Composer: Kenny Wheeler

Darcy James Argue on Music for Large and Small Ensembles

Kenny Wheeler

Sweet Time Suite: Part I - Opening

Composer: Kenny Wheeler

Music For Large And Small Ensembles.
ECM.

Gwilym Simcock on his first encounters performing with Kenny Wheeler

Kenny Wheeler's 75th Birthday Concert recorded for Jazz on 3 at the Queen Elizabeth Hall, London in 2005

Kenny Wheeler Big Band

Long Suite 2005

Composer: Kenny Wheeler

Kenny Wheeler's final recording on ECM

Line up: Kenny Wheeler (flugelhorn); Stan Sulzmann (tenor saxophone); John Parricelli (guitar);

Chris Laurence (double bass); Martin France (drums)

Kenny Wheeler

Seventy Six

Composer: Kenny Wheeler

Unreleased / Forthcoming.
ECM.

Large Ensemble Line Ups:

Kenny Wheeler Orchestra in session for BBC Jazz in Britain Series in 1976
Kenny Wheeler - trumpet / flugelhorn 
Dave Hancock - conductor
Norma Winstone - voice
John Horler - piano
Chris Laurence - double bass 
Bryan Spring - drums
Tony Coe - alto saxophone
Art Themen - tenor saxophone
Brian Smith - tenor saxophone
Baritone Sax - baritone saxophone
Ian Hamer - trumpet
Jim Brown - french horn
Stephen Wick - tuba
Dave Horler - trombone
Bill Geldard - trombone

Globe Unity Orchestra recorded Live In Wuppertal in 1973
Kenny Wheeler - trumpet 
Manfred Schoof - trumpet 
Peter Bennink - alto saxophone, bagpipes 
Peter Brötzmann - alto, tenor & bass saxophone 
Gerd Dudek - tenor saxophone, clarinet, flute 
Evan Parker - soprano & tenor saxophone 
Michel Pilz - bass clarinet, flute, baritone saxophone 
Günter Christmann - trombone 
Paul Rutherford - trombone 
Peter Kowald - tuba, alphorn 
Alexander von Schlippenbach - piano 
Buschi Niebergall - double bass 
Paul Lovens - drums 

Kenny Wheeler's 75th Birthday Concert recorded for Jazz on 3 at the Queen Elizabeth Hall, London in 2005
Kenny Wheeler - trumpet
Hugh Fraser - conductor
Norma Winstone - voice
Gwilym Simcock - piano
John Parricelli - guitar
Dave Holland - double bass
Martin France - drums
Lee Konitz - alto saxophone
Evan Parker - tenor saxophone
Julian Arguelles - saxophones
Duncan Lamont - saxophone
Stan Sulzmann - saxophone
Ray Warleigh - saxophone
John Barclay - trumpet
Ian Hamer - trumpet
Henry Lowther - trumpet
Derek Watkins - trumpet
Gordon Campbell - trombone
Barnaby Dickinson - trombone
Richard Henry - trombone
Mark Nightingale - trombone


Kenny Wheeler

Photo by Patrick Hinely (courtesy of ECM) taken during the Angel Song session in New York, February 1996

Kenny Wheeler and Stan Sulzmann

In concert for Jazz on 3 at Ronnie Scott's, London in 2010

Broadcast