Main content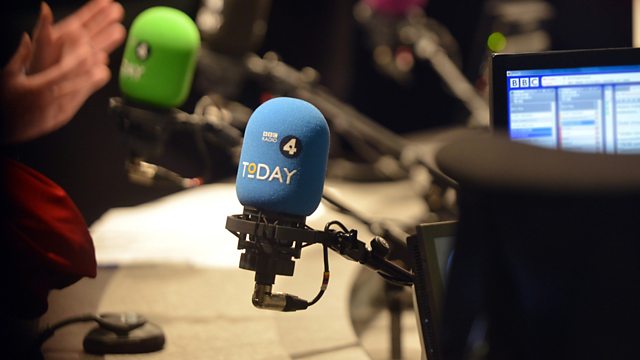 16/10/2014
Morning news and current affairs. Including Sports Desk, Yesterday in Parliament, Weather and Thought for the Day.
Last on

Thursday's running order
Today's running order
0633
As the US health authorities try to track down more than a hundred people who travelled on the same flight as a nurse who has now contracted ebola - it's emerged she was given clearance to fly. And President Obama has intervened to say how cases will now be dealt with. Tom Esselmont is our correspondent in Washington
0640
The first sizeable British military deployment to Sierra Leone is on its way. Almost a hundred medics with a Field Hospital unit based in Aldershot in Hampshire left late last night as part of Operation Gridlock. Another 650 will be going over the coming days and weeks. They include the nurse, William Pooley, who contracted ebola on his last trip - and was successfully treated here. The medics will be based about an hour's drive from Freetown, the capital of Sierra Leone. Richard Lister reports.
0649
A radio presenter in Yorkshire came off air while in the midst of gender re-assignment because her employer did not think being at work was in her best interests. Our reporter Sima Kotecha has been looking into the case.
0653
The Citizens Advice Bureau is warning against taking out high cost credit such as logbook loans, where a vehicle is used as collateral. It says the number of these loans has risen by a third in the last three years. BBC Radio One's Newsbeat programme has learned that nearly two thirds of young people deemed to be in 'serious debt' have asked for help after turning to these credit facilities. Frankie McCamley reports.
0655
Parliament should scrap the Climate Change Act and we should stop "exaggerating" the effects of climate change. Who says so? None other than the former environment secretary himself: Owen Patterson. Lord Adair Turner is former chairman of the Committee on Climate Change.
0709
Is the government about to launch a new policy initiative on immigration? Downing Street sources are quoted in the Times today saying that an announcement will almost certainly come before Christmas - bear in mind the Rochester by election is scheduled for November the 20th... Norman Smith is the BBC's Assistant Political Editor
0712
David Cameron is not going to sack Lord Freud. He's the minister who was recorded saying that some disabled people are not worth the minimum wage. Ed Miliband ambushed Mr Cameron in the Commons yesterday. Lord Freud has apologised and that seems to be that. But there are still plenty of people who think he should be sacked. Christian May is Head of Campaigns at the Institute of Directors.
0716
What impact is Ebola having for communities across affected parts of west Africa? Last night, we managed to speak to a 14-year-old boy who lives in Freetown in Sierra Leone. Alex Sannoh has lost both of his parents to Ebola. They died just days before several other members of his family also fell victim. Alex spoke via Skype to our reporter Tom Bateman, and described the moment he found out his parents had died.
0719
Business news with Joe Lynam.
0723
North America Correspondent Aleem Maqbool reports ahead of the US midterm elections which are just a few weeks way.
0732

If somebody is going through a sex change how does it affect their employment? And what if that person is a broadcaster? Simon Hirst - a Capital FM Yorkshire presenter announced last week that he was becoming Stephanie Hirst. Over the summer - he suddenly came off the airwaves. Our reporter Sima Kotecha has seen a letter from Global Radio, which owns Capital FM, which says it does not think the topic of gender reassignment is suitable for the shows that he presented when he was a man and that it was in his best interests to come off the radio. The DJ says a mutual agreement has been reached. Sima went to meet Stephanie at her home in Barnsley, South Yorkshire...

0743
On yesterday's programme the former health minister Lord Darzi, chair of the London health commission, said that junk food outlets should be banned within 400 metres of schools - because, he said, ''it's the figure children don't walk beyond in terms of junk food''. Is that fair...are today's school children really that lazy? What would they walk 400 metres for? Our reporter Zoe Conway has been trying to find out.
0749
Until three months ago Owen Paterson was the Environment Secretary. But his views now place him on a collision course with government policy - he says we should scrap the Climate Change Act - the legislation that commits the UK to cut carbon emissions by 80 percent by 2050 and that we need to stand up to "bullies" in the environmental movement.
0810
President Obama told a press conference that he had directed the Centers for Disease Control and Prevention to step up its response to new cases. He said a more aggressive approach was required a to address a lack of experience amongst health care workers... Jack Herrmann is chief of public health programs at the National Association of County & City Health Official
0830
The Labour party is today unveiling what it calls a roadmap to tackling the housing crisis -- a plan to take the number of new homes built in England to 200 thousand a year by 2050. Is it a realistic plan? Hilary Benn is the shadow Communities Secretary.
0833
Last night President Obama used a video conference call to urge European leaders - including David Cameron, Angela Merkel and Francois Hollande - to make "a more significant contribution" to the ebola outbreak. In New York the UN Security Council said the international community has so far "failed" to adequately address the growing Ebola crisis. Bill Scotting is the chief executive of ArcelorMittal Mining - the largest private investor in Liberia.
0836
Three members of a Dutch motorcycle club are now leading a Kurdish battalion fighting against the Islamic State in Iraq. This is according to the leader of 'No Surrender' - the Netherlands largest motorcycle club. These biker gangs aren't normally open to outsiders. We gained rare access to one of their gatherings last night. Anna Holligan went down to Breda to find out more about the Dutch bikers battling IS.
0845
A new online tool, Polifiller.com, is being launched, which will supposedly automatically strip jargon and clichés out of politicians' speeches and statements - to help politicians rid their vocabulary of hackneyed phrases and give the electorate the clarity they deserve. Hamish Thompson, managing director of Houston PR developing the online tool and Robert Hutton is the UK Political Correspondent for Bloomberg News and author of 'Would They Lie To You? How To Spin Friends and Manipulate People'.
All subject to change.
Broadcast