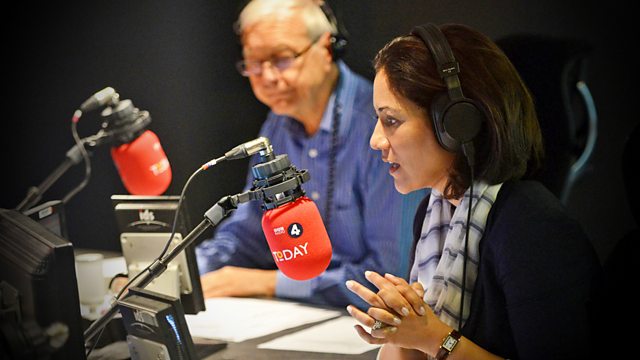 15/10/2014
Morning news and current affairs. Including Sports Desk, Yesterday in Parliament, Weather and Thought for the Day.
Last on
Today's running order
Wednesday's running order 


0633 
The head of the UN mission for ebola in Antony Banbury has warned that the world needs to do more to catch up with the disease. He says by December there could be ten thousand new cases every week in west africa. Our health reporter Smitha Mundasad provides analysis. 

0635 
Is it right that people sometimes spend months, even years, on police bail - and then face no charges?  The home secretary thinks not, and she wants to set limits. Danny Shaw, the BBC home affairs correspondent reports. 

0638 
It's Prime Minister's Questions today - the first since the conferences and last week's by-election. Norman Smith is the BBC's Assistant Political Editor.  

0648
Three years after the UK and France led the way to the downfall of Colonel Gaddafi, its newly-elected parliament has fled the capital, Tripoli, driven out by Islamist-led militias for a small town on the edge of the country. The BBC's Tim Whewell is one of the few foreign reporters who's made it to Tobruk, where the parliament is now based...

0652 
There are almost 10 million trips to hospital in England every year as a result of alcohol. That's according to Alcohol Concern which says the health service is facing an "intolerable strain" from people drinking too much. Emily Robinson is Deputy Chief Executive of Alcohol Concern. 

0709 
A European championship football match between Serbia and Albania is abandoned after a drone carrying a political message sparks clashes. Mitra Nazar is a Dutch journalist who is based in Belgrade who was at the match and Guy de Launey is the BBC's Belgrade correspondent.

0713 
If you are arrested by police you can spend months - or even years - on bail before the police decide whether to charge you. A number of high profile cases recently have highlighted the way the law can work. The Home Secretary Theresa May will give a speech to the College of Policing today in which she will propose a limit on how long someone can be on bail before a decision to charge is taken. Vera Baird QC was labour's solicitor general and is now the police and crime commissioner for Northumbria.

0717 
Business news with Jonty Bloom.

0720 North America Correspondent Aleem Maqbool reports ahead of the US midterm elections which are just a few weeks way.

0731 
The government's energy policy will "fail to keep the lights on", the former environment secretary Owen Patterson will say today. The Conservative MP will criticise "blind adhesion" to emissions targets in a speech to lobby group the Global Warming Policy Foundation, and that legally-binding target should be suspended and possibly repealed. Dr Doug Parr isChief Scientist and Policy Director at Greenpeace UK

0741 
The UK's biggest selling recording artist this year, Ed Sheeran talks to the programme about his journey to fame - and how, at one point, he was homeless and sleeping on the tube... 

0750 
Plans to ban smoking from London's public parks have been backed by England's chief medical officer, Sally Davies. The proposals will be outlined today by Lord Darzi of the London Health Commission. Lord Darzi joins us. 

0810 
The head of the UN mission for Ebola, Anthony Banbury, has urged the world to act swiftly, warning that the biggest enemy in tackling the disease is time. Dr Louisa Baxter is a public health doctor from Save the Children, who returned from Liberia and Sierra Leone just over 3 weeks ago. 

0815 
It's prime minister's question today - a bigger event perhaps for Ed Miliband than for the Prime Minister. This will be the first Prime Ministers Questions since that Conference speech. The first too since Labour's near-death experience at the hands of UKIP in a by-election they won by just 600 votes. The BBC's political editor Nick Robinson reports.

0819 
An Australian author has won the £50,000 Man Booker Prize for his wartime novel The Narrow Road to the Deep North. We hear from Richard Flannigan who took twelve years to write the novel - inspired by his father's experiences as a prisoner of war - and finished it the day his father died. 

0830 
Thousands of civil servants are expected to take part in a 24-hour strike today, about pay. The PCS union says years of pay restraint will amount to a twenty per cent cut to incomes in real terms by next year, when increases to pension contributions are taken into account. Mark Serwotka is general secretary of the PCS Union and Francis Maude is Minister for the Cabinet Office.

0836 
Iraq's army is engaged in a punishing fight with the forces of Islamic State; a fight which it is losing in many areas. As IS troops advanced, Shia militia groups engaged in hurried recruitment to fight them. It was an expedient solution, but one which has caused its own problems - exacerbating divisions between Sunni and Shia Muslims in Iraq. The BBC's Sally Nabil reports from Samarra.

0839 
We've heard a lot on the programme this week about the issue of loneliness, specifically amongst elderly people - many of whom for example struggle to cope after losing a loved one or are unable to see friends. But is there a similar pattern of loneliness amongst working age people too? Isabella Goldie is Director at the Mental Health Foundation and Daniel Mushens, who experienced the effects of loneliness and anxiety right through his twenties 

0846 
A major Rembrandt exhibition opens at the National Gallery today. Unusually for Rembrandt, the show is dedicated solely to his later works - from 1650 up to his death in 1669. Betsy Wieseman, Curator of the Rembrant exhibition, and Rachel Campbell-Johnston, Chief Art Critic of The Times discuss the phenomenon of artists' late periods, and why they can be neglected.  

All subject to change.
So you think you know the Today programme?