Main content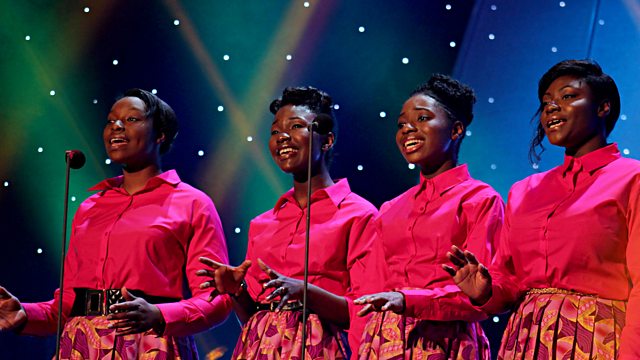 Gospel Choir of the Year, Part 2
It's decision time for celebrity judges Carrie Grant, Mica Paris and Muyiwa Olarewaju. From London's Hackney Empire, David Grant hosts the inspirational and exciting final of the competition as six amateur choirs take to the stage hoping to become the Songs of Praise Gospel Choir of the Year.
Music Played
Timings (where shown) are from the start of the programme in hours and minutes
Factsheet for Sunday 5th October 2014
This second episode of Gospel Choir of the Year presented by David Grant features six talented Gospel Choirs from around Britain who must impress judges Mica Paris, Muyiwa Olarewaju and Carrie Grant and an enthusiastic audience in the Hackney Empire, London with a performance of an inspirational song in a Gospel style.
Gospel Choir Finalists
The B.I.G Choir
Gospel Rhythms
The Reapers Choir
AINE
Lewes Sings Gospel
Living Faith Connections Choir
Judges
MICA PARIS
Mica's roots are in soul and Gospel music. She grew up singing in her grandparent's church and released her debut, platinum-selling album 'So Good', when she was just 19.
In 2002 Mica extended her talents into broadcasting and presented 'The Gospel of Gospel', a TV documentary tracing the influence of Gospel on American popular music. She became well known to BBC audiences when she co-hosted 'What Not to Wear'.
Mica has been presented with the "Gold Badge Award" by the British Academy of Composers and Songwriters for her special contribution to the British entertainment industry.
Mica says….
"Really looking forward to hearing all the choirs lifting their voices and to participate as a judge. Can't wait!"
CARRIE GRANT
One of the best-known vocal coaches in the UK, it was her involvement with 'Fame Academy', and 'Pop Idol' along with husband David Grant, that brought Carrie to the attention of the nation. Their book, 'How to Sing' is the biggest-selling vocal coaching book in the world.
Carrie has had a varied career, starting as a dancer on 'Top of The Pops', representing the UK in the Eurovision in '83. As a session singer she has worked with the likes of Diana Ross, Roberta Flack and Rod Stewart. Carrie and David's highly acclaimed gospel album 'Watching and Waiting' won them a MOBO Award in 1998.
These days Carrie is a regular presenter on 'The One Show' but singing remains her passion and she recently performed at Ronnie Scotts for the British Jazz Festival. She continues with her 'Girls' Night Out Tour' for World Vision.
Carrie says….
"There can be nothing better than the sound of many voices singing together, with passion, freedom and heart. I can't wait to get back in that judging seat!"
MUYIWA OLAREWAJU
Born in 1970 in London, Muyiwa lived for the first few years of his life in Nigeria. His earliest musical memories are of listening to church music and Kate Bush.
In his singing and song writing Muyiwa mixes traditional Gospel music with elements of world music, soul, R&B and pop. With his group Riversongz he has released five albums that feature his distinctive singing voice and "spoken word" monologues/raps. The latest is 'Declaring His Name All Around The World', and features singers from India, China and Africa. They are the first gospel act to sell out Hammersmith Apollo and Indigo2 at the O2 in London.
As a broadcaster, he has a late-night show on London's Premier Christian Radio, where he presents their flagship 'Gospel Tonight' and 'Worship Tonight' programme and he's also the front man on 'Turning Point', the American TV programme that's seen all over the world.   
Muyiwa says…
"I am delighted to be part of this wonderful programme that shines some light on the prodigious Gospel talent we have in our country."
Choirs
B.I.G. Choir
Andrea Encinas is the arts director of British Gospel Arts as well as the founder and director of the B.I.G. choir, a training choir that's been in existence since April 2012.  There are 67 members at present; although 40 will be performing on Gospel Choir of The Year.

Andrea says the choir is non-auditioned and people come for all sorts of reasons and range in ages from early 20s to members aged 60, including people from different backgrounds. Andrea says the choir has a family feel and that people 'look after each other' but have a strong passion for singing.  Their tag line is 'putting the soul into choral music.'
Gospel Rhythms
Gospel Rhythms are based at Coventry University and perform in churches, at music events and at university functions. Rebecca, who has led and conducted the choir for the last 3 years says she takes a relaxed approach to coaching but is very passionate about singing and encourages the choir to focus on their passion. Rebecca says each performance the choir do has a very different experience. Many of the choir members are students but many have also left university but continue to sing with the choir because they love singing with the choir so much. The longest standing member has been with the choir for 6 years. The choir is also conducted by David who describes the choir as a family of people that come together to share the Gospel.

The Reapers Choir
The choir is led by Anu who explains that she wants to enter Gospel Choir Competition because singing means so much to her and the choir. The choir will feel at home in The Hackney Empire as the choir are based in Hackney at Christ Apostolic Church. The choir members have all sung, some still do, in the church's classical choir and they like to sing quasi-classical arrangements, which suit their voices.

Anu has composed one the songs that the choir performs. It was written whilst grieving for her father. Anu explains that the words in the song 'Stand Still' sum up the choirs attitude to God, Faith and Lives.
AINE
AINE (pronounced 'Onya') started with 5 ladies in 2007. As the choral director, Alex wanted to choose an appropriate name for this small female choir. He wanted to find a female name and came across the celtic name 'AINE' meaning 'Joy and Peace.' He said 'joy and peace' is the way he wants his music to sound. Their music is based on 7th Day Adventist Christianity. The choir share a commitment to the bible and have a belief in its values. He says the choir is now mixed (males and females) and there are 9 members who will be performing on Gospel Choir of The Year. They share Alex's vision in creating a unique, contemporary sound, which takes its spirit from 'Praise and Worship.'

Lewes Sings Gospel
Lewes Sings Gospel is a community choir run by Southover Church in Lewes. Southover is a medium-sized Anglican church, with a passion to be outward-focussed and to serve the community. The gospel choir is one way in which it serves the local community and makes connections between those inside and outside the church.
The choir is made up of a real mix of people, with ages ranging from 30 to 70, lots of the members travel from as far as Brighton to perform with the choir. Chris, the choir leader has grown up with the church from choirboy to choir leader and has really embraced the Gospel spirit since the launch of Lewes Sings Gospel in 2009.
The choir's conductor, Karen Gibson has also been associated with Lewes Sings Gospel since its launch in 2009. Karen is a well-known and highly respected choir director in the Gospel community.
Living Faith Connections Choir
Evans Ogboi who is a full time member of the church – Living Faith Connections Church in Barking, runs Living Faith Connections Choir. The choir has 38 members and is 13 years old. Evans joined the choir 3 years ago and says that the choir feel the power of God when they sing. Evans explained that he was really pleased the choir got through to the final because he's "excited to be able to reach out to people." This is a Church choir. He says "We're passionate, excited, talented, energetic – and contemporary." Evans produces music for artists full-time and he has his own music-studio at home.
Credits
| Role | Contributor |
| --- | --- |
| Presenter | David Grant |
| Presenter | Josie D'Arby |
| Judge | Carrie Grant |
| Judge | Mica Paris |
| Judge | Muyiwa Olarewaju |
| Producer | Charlotte Hindle |
| Series Producer | Matthew Napier |
| Executive Producer | David Taviner |