Main content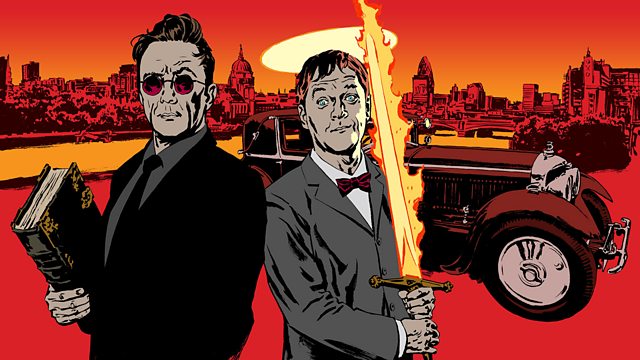 A rather special baby is delivered, initiating an apocalyptic chain of events. But there is a problem. Stars Peter Serafinowicz.
The demon Crowley is tasked with the delivery of a baby to St Beryl's hospital, initiating a chain of events that will lead to Armageddon. But things don't quite go to plan.
With a cast led by Peter Serafinowicz and Mark Heap, this is the first ever dramatisation of Terry Pratchett and Neil Gaiman's Good Omens.
According to the Nice and Accurate Prophecies of Agnes Nutter, the world will end on a Saturday. A Saturday quite soon, on Radio 4.
Events have been set in motion to bring about the End of Days. The armies of Good and Evil are gathering and making their way towards the sleepy English village of Lower Tadfield. The Four Horsepersons of the Apocalypse - War, Famine, Pollution and Death - have been summoned from the corners of the earth and are assembling.
Witchfinder Sergeant Shadwell and his assistant Newton Pulsifier are also en route to Tadfield to investigate some unusual phenomena in the area, while Anathema Device, descendent of prophetess and witch Agnes Nutter, tries to decipher her ancestor's cryptic predictions about exactly where the impending Apocalypse will take place.
Atlantis is rising, fish are falling from the sky; everything seems to be going to the Divine Plan.
Everything that is but for the unlikely duo of an angel and a demon who are not all that keen on the prospect of the forthcoming Rapture. Aziraphale (once an angel in the Garden of Eden, but now running an antiquarian bookshop in London), and Crowley (formerly Eden's snake, now driving around London in shades and a vintage Bentley) have been living on Earth for several millennia and have become rather fond of the place. But if they are to stop Armageddon taking place they've got to find and kill the one who will the one bring about the apocalypse: the Antichrist himself.
There's just one small problem: someone seems to have mislaid him...
Crowley ...... Peter Serafinowicz
Aziraphale ...... Mark Heap
Sister Patricia Prattle ...... Tracy Wiles
Dagon ...... Ben Crowe
Mr Young ...... Simon Jones
Ligur ...... Neil Maskell
Warlock ...... Rudi Goodman
Agnes Nutter ...... Josie Lawrence
Sister Grace Voluble ...... Marcella Riordan
Sister Mary Loquacious ...... Louise Brealey
Hastur ...... Phil Davis
Policeman ...... Terry Pratchett
Policeman ...... Neil Gaiman
Young Anathema ...... Lily-Rose Aslandogdu
Adaptation and sound design by Dirk Maggs.
Producer: Heather Larmour
First broadcast on BBC Radio 4 in December 2014.
Last on
More episodes
Previous
You are at the first episode
Peter Serafinowicz (Crowley) and Mark Heap (Aziraphale) deliver famous lines to camera.
Credits
| Role | Contributor |
| --- | --- |
| Actor | Peter Serafinowicz |
| Actor | Mark Heap |
| Writer | Neil Gaiman |
| Writer | Terry Pratchett |
| Adaptor | Dirk Maggs |
Broadcasts