Main content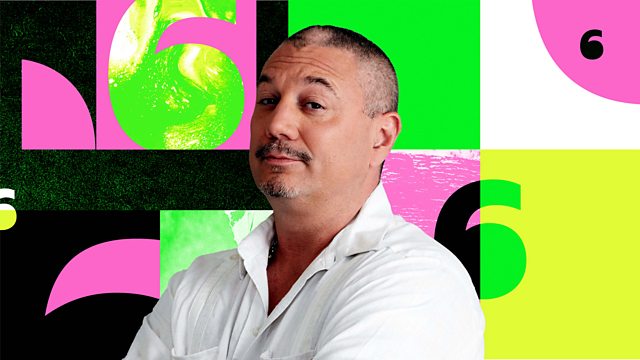 Music on Your Television
Huey presents a special show celebrating the best TV music. As TV productions get closer to the standards of the big screen, TV music has also increased its production value.
Music On Your Television
Huey has a special show celebrating the best music used on TV.
As TV production values get closer to those of the big screen, the music created for, and used on television shows, has also increased in its production value. In this show Huey celebrates the music of the small screen.
Huey will be playing the music used in TV shows such as Breaking Bad, The Wire, Boardwalk Empire, True Detective, and This Is England.
Huey will be going further into the past and dedicating part of his show to the classic, funky sounds of cult 70s cop shows, shows such as Hill Street Blues and Streets Of San Francisco. Huey will also celebrate the great made for TV compositions of Quincy Jones and Henry Mancini.
Joining Huey on the show will be Matt Kilmore who created the music for one of the most striking shows of the last few years, Louie. Louie is one of Huey's favourite shows for the way it portrays New York City, and the music takes its cues from classic shows such as Charlie Brown.
Last on
Music Played
Alabama 3

Woke Up This Morning

The All Seeing I

Beat Goes On

The Barr Brothers

Love Ain't Enough

SLeeping Operator.
Secret City Records.
001.

The Beatles

Helter Skelter

BIll Cosby & Quincy Jones

Hicky Burr

Benjamin Booker

Always Waiting

The Byrds

Turn! Turn! Turn! (To Everything There is a Season)

Caribou

Our Love

Our Love.
City Slang.
001.

The Charlatans

Talking In Tones

The Quietus Phonographic Company.

Sammy Davis Jr.

Barretta's Theme (Keep Your Eye On The Sparrow)

Elliot And Ferguson

Barney Millar

Pokey LaFarge

Lovesick Blues (feat. Vince Giordano & The Nighthawks)

The Jimi Hendrix Experience

Purple Haze

Honeyblood

Choker

Honeyblood.
FatCat Records.

Jeff Russo & The Prague Filmharmonic Orchestra

Wrench And Numbers

Thurston Moore

The Best Day

Pink Floyd

One of These Days

The Pogues

The Body Of An American

Mike Post

The Rockford Files Theme

Rebirth Brass Band

Feel Like Funkin' It Up

Gruff Rhys

Lost Tribes

American Interior.
Turnstile.
001.

Rhythm Heritage

S.W.A.T Theme

La Roux

Kiss And Not Tell

Trouble In Paradise.
Polydor.
001.

Tom Scott

Starsky And Hutch Theme

The Stone Roses

She Bangs The Drums

Patrick Williams

The Streets Of San Francisco

Thom Yorke

A Brain In A Bottle
Broadcast