Main content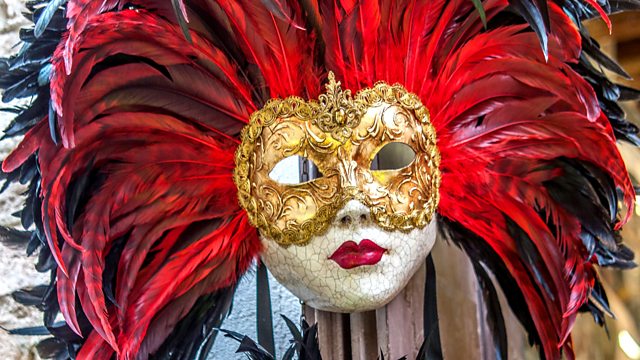 In Disguise
Texts and music on the theme of disguise, with readings by Susan Jameson and Tom Durham. Including Homer, Yeats and Kenneth Grahame, plus Mozart, Saint-Saens and Charlie Parker.
Men, women, gods and a toad all don disguise in this edition of Words and Music, in pursuit of sex, riches, revenge and freedom.
Susan Jameson and Tom Durham read poems and prose from Homer, the Bible and Shakespeare; and WB Yeats, Michael Donaghy and Kenneth Grahame.
Emotions are hidden, but find expression in music by Tchaikovsky, Mozart, Saint Saëns, Charlie Parker, Martin Carthy and Elvis Presley.
Producer: Julian May.
Music Played
Timings (where shown) are from the start of the programme in hours and minutes
W. B. Yeats

Leda and the Swan read by Susan Jameson

Charles Boyle

The Disguise read by Tom Durham

William Shakespeare

Twelfth Night Act II Sc II: Malvolio – Tom Durham; Olivia – Susan Jameson

Jackie Kay

The Adoption Papers; Chapter 3, The Waiting Lists read by Susan Jameson

Charles Causley

Conducting a Children's Choir read by Susan Jameson

The King James Version of The Holy Bible

Genesis 27 vs 1-35 Isaac, Esau and Jacob read by Tom Durham

Kenneth Grahame

The Wind in the Willows, Toad escapes from prison dressed as a washerwoman

Michael Donaghy

Shibboleth read by Tom Durham

Homer

The Odyssey, The Return of Odysseus, translated by E. V. Rieu and read by Tom Durham

Homer

The Odyssey, The Return of Odysseus, translated by E. V. Rieu and read by Tom Durham

Producer Note

Sometimes a strange serendipity is at work in the making of radio programmes. On Saturday the Minister for Civil Society, Brooks Newmark, resigned. He had sent a revealing picture of himself in his pyjamas to Sophie Wittams, a Tory PR girl, hoping they might meet late one evening at the Conservative Party conference. But Sophie Wittams was actually a male freelance journalist, hiding his identity. The theme of this week's 'Words and Music' – In Disguise – became suddenly topical and pertinent.

 

From the earliest myths to the latest computer games, the assuming of another form runs through cultures throughout the world. Disguise is a staple device in literature, theatre, opera, traditional song and even music without words at all. Often the false identity is donned as a test, of fidelity or, as with Sophie Wittams and Brooks Newman, to manoeuvre someone into a revelation of their true nature, their real identity. There are, though, myriad motivations for adopting disguise – power, revenge, escape, love and, not least, fun. Nor is it always a person who is in disguise; it might be a home, even a tune. In this edition of Words and Music I explore many of these with the actors Susan Jameson and Tom Durham.

 

The programme opens with Tchaikovsky's 'Swan Lake', the scene in Act III when Odile, disguised as Odette, dances with Prince Siegfried so enticingly he pledges himself to her. Odette appears, frantic, at the window and Siegfried realises, too late, his mistake. The frenzy of the music and the startling devastation of the Prince suggested to me the W. B. Yeats poem 'Leda and the Swan', which begins: "A sudden blow: the great wings beating still". Zeus, in the form of a swan rapes Leda, an act of violence that, as this union produces Helen, eventually leads to the atrocities of the Trojan War, "And Agamemnon dead". Zeus is, as Elvis Presley asserts (though, admittedly, not of the king of the gods) the Devil – in disguise.

 

In 'The Disguise' by Charles Boyle, who was born in 1951, the narrator is consumed by love. This is sadly unrequited and he disguises himself so the object of his passion won't recognise him. Once he has assumed his disguise it seems to him that everyone is hiding their true identity. Reality unravels. At last he has to reveal himself, thus risking everything.

 

In 'Cosi Fan Tutte', 'Twelfth Night' and Fidelio' Mozart, Shakespeare and Beethoven create games of disguise. From these they weave work of astonishing beauty; the 'Soave sia il vento' farewell trio; the "thriftless sighs" of "poor Olivia"; the sublime contemplation of love in the 'Mir is so wunderbar' quartet.  These subterfuges work on deep emotions; they can be damaging; they are dangerous. Malvolio is a pompous figure of fun in Act II scene II, as he returns Olivia's ring. Later, he makes his final exit with the words, "I'll be revenged on the whole pack of you." And he means it.  

 

The canon of  traditional song is rich with women dressing up as men, often so they can join their lovers at sea or in the army. The Female Highwayman tests her lover, to see if he is worthy of such devotion. She robs him at gunpoint, but he steadfastly refuses to give up the ring she has given him…and so they live happily ever after. There is another version in which the song ends: "If you had given me that ring," she said. "I'd have pulled the trigger, and shot you dead."

 

Jackie Kay's first poetry collection, 'The Adoption Papers' tells her story through the voices of her birth and adoptive mothers, and the poet herself. In this excerpt the woman longing for a child strives to make the home of a communist, radical activist couple blandly bourgeois before a visit from a social worker. When it comes to the crunch she cannot bring herself to deny her true beliefs. The suggestion is that it is the honest assertion of these convictions that assures her and her adoptive daughter's futures. This is, though, somewhat enigmatic, as is the Elgar variation that follows. The 14th of the 'Enigma Variations' was assigned asterisks instead of the initials that helped identify his other subjects. There is a theory, too, that the variations are accompaniments to a theme that is not stated. Jackie Kay's mother disguises by hiding, Elgar, perhaps, by omitting entirely.

 

The great Cornish poet, Charles Causley, spent most of his working life teaching. He knew from years of close contact that children can be - are - devious and cruel, that the angelic aspect of the choristers he is conducting disguises this, and it scares him. Benjamin Britten's 'Balualow' is beautiful but, to my ears, sinister, too.

 

The story of Jacob hoodwinking his blind father and robbing his brother Esau (for the second time) is one of the most powerful stories of disguise and its consequences. In the rhythms and repetitions of the language of the King James Bible it astonishes, and mesmerises. The machinations of Rebekah bring about Esau's dereliction, and the evil workings of the mother lie behind all Eleanor's woes in the monumental ballad that follows, 'The Famous Flower of Serving Men'. It is a vivid piece of magical realism in which not only fair Eleanor is in disguise, as sweet William, but her slaughtered babe appears (perhaps) as an other-worldly hind and her murdered husband as a dove that speaks.

 

The Tortoises' tune  in 'The Carnival of the Animals' by Saint Saens is at once strange and familiar. Yes, that is the Can Can, slowed to the pace of those sedate reptiles. Mr Toad is another animal of some gravitas, yet Toad's escape from the prison disguised as the washerwoman is, simply, one of the great deliverances by disguise in all literature. Kenneth Grahame's English is pitched as perfectly as the King James Bible.

 

As Toad emerges from the castle's fastness appropriate 'hurry up' music is provided by Dizzy Gillespie, Bud Powell, Max Roach, Charlie Mingus and Charlie Chan, playing 'Salt Peanuts'. Charlie Chan? Well, Charlie Parker was signed to a competing label so it seemed that the night this jazz super-combo recorded 'Jazz at Massey Hall' a fictional Chinese detective was sitting in on sax.

 

'Shibboleth' is a tiny poem by Michael Donaghy that says something huge about language, and identity in a reference to popular culture. In 'The Tears of a Clown', that follows, there is a desperation to its disguising exuberance. Franz Schubert captures the enigmatic malevolence at the heart of Goethe's 'Erlkönig', and in the '5 Variants of 'Dives and Lazarus'' Ralph Vaughan Williams disguises in his orchestration for strings and harp the tune of a folk song, 'The Murder of Maria Monk in the Red Barn', that he collected in Norfolk. 

 

When Odysseus returns to Ithica at the end of 'The Odyssey' he is disguised as what, in a way, he really is, a weary traveller, a tramp who has spent years wandering. Only his faithful dog, Argos, recognises his master the king – and he dies of joy. Odysseus appears feeble. But he reveals his true self, the only man strong enough to string his mighty bow, and takes his revenge. Heinrich von Herzgenberg boldly renders this triumph in his Symphony for Large Orchestra, 'Odysseus'.

 

Producer: Julian May         

The hidden history of plant-based diets