Main content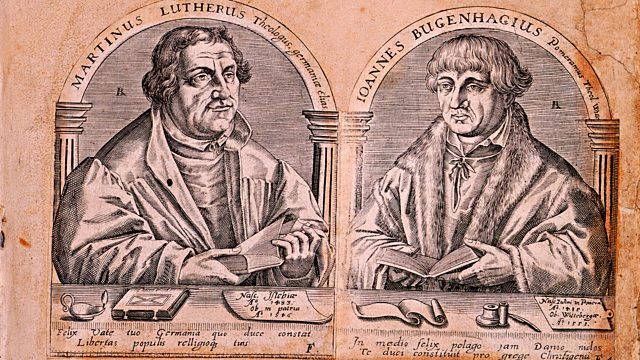 Luther and a Language for All Germans
Neil MacGregor focuses on the things that bind Germans together, beginning with the story of how Luther created the modern German language by translating the Bible.
Neil MacGregor continues his series with a week of programmes with a focus on the things which bind Germans together - ranging from the importance of the great German writer Goethe, and the significance of the Grimm brothers' fairy tales, to the long-standing history of German beer and sausages.
He begins with the story of how Martin Luther created the modern German language, through his translation of the Bible.
Luther is often, in German history, seen as the Great Divider. His attacks on his opponents were pitiless, not least his writings against the Jews. But he is also, unquestionably, a great Uniter - almost single-handedly he created the modern German language which, in the centuries that followed, proved a unifying force during times of destruction and disintegration.
Producer Paul Kobrak.
Last on
See the Luther Bible and other fascinating objects from Germany.

Neil MacGregor examines how Johannes Gutenberg's inventions transformed our world.
Portrait of Martin Luther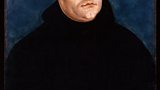 Martin Luther (1483-1546). Portrait by Lucas Cranach the Elder (1472-1553), 1529. Oil on wood.

© Deutsches Historisches Museum
Portrait of Martin Luther's wife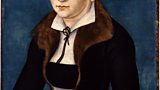 Katharina von Bora.

© Deutsches Historisches Museum


The Luther Bible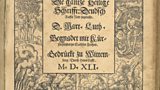 This is a 1541 edition of the Bible. Unlike many of its contemporaries, it is in German rather than Latin. It was translated by Martin Luther.

© The British Library Board C.9.d.3, 4v-5
Broadcasts