Main content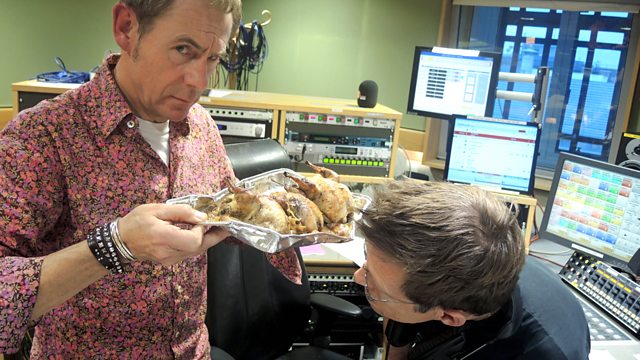 Partridge with Oloroso Sherry and Roy Keane
Chef Nigel Barden presents a seasonal partridge and oloroso sherry, and footballer and manager Roy Keane discusses new book The Second Half.
Chef Nigel Barden tickles Simon's tastebuds with seasonal partridge and Oloroso Sherry. Matt has the latest from the world of sport as he chats to Roy Keane - Manchester United and Rep of Ireland legend - about his latest book 'The Second Half' and what he thinks of Fergie, Beckham, and everything else since the book was leaked earlier this week!
Plus Rebecca has the money news, Bobbie has the all-important travel updates, and there is another confession for the gang to mull over.
Perdiz Con Oloroso
Perdiz Con Oloroso (Partridge with Oloroso Sherry)
by Sam & Sam Clark from Casa Moro (Ebury Press)
Serves 4
Prep time 15 mins
Cooking time 40 mins
Ingredients
4 partridges, plucked & cleaned
4 sprigs fresh thyme
6 tbsp olive oil
1 head garlic, broken into cloves, skin on
2 medium onions, thinly sliced
250ml oloroso sherry, sweet or dry, depending on your taste
sea salt & black pepper
Method
1.
Put a sprig of thyme in the body cavity of each bird & season all over the outside with salt & pepper.
2.
Place a large saucepan over a high heat, add the olive oil & when it is hot, add the partridges.
3.
Brown well on all sides, then remove the birds, lower the heat to medium & add the garlic cloves.  
4.
Fry gently until golden, remove with a slotted spoon & keep aside, then add the onion with a pinch of salt.  
5.
Cook for 15 mins, stirring occasionally, until golden & sweet.  
6.
Return the garlic to the pan, followed by the partridges & oloroso.  
7.
Turn the heat to low & simmer gently until tender & barely pink.  
8.
Add a splash of water if the sauce is too strong & taste for seasoning.
Nigel's Top Tips
You can simply roast or grill young partridge & serve with a light gravy from the cooking juices.  They buddy up nicely with sweet, autumn roasted veg.
Don't treat partridge as you would chicken, as they need far less time in the oven & are best served pink & juicy.  Older birds benefit from slower stewing & are great with bacon & savoy cabbage.