Main content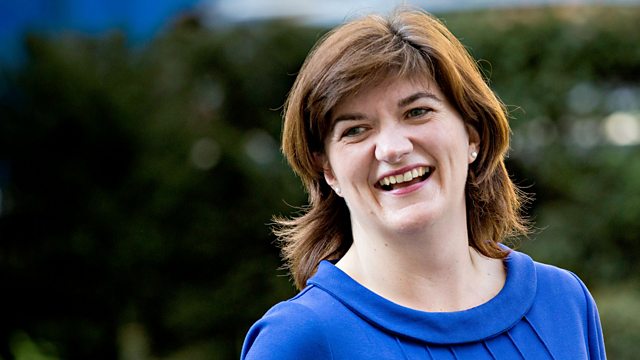 Nicky Morgan; Iryna Dovgan; Cancer charity
Secretary of state for education Nicky Morgan, Iryna Dovgan who was photographed being publicly abused in Ukraine, and a cancer charity which targets ethnic minorities.
Nicky Morgan joined the cabinet nearly six months ago when she became the minister for women. In July she was promoted, becoming Secretary of State for Education, while retaining the women's brief. She joins us from the Conservative Party conference to talk about what she's done so far and what the party plans to offer women voters at the General Election next May.
Iryna Dovgan made international headlines when she was photographed being kicked by a passer-by as she stood on a street corner with a placard round her neck that read, "She is a child killer". She was accused of being a spy for the Ukrainian army but was released when the photo of her sparked global outrage. She tells us about her terrible experience. We take a look at Cancerkin, a breast cancer charity which targets women from ethnic minority communities who often miss out on treatment. And as the film Gone Girl is released, we ask at what stage of a relationship do you reveal your true self?
Presenter: Jenni Murray
Producer: Corinna Jones.
Chapters
Nicky Morgan

Jenni talks to Nicky Morgan, Minister for Women.

Duration: 11:12

Cancerkin

Since 2009, Cancerkin has aimed a programme at women from ethnic minority communities.

Duration: 10:36

Iryna Dovgan

Iryna Dovgan was accused of being a spy for the Ukrainian army.

Duration: 07:32

When do you show your partner your true self?

How much do we adapt our behaviour and edit our pasts in order to appeal to our lovers?

Duration: 08:44

Nicky Morgan

Nicky Morgan joined the Cabinet nearly six months ago when she became the Minister for Women. In July she was promoted, becoming Secretary of State for Education, while retaining the women's brief. Jenni talks to her about what she's done so far, the conversations she's having with women at conference and across the country, and what the party plans to offer women voters at the General Election in May.

Cancerkin

October is breast cancer awareness month and although the disease is still a frightening and potentially fatal illness, advances in treatment and greater awareness mean that survival rates are constantly improving.  But the picture varies in different parts of the country.  In East London, for example, the one year survival rate for breast cancer was recently reported to be 92% - the lowest for the geographical areas covered by NHS cancer networks in England.  Cancerkin is a breast cancer charity based at the Royal Free Hospital in North London.  In 2009 they started an outreach programme into East London, which is particularly aimed at women from the many ethnic minority communities who live in that area.  Cancerkin run groups where women with breast cancer can meet one another and receive support and complementary therapies.   They also run awareness sessions and Louise Adamson has been to one of those meetings, held in Tower Hamlets in the heart of the East End.

Iryna Dovgan

Iryna Dovgan made international headlines when she was photographed being kicked by a passer-by as she stood on a street corner with a placard round her neck that read, "She is a child killer". Her treatment by pro-Russian separatists behind closed doors was, she says, even worse.

Iryna was accused of being a spy for the Ukrainian army but was released when the photo of her sparked global outrage. She speaks to Jenni about her experience.

When do you show your partner your true self?

Have you ever lied about your natural hair colour to a partner?  Or forgotten to mention that you detest football?  Or even that you've been married before?  The much anticipated adaptation of Gillian Flynn's bestseller Gone Girl is released nationwide on Friday and at the heart of the film and the book is the question; how well do you really know your partner?  How much do we adapt our behaviour and edit our pasts in order to appeal to our lovers?  And at what stage should you let the mask drop?  Journalist Polly Vernon and advice columnist Marie O'Riordon join Jenni to discuss the right time to show your partner your true self.

Credits

| Role | Contributor |
| --- | --- |
| Presenter | Jenni Murray |
| Interviewed Guest | Nicky Morgan |
| Interviewed Guest | Iryna Dovgan |
| Interviewed Guest | Polly Vernon |
| Interviewed Guest | Marie O'Riordan |
| Producer | Corinna Jones |