Main content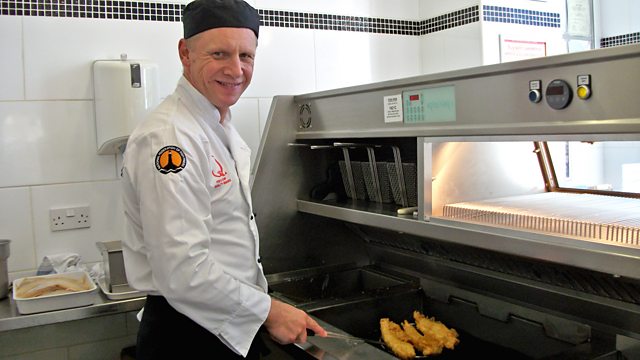 It is the beginning of the fish and chip shop course. Meet the eight students and Mark Drummond and Arthur Parrington, who both play key roles in the course's leadership.
Food writer, Home Economist and Food stylist Alison Clarkson follows eight people on a course in Leeds, specialising in how to run their very own Fish and Chip shop.
For generations, the meal has been a constant favourite with thousands, if not millions, of people across Britain. Churchill called them 'the good companion' and John Lennon loved his with tomato ketchup.
This episode focuses on the beginning of the course, introducing us to the eight students and featuring Mark Drummond and Arthur Parrington, who both play key roles in the course's leadership.
The series follows a three day course run by the National Federation of Fish Fryers in Leeds. It takes students through the requirements involved in running your own shop - from fish preparation and battering, through health and safety, to the legal and financial issues inherent in the business.
The students come from a wide variety of backgrounds - from the finance industry to a retired musician, from an optician to a newsagent. Two have ventured from France and one from Hamburg, especially to attend the course.
As well as following the students, the programmes trace the history and development of selling chips. The meal became popular in the early part of the nineteenth century as a result of the rapid growth of trawl fishing in the North Sea. In its heyday there were approximately thirty thousand fish and chip shops in Britain. Today the number is around twelve thousand. The acclaimed 5 out of 5, AA Rosette and multi Michelin Star award winning chef Jean-Christophe Novelli discusses his love and respect for our traditional meal.
Finally, we follow up the featured members of the course, six months after attending it. How do you like the meal, 'Open or wrapped..?!'
Presenter: Alison Clarkson
Produced by Eurof Williams
An Acme tv production for BBC Radio 4.
More episodes
Previous
You are at the first episode