Main content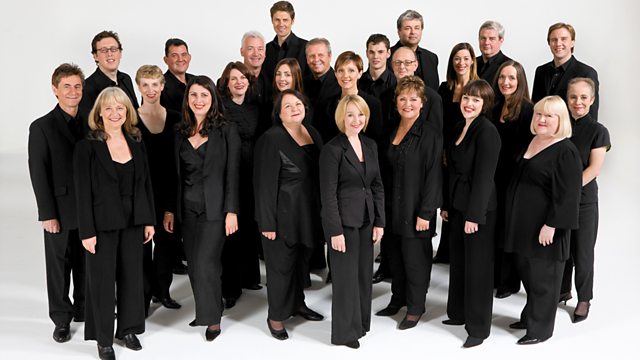 BBC Singers, Fretwork - Gibbons, Byrd, Tye, Musgrave, Nico Muhly
Live from Cadogan Hall, London, Petroc Trelawny presents a concert in which the BBC Singers join viol consort Fretwork to perform music from 16th-century England and from today.
Live from Cadogan Hall, London
Presented by Petroc Trelawny
The BBC Singers, fresh from their 90th anniversary a few days ago, join forces with viol consort Fretwork in music from 16th-century England and from our own day
Orlando Gibbons: O clap your hands together
William Byrd: Christ Rising from the Dead
William Byrd: Fantasy (canon 2 in 1)
Christopher Tye: Christ Rising from the Dead
Thea Musgrave: Wild Winter
8.15pm Interval music:
Continuing the 17th-century theme, a selection of pieces from one of the greatest keyboard collections of the period - the Fitzwilliam Virginal Book
Orlando Gibbons: The Cryes of London
Orlando Gibbons: What is our life
Orlando Gibbons: In Nomine in 5 parts No. 2
Orlando Gibbons: Behold, thou hast made my days
Nico Muhly: My Days
Fretwork
BBC Singers
Andrew Carwood (conductor)
A concert in which Ancient and Modern come together in works from Tudor and Jacobean England and from our own day. Joining forces with conductor Andrew Carwood and the viol consort Fretwork, the BBC Singers perform consort songs, instrumental fantasias and anthems by Christopher Tye, William Byrd, and Orlando Gibbons (including his remarkable musical re-working of the cries of London street traders). Completing the programme, two powerful contemporary works. The American composer Nico Muhly has long been fascinated by the music of the Tudor and Jacobean periods, and 'My Days' is a homage - or, as Nico Muhly himself puts it, a 'ritualised memory piece' - to Orlando Gibbons. It uses words from Psalm 39 (a meditation on mortality set powerfully by Gibbons himself and also performed in this concert) alongside the report of the two physicians called to perform an autopsy on Gibbons' body after his sudden and untimely death. In 'Wild Winter' Thea Musgrave also explores themes of death and mortality, but this time from our own day - and, significantly in this year when we mark the centenary of the start of World War 1 - one of the poets she sets in her piece is Wilfred Owen. His words are juxtaposed with an eclectic selection of others - ranging from Scots traditional texts to Petrarch, Pushkin and Garcia Lorca - in a piece which examines war, its causes and issues, in many forms and from many periods, and which makes a powerful protest about man's inhumanity to man.
Music Played
Part 1

Interval

Part 2

Post concert
Credit
| Role | Contributor |
| --- | --- |
| Performer | BBC Singers |