Main content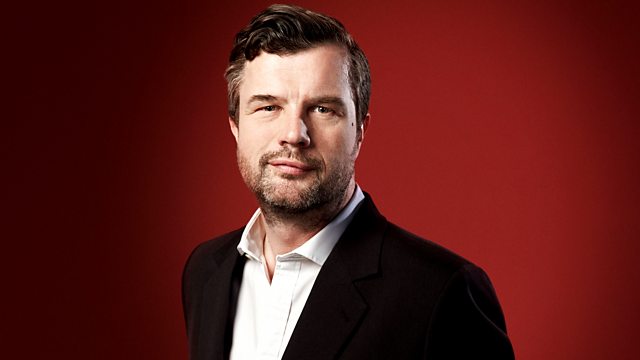 Ten Pieces: Monday - Petroc Trelawny
Petroc Trelawny presents Radio 3's classical breakfast show, with the Best of British Playlist, listener requests and Ten Pieces, featuring Beethoven's Symphony No 5 (1st mvt).
Petroc Trelawny presents Radio 3's breakfast show with Radio 3's contribution to BBC Music's Ten Pieces project.
Ten Pieces aims to open up the world of classical music to children - and inspire them to develop their own creative responses to the pieces through music, dance or digital art. For the next two weeks, every weekday, Radio 3 will focus on one of the ten pieces of music ranging from baroque to contemporary classical music.
Every weekday morning Petroc will play part of one of the works chosen to inspire children and there's then the chance to hear the complete piece in Afternoon on 3 at 2pm every day. This week the BBC Philharmonic will be performing performances of Beethoven's 5th Symphony and Adams' Short Ride in a Fast Machine conducted by Gianandrea Noseda together with Britten's Four Sea Interludes conducted by Yutaka Sado. The Ulster Orchestra also feature with Grieg's Peer Gynt Suite no.1 and the BBC National Chorus and Orchestra of Wales performs Handel's Zadok the Priest.
At 4.30 every afternoon on In Tune, Suzy Klein presents a special series of downloadable daily features - Ten Pieces: Ten Facts. The features, aimed at parents, give a guide to each work with ten illuminating facts about each of the pieces.
www.bbc.co.uk/tenpieces
Mon 29th Sept - Beethoven: Symphony No. 5 (1st movement)
Tue 30th Sept - Britten: 'Storm' Interlude from 'Peter Grimes'
Wed 1st Oct - Grieg: In the Hall of the Mountain King from 'Peer Gynt'
Thu 2nd Oct - John Adams: Short Ride in a Fast Machine
Fri 6th Oct - Handel: Zadok the Priest
Mon 7th Oct - Holst: Mars from 'The Planets'
Tue 8th Oct - Mozart: Horn Concerto No. 4 (3rd movement)
Wed 9th Oct - Mussorgsky: A Night on the Bare Mountain
Thu 10th Oct - Anna Meredith: Connect It
Fri 11th Oct - Stravinsky: The Firebird - suite (1911) (Finale).