Main content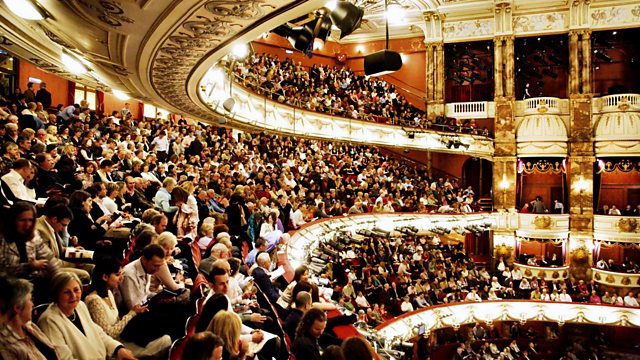 Verdi's Otello
Live from London's Coliseum, an ENO production of Verdi's opera Otello, to mark 450 years since Shakespeare's birth. With conductor Edward Gardner and tenor Stuart Skelton.
Verdi's Otello, live from English National Opera, conducted by Edward Gardner, with Stuart Skelton in the title role.
Presented by Martin Handley
Otello.....Stuart Skelton (Tenor)
Desdemona.....Leah Crocetto (Soprano)
Iago.....Jonathan Summers (Baritone)
Cassio.....Allan Clayton (Tenor)
Roderigo.....Peter Van Hulle (Tenor)
Lodovico.....Barnaby Rea (Baritone)
Montano.....Charles Johnston (Baritone)
Emilia.....Pamela Helen Stephen (Mezzo-soprano)
English National Opera Chorus
English National Opera Orchestra
Edward Gardner (Conductor)
Verdi's late opera, based on Shakespeare's great tragedy of deception and betrayal, sees the love between the Moorish general Otello and his new wife Desdemona poisoned and eventually destroyed by the manipulative Iago.
This new production celebrates the 450th anniversary of Shakespeare's birth and is directed by David Alden, who returns to the London Coliseum following his recent triumphant production of Peter Grimes. He is reunited with Grimes collaborators ENO Music Director Edward Gardner and tenor Stuart Skelton, who sings Otello for the first time.
Synopsis
A port in Cyprus
ACT I
A violent storm is raging. Otello, commander of the Venetian forces, is engaged in a battle with the Turks. His ship safely reaches port and he triumphantly announces the destruction of the Turkish fleet. Otello is newly married to Desdemona. Roderigo is in love with her. Otello's ensign, Iago, persuades Roderigo that Desdemona will soon tire of her husband. Iago declares that he hates both Cassio, who has been made captain before him, and Otello for promoting him. He convinces Roderigo that Cassio, too, desires Desdemona. Iago gets Cassio drunk, Roderigo and Cassio insult each other, and a brawl starts during which Montano, the previous governor of the island, is injured.
To add to the confusion, Iago tells Roderigo to rouse the sleeping population with cries of rebellion. Alarm calls bring out Otello, who demands an explanation. Iago disingenuously implies that Cassio was the cause of the trouble and Otello summarily dismisses him from his service. Left alone under the now serene evening sky, Otello and Desdemona express their love.
ACT II
A few days later
Posing as Cassio's friend, Iago suggests that Desdemona could intercede with Otello on Cassio's behalf. Alone, he reveals nihilistic beliefs in a cruel God. Accompanied by Iago's wife Emilia, Desdemona enters: Iago encourages Cassio to seize his chance. Otello enters and sees Cassio with Desdemona; Iago skilfully implies that something illicit has just occurred. Otello demands to know the whole truth, but Iago warns him of the dangers of jealousy and suggests that he should scrutinize her behaviour for clues.
The Cypriots pay homage to Desdemona, and she begins to intercede on Cassio's behalf;
Otello, now genuinely suspicious, furiously rejects her. He angrily throws aside the handkerchief offered by Desdemona to soothe his burning forehead. Iago snatches it from Emilia, who has picked it up. He forms a plan to leave it in Cassio's quarters. He carefully prepares Otello for this circumstantial evidence of her infidelity by recounting what Cassio once said during his sleep. This detonates an explosive rage in Otello and Iago joins him in an oath of revenge.
ACT III
Some days later
Envoys from Venice are about to land. Iago has sent for Cassio in order that Otello, unobserved, can hear and watch him. When the unsuspecting Desdemona appears and again pleads in Cassio's favour, Otello demands to see the particular handkerchief that he thinks she gave to Cassio. His furious accusation stuns Desdemona, who tries in vain to make him believe her innocence.
Iago arranges for him to eavesdrop on his gossip with Cassio. Otello assumes that they are talking about his wife when Cassio actually refers to his mistress, Bianca. Cassio also shows Iago the
beautiful handkerchief he has just discovered in his room. Otello is now convinced that Desdemona has been unfaithful. When Cassio has gone, Iago offers to dispatch him and suggests that Otello should smother his wife in her adulterous bed.
Lodovico, Ambassador of the Venetian Doge, brings Otello's recall to Venice and the appointment of Cassio as governor of the island. Otello orders preparations to begin for an immediate departure. He then publicly insults Desdemona, throwing her to the ground to the horror of the crowd. Iago points out to Roderigo that, if he kills Cassio quickly, Otello and Desdemona's departure will have to be postponed until the appointment of a new governor. As a final humiliation, Otello curses Desdemona. Otello collapses and Iago jeers at the senseless form of the man they call the 'Lion of San Marco'.
ACT IV
Later that night
Attended by Emilia, Desdemona is getting ready for bed. She recalls a song that one of her mother's maids used to sing, says her prayers and goes to sleep. Otello enters and, despite Desdemona's denials of infidelity, smothers her. Emilia returns to inform Otello that Cassio has killed Roderigo. Emilia reproves him for believing Iago's deceit and calls for help. Cassio, Lodovico and Iago burst in. Iago's treachery is uncovered but he evades an explanation and escapes. Otello, now fully aware of what he has done, stabs himself, embraces Desdemona for the last time, then dies.