Main content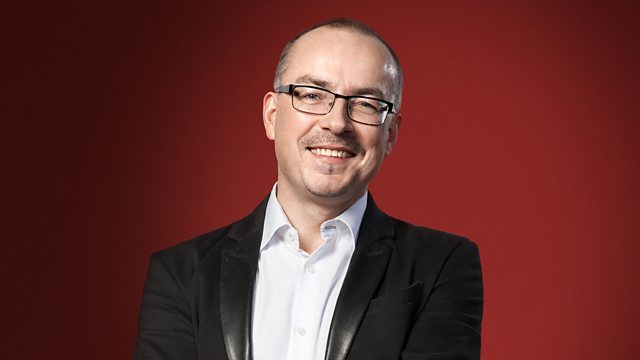 Ten Pieces - Building a Library: Holst's The Planets
With Andrew McGregor. Including Ten Pieces - Building a Library: Holst's The Planets; recent baroque music releases; Disc of the Week: Haydn: Piano Concertos.
Last on

9.00am
Romeo and Juliet - suite Op.64         
Performers:     Chicago S O., Riccardo Muti
Composers:    Sergey Prokofiev (1891 - 1953)        
Album Title:     CSO-Resound : CSOR-901-1402     
Gia si desta la tempesta from Didone abbandonata
Performers:     Franco Fagioli (counter tenor), Academia Montis Regalis, Alessandro de Marchi   
Composers:    Nicola Porpora           
Album Title:     NAIVE : V-5369         
Sonata for violin and piano    
Performers:     James Ehnes (violin), Orion Weiss (piano)   
Composers:    Aaron Copland (1900 - 1990)
Album Title:     ONYX CLASSICS : ONYX-4129      
Building a Library
David Owen-Norris compares recordings of Holst's Planets and makes a recommendation:
Paavo Jarvi conducts Holst & Britten
BRITTEN: The Young Person's Guide to the Orchestra Op. 34
HOLST: The Planets Op. 32
Cincinnati Symphony Orchestra, Paavo Jarvi (conductor)
TELARC CD80743 (CD)
New Releases
Andrew is joined live in the studio by a panel of Early Music enthusiasts in the shape of Caroline Gill & Simon Heighes to discuss recent releases of baroque music including a 30th anniversary disc from Concerto Italiano and the final release under Jeanne Lamon as Music Director of Tafelmusik.
Trent'anni a Roma
BENCINI: Magnificat a 8 voci: Quia fecit mihi magna
GESUALDO: Asciugate i begli occhi
HANDEL: Sinfonia Act 1 (Alessandro)
LUZZASCHI: Ahi cruda sorte mia
MARENZIO: Cruda Amarilli
MONTE, P: Di mie dogliose note
MONTEVERDI: Toccata (L'Orfeo); Damigella tutta bella; Cruda Amarilli (Book 5)
SCARLATTI, A: Agnus Dei
Rinaldo Alessandrini (solo harpsichord), Sandrine Piau (soprano), Sara Mingardo (contralto), Concerto Italiano
NAIVE OP30563 (CD mid-price)
Baroque Virtuoso
BACH: Concerto for 2 violins in D minor, BMV 1043
GEMINIANI: Concerto grosso in C Major after Corelli, op.5, no.3
SCHMELZER: Sonata 3, from Sonatae unarum fidium
BIBER: Partia V, from Harmonia articioso-ariosa
GEMINIANI: Concerto grosso in D minor, op.2, no.3
VIVALDO: Concerto for Violin in G minor, op.8, no.2 "Summer" from the Four Season
BACH: Suite in A minor for violin and strings, after BWV 1067
Jeanne Lamon (violin)
TAFELMUSIK TMK1026CD (CD)
Buxtehude - Vocal Works 9
BUXTEHUDE: Cantata BuxWV 104: Was frag ich nach der Welt; Salve, Jesu, Patris gnate unigenite BuxWV94; Welt, packe dich BuxWV 106; Was mich auf dieserWelt betrubt, BuxWV 105; Pange lingua gloriosi BuxWV91; Accedite gentes BuxWV1; Furchtet euch nicht, siehe ich verkundige euch grosse Freude BuxWV 30; Ich habe Lust abzuscheiden BuxWV 46; Schaffe in mir, Gott, BuxWV 95; O dulcis Jesu, BuxWV 83
Amsterdam Baroque Orchestra, Amsterdam Baroque Choir, Ton Koopman (conductor)
CHALLENGE CLASSICS CC72258 (CD)
BACH, J S: Trio Sonatas Nos. 1-6, BWV525-530
Tempesta di Mare Chamber Players, Philadelphia Baroque Orchestra
CHANDOS CHAN0803 (CD)
11.20am
Mass for 5 voices      
Performers:     Westminster Cathedral Choir, Martin Baker  
Composers:    William Byrd (1543 - 1623)    
Album Title:     Hyperion CDA 68038
O mortal man
Performers:     Birmingham Conservatoire Chamber Choir, Jonathan Stamp (organ), Paul Spicer           
Composers:    Herbert Howells         
Album Title:     SOMM : SOMMCD-0140     
A Cambridge Mass: Credo (opening)            
Performers:     Bach Choir., New Queen's Hall Orchestra, ALAN Tongue  
Composers:    RALPH VAUGHAN WILLIAMS        
Album Title:     ALBION : ALBCD-020           
Autumn (Stanzas by Pushkin)           
Performers:     Aleksander Antonenko (tenor), Latvian Radio Chorus, Sigvards Klava       
Composers:    Yuri Falik        
Album Title:     ONDINE : ODE 1226-2         
Virgencita       
Performers:     Polyphony, Stephen Layton  
Composers:    Arvo Part        
Album Title:     HYPERION : CDA-68056     
Disc of the Week
Haydn: Piano Concertos
HAYDN: Keyboard Concerto No. 3 in F major with French horns and strings, Hob.XVIII:3; Keyboard Concerto No. 4 in G major, Hob.XVIII:4; Keyboard Concerto No. 11 in D major, HobXVIII:11
Jean-Efflam Bavouzet (piano), Manchester Camerata, Gabor Takacs-Nagy (conductor)
CHANDOS CHAN10808 (CD)
Broadcast