Main content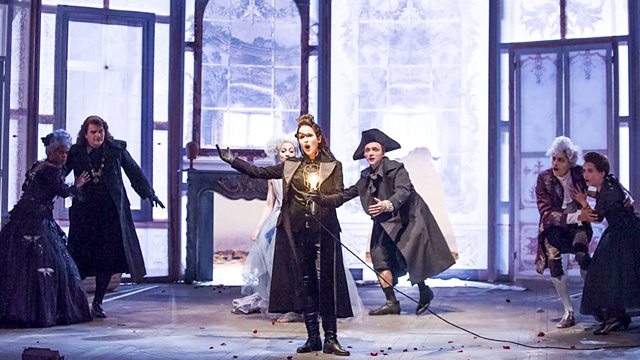 Mozart's La finta giardiniera
A performance given at Glyndebourne of Mozart's early comic opera La finta giardiniera, with music director Robin Ticciati conducting the Orchestra of the Age of Enlightenment.
Don Anchise (Il Podesta).....Wolfgang Ablinger-Sperrhacke (tenor)
La Marchesa Violante.....Christiane Karg (Soprano)
Arminda.....Nicole Heaston (Soprano)
Count Belfiore.....Joel Prieto (Tenor)
Ramiro.....Rachel Frenkel (Mezzo-soprano)
Serpetta.....Joelle Harvey (Soprano)
Nardo (Roberto).....Gyula Orendt (Baritone)
Orchestra of The Age of Enlightenment
Robin Ticciati (Conductor)
To start the new Opera on 3 season, a performance from Glyndebourne of Mozart's La finta Giardiniera. Written when he was only 18, Mozart based La finta Giardiniera on Goldoni's play Pamela nubile and was only his second comic opera. The story follows seven characters in search of love, involving disguise, and recognition of both identities and emotions - trying to discover what is real and what is 'finta'. Soprano Christiane Karg stars as Violante, who is known in her disguise as Sandrina, pursued by both Belfiore, tenor Joel Prieto and Don Anchise, sung by tenor Wolfgang Ablinger-Sperrhacke. The Orchestra of the Age of Enlightenment is conducted by Glyndebourne's new Music Director Robin Ticciati. Martin Handley presents, and during the interval discusses the opera with Mozart specialist Professor Cliff Eisen.
Photo (c) Tristram Kenton.
Act I
The Podestà is in love with Sandrina, his new garden attendant, much to the chagrin of his servant Serpetta, who is in love with him. Sandrina, however, is actually the disguised Violante, who is searching for her lover Belfiore who a year ago stabbed her and fled, believing her dead. Sandrina's companion and supposed cousin, Nardo (really her servant, Roberto), is in love with Serpetta.
Arminda, the Podestà's niece, has spurned her admirer Ramiro for a new suitor. Sandrina is distraught to discover that Arminda's new suitor is none other than her own errant lover Belfiore. When Belfiore arrives, he recognises Sandrina as Violante, but she refuses to admit her true identity. As Arminda senses that something is awry and fears losing Belfiore to Sandrina, Ramiro's hopes of winning Arminda back are rekindled.
Act II
After dismissing Ramiro, Arminda confronts Belfiore about Sandrina. Nardo vainly woos Serpetta. Sandrina continues to deny that she is Violante, and goes so far as to tell Belfiore that she witnessed Violante's death. When Ramiro arrives and accuses Belfiore of murdering Violante, Sandrina finally admits that she is Violante. Left alone with Belfiore, she tells him that it was merely a ruse to save him, and he loses his reason.
Her marriage to Belfiore threatened, Arminda abandons Sandrina in a desolate place. Nardo discovers the plot and leads a search for Sandrina. Confused and terrified, Sandrina also loses her reason and runs away. The search party arrives, but the darkness causes chaos. When Ramiro appears with a light, Belfiore and Sandrina find each other and imagine
Act III
The reunited Sandrina/Violante and Belfiore awaken, their senses restored, and decide that they must never part.

© Glyndebourne 2014