Main content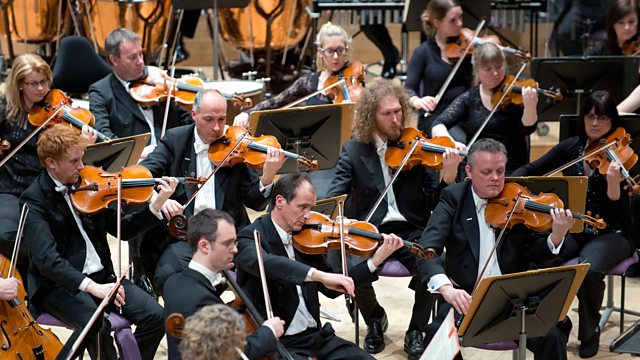 Halle - Prokofiev, Mussorgsky, Sibelius
Live from Bridgewater Hall, Halle under Hannu Lintu. Prokofiev: Ballet Scenes (Cinderella). Sibelius: Violin Concerto (with Nikolaj Znaider). Mussorgsky: Pictures at an Exhibition.
Live from Bridgewater Hall, Manchester
Presented by Adam Tomlinson
Live from Manchester, the Hallé performs two Russian orchestral masterworks and one of the great violin concertos of the repertoire.
Prokofiev: Cinderella - ballet scenes
Sibelius: Violin Concerto in D minor (op 47)
8.30: Interval music
Mozart: Piano Trio in E Major K542
Daniel Barenboim (piano)
Nikolaj Znaider (violin)
Kyril Zlotnikov (cello)
(CD Recording)
Mussorgsky orch. Ravel: Pictures at an Exhibition
Two masterworks of the Russian symphonic repertoire frame this concert, which opens with the witty and humorous score Sergei Prokofiev completed in 1944 conjuring up magic of the well-known fairy-tale. Magic of a darker and more grotesque sort is never far from the surface of Mussorgsky's famous suite - originally composed for piano, but heard tonight in the well-known orchestration of Maurice Ravel - with its depiction of gnomes, catacombs, a hut with the legs of a fowl, and unhatched chicks dancing in their shells. Completing the programme, Sibelius' only concerto - a piece that has long been recognised as containing some of the most technically-challenging violin writing in the entire repertoire.
Nikolaj Znaider (violin)
Hallé
Hannu Lintu (conductor)
Following the concert, 'BBC Singers at 90': in the week during which the BBC's professional choir celebrates its 90th anniversary, British composers introduce recordings of their music performed by the BBC Singers.
Charles Hazlewood explores Mussorgsky's Pictures at an Exhibition.

In this Proms Music Guide, Andrew McGregor talks about Prokofiev's Cinderella.