Main content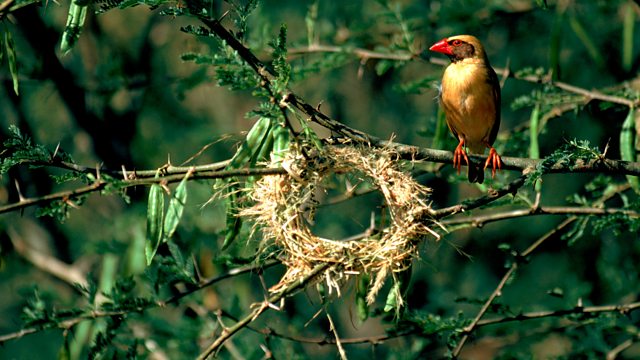 Red-billed Quelea
Miranda Krestovnikoff presents the world's most numerous bird: red-billed quelea.
Tweet of the Day is the voice of birds and our relationship with them, from around the world.
Miranda Krestovnikoff presents the World's most numerous bird; red billed quelea. Red-billed queleas are the most numerous birds in the world and as part of the weaverbird family sound and look like small neat sparrows. Their ability to adapt to local conditions and travel for food allows large populations of fast-breeding queleas to build up. The statistics are mind-boggling. Some flocks of red-billed quelea can comprise millions of birds which may take hours to fly past. There are probably between one and a half and ten billion birds in Africa. They breed in vast colonies; one colony in Nigeria covered one hundred and ten hectares and contained thirty one million nests.
Red-billed quelea (Quelea quelea)
Recording of red-billed quelea by Linda R Macaulay / Ref: ML 100298
This programme contains a wildtrack recording of the red-billed quelea kindly provided by The Macaulay Library at the Cornell Lab of Ornithology; recorded by Linda R Macaulay on 13 Jan 1996, in Awash National Park, Ethiopia.
Podcast
Discover birds through their songs and calls. 265 programmes of 90 seconds, over a year