Main content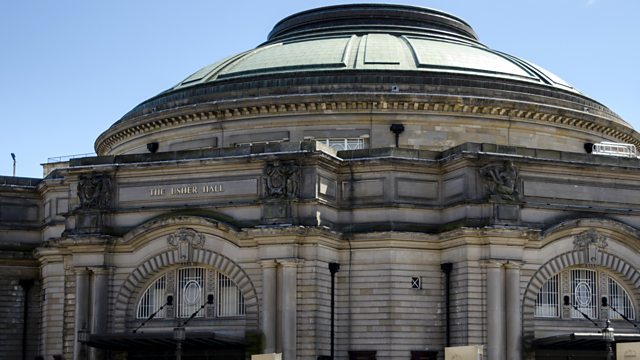 I, Culture Orchestra - Panufnik, Shostakovich, Moniuszko
Kirill Karabits conducts the I, Culture Orchestra at the Usher Hall, Edinburgh. Panufnik: Sinfonia Elegiaca. Shostakovich: Symphony No 7 (Leningrad). Moniuszko: Mazurka (Halka).
The I, Culture Orchestra make a dramatic debut at the EIF with Shostakovich's thrilling 'Leningrad' symphony and Panufnik's poignantly lyrical Sinfonia Elegiaca. Recorded on August 17th at the Usher Hall, Edinburgh and presented by Donald Macleod.
Panufnik's Sinfonia Elegiaca of 1957 is a reworking of material from his Symphony of Peace which was premiered by Stokowski two years earlier, just after the composer's defection from Poland to the UK. Panufnik dedicated the work to the victims of the Second World War "of all nationalities, religions and races throughout the world". It's in three sections: Molto andante - Molto allegro - Molto andante.
Shostakovich composed his seventh symphony during the siege of Leningrad in 1941 and much of it was actually written in the city. After its premiere in Kuybishev, performances soon followed in London and New York and, remarkably, Leningrad itself, a year after the siege had begun. Shostakovich himself downplayed any naturalistic programme for the work but did describe the central part of the first movement as "a requiem for the heroes who died for us".
The I, Culture Orchestra was created by the Adam Mickiewicz Institute in Poland and consists of young musicians from that country as well as Armenia, Azerbaijan, Belarus, Georgia, Moldova and Ukraine. Its purpose is to build bridges across the political and cultural divides between nations and to provide training for professional musicians at the start of their careers. Their appearance in Edinburgh was the penultimate date on a European tour conducted by the Ukrainian conductor Kirill Karabits.
Panufnik: Sinfonia Elegiaca
Shostakovich: Symphony No. 7 'Leningrad'
Moniuszko: Mazurka from 'Halka'
I, Culture Orchestra
Kirill Karabits, conductor.
More episodes
Next
You are at the last episode
Howard Goodall and Suzy Klein discuss Shostakovich's Leningrad Symphony.

Andrew McGregor talks to Nick Reyland and Roxanna Panufnik about Lutoslawski and Panufnik