Main content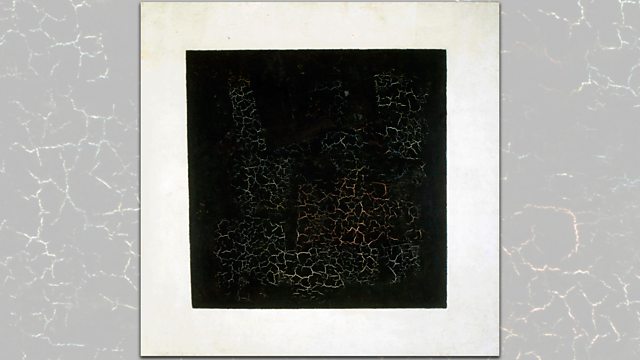 Black Square
Texts and music on the theme of abstraction, with readings by Lisa Dwan and Peter Marinker. With Rimbaud, Eliot and Samuel Beckett, plus Beethoven, Berio, Satie and Parmegiani.
Lisa Dwan, who has been touring her one woman Beckett show to huge critical acclaim, and Peter Marinker, who's about to star in Waiting for Godot at the Cockpit Theatre, explore the work of Wallace Stevens, Rimbaud, T S Eliot and of course, Samuel Beckett; the musical counterpoint is provided by, amongst others, Kurt Schwitters, Beethoven, Morton Feldman, Berio, Satie, Parmegiani and Nancarrow.
Tying into a series of programmes as BBC Four Goes Abstract and to a Free Thinking Debate at Tate: Figuring out Abstract Art
Kazimir Malevich's Black Square is a totem of abstract art. He said the aim was to free art from the ballast of objectivity...a struggle which would probably seem rather odd to most composers. Music, after all, is effortlessly abstract by nature even when it seems to be insisting on its relationship with the world. Words are another matter altogether. Literary abstraction works sometimes like painting and sometimes like music.
My Black Square is then, necessarily, more of a meditation than a manifesto. It is tentative. It aspires to vivid colour, like Kandinsky, but it includes the minute monochrome shadings of Rothko. In the choices I've made I've left room too for argument . Where does abstraction begin? Is it a feature of the way we experience the world and the way we express ourselves about it? Is it dead and buried, as the erstwhile abstract painter Wyndham Lewis once rather grandly declared. As you might expect from an adventure into the abstract the programme works as a collage in the hope of creating something new.
Malevich is at Tate Modern until October 26th.
Producer: Zahid Warley.
Music Played
Timings (where shown) are from the start of the programme in hours and minutes
translated by Oliver Bernard

Vowels read by Peter Marinker

Wallace Stevens

Disillusionment of Ten O'Clock read by Lisa Dwan

Herman Melville

From Moby Dick - The whiteness of the whale read by Peter Marinker

T S Eliot

The Lovesong of J. Alfred Prufrock read by Lisa Dwan

T S Eliot

The Lovesong of J. Alfred Prufrock read by Lisa Dwan

T S Eliot

The Lovesong of J. Alfred Prufrock read by Lisa Dwan

T S Eliot

The Lovesong of J. Alfred Prufrock read by Lisa Dwan

T S Eliot

The Lovesong of J. Alfred Prufrock read by Lisa Dwan

Paul Celan

Todesfuge translated by John Felstiner read by Peter Marinker

George Herbert

Prayer read by Lisa Dwan

William Empson

Villanelle read by Lisa Dwan

Kasmir Malevich

From Suprematist Manifesto – The Square, translated by John Bowlt read by Peter Marinker

Raymond Queneau

From Elementary Morality translated by Philip Terry read by Peter Marinker

Samuel Beckett

From Texts for Nothing – IV read by Peter Marinker

Producer's Note

Kasimir Malevich's Black Square is a totem of abstract art. He said the aim was to free art from the ballast of objectivity...a struggle which would probably seem rather odd to most composers. Music, after all, is effortlessly abstract by nature even when it seems to be insisting on its relationship with the world. Words are another matter altogether. Literary abstraction works sometimes like painting and sometimes like music.

 

My Black Square is then, necessarily, more of a meditation than a manifesto. It is tentative. It aspires to vivid colour, like Kandinksy, but it includes the minute monochrome shadings of Rothko. In the choices I've made I've left room too for argument . Where does abstraction begin? Is it a feature of the way we experience the world and the way we express ourselves about it? Is it dead and buried, as the erstwhile abstract painter Wyndham Lewis once rather grandly declared. As you might expect from an adventure into the abstract the programme works as a collage in the hope of creating something new.

 

The readers in this edition of Words and Music are Lisa Dwan, who has been touring her one woman Beckett show to huge critical acclaim, and Peter Marinker, who's about to star in Waiting for Godot at the Cockpit Theatre. Together they explore the work of Wallace Stevens, Rimbaud, T S Eliot and of course, Samuel Beckett; musical counterpoint is provided by, amongst others, Kurt Schwitters,  Morton Feldman, Berio, Satie, Parmegiani and Conlon Nancarrow.

 

Black Square is part of a short season of programmes investigating the idea of abstraction which include BBC Four Goes Abstract and a Free Thinking Debate at Tate: Figuring out Abstract Art. Tate Modern's  Malevich exhibition runs until October 26th.

The hidden history of plant-based diets