Main content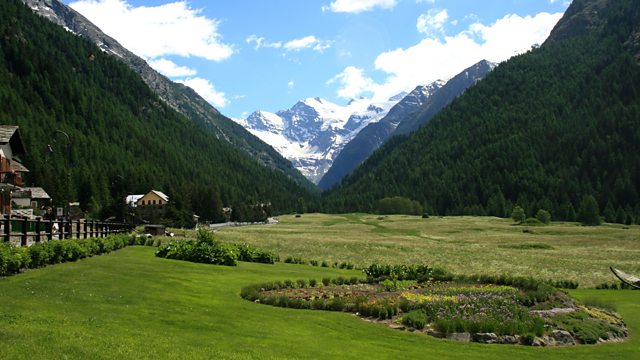 My Family and Other Ibex
Andrea Sella revisits the land of his ancestors, north west Italy's Aosta Valley, and discovers how this once-pristine environment has changed over time.
Chemist and broadcaster Andrea Sella returns to the mountain landscape of his childhood to see how this icy world has changed over the past century.
In his father's study hangs a photograph that Andrea has always been told was taken by Vittorio Sella, a distant relation regarded by many as the greatest of all mountain photographers. It depicts the Cogne valley in north-western Italy, a place where Andrea, and his father before him, spent summers as a children hiking and climbing the surrounding peaks. Described as, "unspoiled" in guidebooks, on the surface the valley looks just as it did when Andrea was a child. But look closer and things have changed. After a visit to the archive of Vittorio's photographs where he finds a time capsule of the mountains of the late 19th century, he sets out to see the mountains today.
With Vittorio's photos in his backpack, Andrea hikes from Cogne up into the Gran Paradiso National Park in search of the region's most iconic creature - the Alpine Ibex. Forty years ago, Andrea saw these mountain goats all over the valley. A population that rose strongly through the 1980's has declined sharply, changes that scientists like Dr Achaz von Hardenberg are trying to understand. Evidence points to milder winters as having surprising impacts on Ibex numbers. Further along the path, Andrea meets Park Ranger Marco Grosa, who has lived here for 30 years, guarding his beloved Alpine plants from oblivious tourists. He's also noticed subtle changes to the distribution of flora and how they're creeping slowly up the mountain as the snow line recedes. Finally, Andrea meets mountain guide Alfredo Abram, who once took him on an ice climb as a child. Abram reveals that, today, he and his colleagues have all but thrown away their crampons; the ice Andrea remembers has melted. For villages like Cogne, dependent on melt water from the glaciers, there are worrying signs, as once-reliable springs dry up.
In this highly personal story about family, memory, and landscape, Andrea Sella explores the photographic and environmental legacy of Vittorio's work and learns first-hand how a world he once thought of as timeless, is being steadily transformed.
Producer: Rami Tzabar.