Main content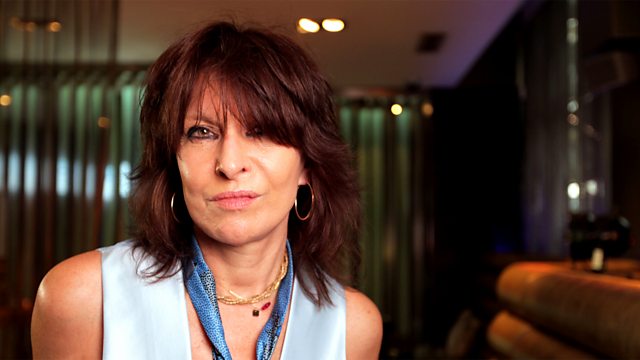 Chrissie Hynde; Author Kathy Reichs
With Jenni Murray. Chrissie Hynde on finally going solo. Saying goodbye: losing a baby through miscarriage or stillbirth. And can women compete with the old boys' network?
Chrissie Hynde of the Pretenders on her life and career as a leading woman in music as she finally goes solo after 35 years.
Melanie Megevand, Women's Protection & Empowerment advisor at the International Rescue Committee talks about their new report which calls for action to help the thousands of Syrian female refugees who face a relentless cycle of sexual violence, harassment and early or forced marriage.
This Saturday in Glasgow a remembrance service will be taking place for anyone who's lost a baby through miscarriage or stillbirth. It's one in a series of services that have been taking place across the country this autumn called Saying Goodbye. Zoe and Andy Clark-Coates are behind the idea and explain why it's important to have a way to publicly acknowledge your loss.
Plus the forensic anthropologist and best selling author Kathy Reichs joins Jenni to talk about her latest novel, Bones Never Lie.
And as The Riot Club comes to a cinema near you, we ask; What's the value of being a member of an all boys club? Can women compete with the networking opportunities they offer?
Presented by Jenni Murray
Produced by Beverley Purcell.
Chapters
Chrissie Hynde

Chrissie Hynde of the Pretenders talks to Jenni about her life and career

Duration: 10:14

Violence Against Syrian Refugee Women

Jenni is joined by Melanie Megevand who has been working on the ground with the refugees.

Duration: 06:55

Kathy Reichs

The forensic anthropologist Kathy Reichs talks about her latest novel, Bones Never Lie.

Duration: 07:42

Old Boys Clubs And All-Female Networking

A discussion around all-male clubs and societies and should women establish their own

Duration: 08:56

Losing A Baby Through Miscarriage Or Stillbirth

Saying Goodbye - Losing A Baby Through Miscarriage Or Stillbirth

Duration: 07:35

Chrissie Hynde

Chrissie Hynde of the Pretenders talks to Jenni about her life and career as a leading woman in music as she finally goes solo after 35 years with a new album, Stockholm.

 

Stockholm is out now on the Caroline label, and includes the new single Down The Wrong Way

Kathy Reichs

The forensic anthropologist Kathy Reichs examines bones for a living, helping to find out who a person was and the cause of death. Kathy has testified at the UN Tribunal on Genocide in Rwanda, helped exhume a mass grave in Guatemala, and assisted with identifying remains found at Ground Zero. She is also a best-selling author and her main character is like herself - a forensic anthropologist. She joins Jenni to talk about her latest novel, Bones Never Lie.

 

Bones Never Lie by Kathy Reichs is published by William Heinemann

Violence Against Syrian Refugee Women

A new report released today by the International Rescue Committee based on conversations with over 70 000  Syrian female refugees documents the relentless cycle of sexual violence, harassment, and early or forced marriage faced by women and girls inside Syria and neighbouring countries, such as Jordan, Lebanon, Turkey, and Iraq. The report includes personal testimony from the women, and calls for meaningful action over rhetoric from the international community, both for protection of women and support for survivors. Jenni is joined by Melanie Megevand, Women's Protection & Empowerment Advisor at the International Rescue Committee who has been working on the ground with the refugees.

Old Boys Clubs And All-Female Networking

Based on Laura Wade's play Posh, the film The Riot Club centres around an all-male elite drinking society at Oxford University who not only violently destroy a country pub for kicks, but also, it is implied, go on to run the country. Parallels have been drawn between the fictional Riot Club and the infamous Bullingdon Club which claims Prime Minister David Cameron, Chancellor George Osborne, and London Mayor Boris Johnson as alumni.  So to what extent do these all-male clubs and societies exist to benefit the already rich and established members of society? And can, and should, women compete by establishing their own networks and societies? Jenni is joined by journalist and Oxford University graduate Tanya Gold, and by Julia Hobsbawm who runs the networking business Editorial Intelligence and is Visiting Professor in Networking at two business schools.

Saying Goodbye - Losing A Baby Through Miscarriage Or Stillbirth

This Saturday in Glasgow a remembrance service will be taking place for anyone who's lost a baby through miscarriage or stillbirth. It's one in a series of services that will be taking place across the country this autumn called Saying Goodbye, set up by Zoe and Andy Clark-Coates. Although they now have two young children, their own experience of miscarriage has led them to organise these services for parents who've experienced similar feelings of grief but have had no way of publicly acknowledging their loss. Reporter Fiona Clampin went along to the first service in Exeter Cathedral.

Credits

| Role | Contributor |
| --- | --- |
| Presenter | Jenni Murray |
| Producer | Beverley Purcell |
| Interviewed Guest | Chrissie Hynde |
| Interviewed Guest | Kathy Reichs |
| Interviewed Guest | Tanya Gold |
| Interviewed Guest | Julia Hobsbawm |
| Interviewed Guest | Melanie Megevand |