Main content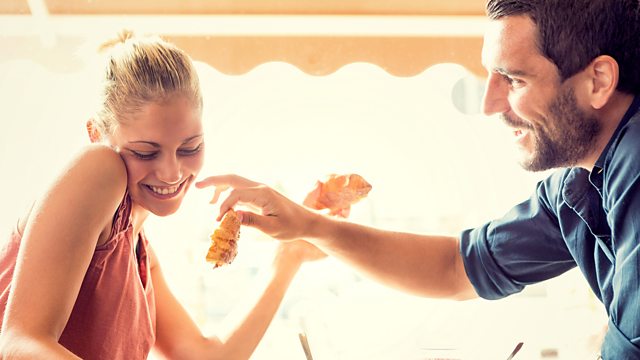 Pistorius verdict; Choosing a secondary school; Jane Green; Art of flirting
What does the Pistorius verdict mean for South African women? Plus how to choose a secondary school, bestselling author Jane Green on Saving Grace, and the art of flirting.
"What message is this sending?" That was the question asked by one of the women protesting outside Oscar Pistorius's trial on Friday. The athlete was found guilty of the culpable homicide of his girlfriend Reeva Steenkamp, but not guilty of her murder. So how has the verdict been received in a country where three women are killed every day by their partners? Jane speaks to the BBC's Southern Africa correspondent Nomsa Maseko and Edna Molewa from the Women's League of the African National Congress.
Choosing a secondary school for your child can be bewildering. Open Days, Ofsted Reports and tables of results might help but might not tell you if a school would be right for your child. Are good local state schools losing out because of rumours and out of date information? How can parents find out what schools are really like? Madeleine Holt is the Founder of Meet The Parents, a scheme designed to get communities to commit to good local comprehensive schools and Jan Atkinson is the Head at The Deanes in Essex.
Bestselling author Jane Green has a new novel out, Saving Grace, her most autobiographical to date. The novel is about Grace Chapman, a beautiful woman, living comfortably with her husband, bestselling author, Ted, in a farmhouse on the Hudson River in New York state. But the arrival of a new assistant to Ted changes everything and soon Grace begins to feel side lined in her home and marriage. Is Grace becoming paranoid or there is more to Beth than first appears? In this novel, Jane Green has drawn upon her own experience of being misdiagnosed with bi-polar disorder. She was treated with anti-psychotic drugs and reacted to them very badly. Jane pursued the correct diagnosis for her illness and it turned out that she had Lyme's disease. She joins Jane Garvey in the studio.
According to several studies, when it comes to flirting with the opposite sex, we are surprisingly bad at recognising the signs. And since most people fear rejection, they use tentative or indirect strategies. So how accurately can you tell if someone is flirting or just being friendly? Jane will be joined by social anthropologist and author of 'The Flirt Interpreter' Jean Smith, comedian Tom Craine who writes a Sex and the Single Guy column for Cosmo magazine and Charly Lester, London based journalist who blogs about dating and founder of the UK Dating Awards.
Presenter: Jane Garvey
Producer: Erin Riley.
Last on
Chapters
What Does the Oscar Pistorious Verdict Mean for South African Women?

How has the verdict been received among South African woman?

Duration: 10:27

How To Choose A Secondary School

How parents can find out what schools are really like.

Duration: 10:40

Jane Green

The bestselling author Jane Green on her new novel, Saving Grace.

Duration: 09:51

Flirtology

How accurately can you tell if someone is flirting or just being friendly?

Duration: 09:14

What Does the Oscar Pistorious Verdict Mean for South African Women?

"What message is this sending?" That was the question asked by one of the women protesting outside Oscar Pistorius's trial on Friday. The athlete was found guilty of the culpable homicide of his girlfriend Reeva Steenkamp, but not guilty of her murder. So how has the verdict been received in a country where three women are killed every day by their partners?

 

Jane speaks to the BBC's Southern Africa correspondent Nomsa Maseko.

How To Choose A Secondary School

Choosing a secondary school for your child can be bewildering. Open Days, Ofsted Reports and tables of results might help but might not tell you if a school would be right for your child. Are good local state schools losing out because of rumours and out of date information? How can parents find out what schools are really like?  Madeleine Holt is the Founder of Meet The Parents, a scheme designed to get communities to commit to good local comprehensive schools.

Jane Green

Bestselling author Jane Green has a new novel out, Saving Grace, her most autobiographical to date.   The novel is about Grace Chapman, a beautiful woman, living comfortably with her husband, bestselling author, Ted, in a farmhouse on the Hudson River in New York state.  But the arrival of a new assistant to Ted changes everything and soon Grace begins to feel side lined in her home and marriage. Is Grace becoming paranoid or there is more to Beth than first appears? In this novel, Jane Green has drawn upon her own experience of being misdiagnosed with bi-polar disorder. She was treated with anti-psychotic drugs and reacted to them very badly. Jane pursued the correct diagnosis for her illness and it turned out that she had Lyme's disease.  She joins Jane Garvey in the studio.

Flirtology

According to several studies, when it comes to flirting with the opposite sex, we are surprisingly bad at recognising the signs.  And since most people fear rejection, they use tentative or indirect strategies. So how accurately can you tell is someone is flirting or just being friendly? Are there universal signs of flirting? How do the British compare to other cultures when it comes to attracting or expressing romantic interest and how can they get better at it? Jane will be joined by social anthropologist and author of 'The Flirt Interpreter' Jean Smith, comedian Tom Craine who writes a Sex and the Single Guy column for Cosmo magazine and Charly Lester, London based journalist who blogs about dating and founder of the UK Dating Awards.

 

Credits

| Role | Contributor |
| --- | --- |
| Presenter | Jane Garvey |
| Interviewed Guest | Nomsa Maseko |
| Interviewed Guest | Edna Molewa |
| Interviewed Guest | Madeleine Holt |
| Interviewed Guest | Jan Atkinson |
| Interviewed Guest | Jane Green |
| Interviewed Guest | Jean Smith |
| Interviewed Guest | Tom Craine |
| Interviewed Guest | Charly Lester |
| Interviewed Guest | Divya Arya |
| Producer | Erin Riley |

Broadcast