Main content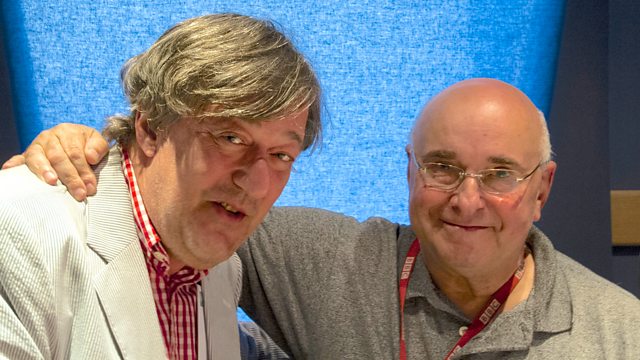 Wednesday - Rob Cowan with Stephen Fry
With Rob Cowan. CD of the Week: Dances - Benjamin Grosvenor; Brainteaser: Back to the Beginning; Proms Artist of the Week: Andrew Litton; Essential Choice: Korngold: Sinfonietta.
Rob Cowan's guest this week is the writer, actor and broadcaster Stephen Fry.
9am
A selection of music, including the Essential CD of the Week: Dances, Benjamin Grosvenor, DECCA. We also have our daily brainteaser at 9.30.
10am
Proms Artist of the Week: Andrew Litton.
10:30
Rob's guest this week is the writer, actor, and broadcaster Stephen Fry.
Stephen admits that beneath the puckish and jovial exterior there lies a miasma of contradictions. He strives for bold authenticity and truth, but is known for his modest self-effacement and insecurities. Early success in series such as Blackadder, A Bit of Fry and Laurie and Jeeves and Wooster, led to film roles (Wilde; Gosford Park ; Alice in Wonderland; The Hobbit), novels (The Liar and The Hippopotamus to name but two) autobiographical memoirs (Moab Is My Washpot; More Fool Me, published this month) and a series of challenging and critically-acclaimed documentaries including Stephen Fry: The Secret Life of the Manic Depressive, in which he discusses his bipolar disorder; Stephen Fry: Wagner and Me, on the stain of Nazism on the reputation of Wagner; Stephen Fry: Out There, in which he explores attitudes to homosexuality and the lives of gay people in different parts of the globe. Currently the host of the popular quiz show QI, Stephen has appeared on popular panel games such as Just a Minute and I'm Sorry I Haven't a Clue.
Stephen's music choices include classic recordings of Wilhelm Kempff performing Beethoven and Glenn Gould performing Bach, as well as great opera recordings of Mozart's The Marriage of Figaro conducted by Georg Solti, Verdi's Rigoletto featuring Luciano Pavarotti and Dame Joan Sutherland, and Wagner's Tristan und Isolde conducted by Wilhelm Furtwangler.
11am
Rob's Essential Choice
Korngold
Sinfonietta
Dallas Symphony Orchestra
Andrew Litton (conductor)
DORIAN.
Today's Brainteaser Answer - Back to the Beginning
The music played:

Joplin
The Entertainer
Joshua Rifkin (piano)
NONESUCH 7559 79159 2