Main content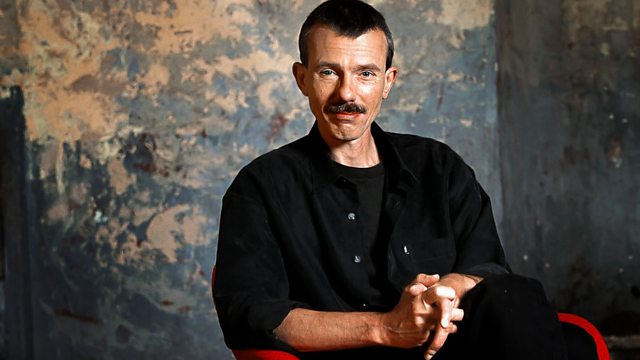 Le Mystere des Voix Bulgares
Jonathan Swain's selection includes a performance given in Poland by Le Mystere des Voix Bulgares under director Dora Hristova.
Le Mystere des Voix Bulgares and director Dora Hristova, in concert in Poland. Presented by Jonathan Swain.
12:31 AM
Kyurkchiyski, Krassimir [1936-2011]
Zazheni se Gyuro (Gyuro is getting married)
Le Mystere des Voix Bulgares, Dora Hristova (director)
12:32 AM
Lyondev, Petar [b.1936]
Moma houbava (A Beautiful Young Girl)
Le Mystere
12:34 AM
Kaufman, Nikolai [b.1925]
Temen oblak (A dark cloud is coming)
Dafinka Damyanova (soloist), Le Mystere
12:36 AM
Trad.
Songs from the Shope region of Bulgaria
Evgenia Miloucheva & Ruslana Asparuhova
12:39 AM
Ivanov, Milen C.20th
Moma Roussanka (A girl called Roussanka)
Violeta Iftimova, Binka Dobreva, Daniela Stoichkova
12:42 AM
Dora Hristova
Vito Horo
Olga Borisova, Dafinka Damyanova, Daniel Spassov, Milen Ivanov
12:45 AM
Kaufman
Zapali se Planinata
Radka Alexova (soloist), Le Mystere des Voix Bulgares
12:49 AM
Stefanov, Kiril [1933-2005]
Horo
Le Mystere
12:51 AM
Kaufman
Danyowa mama (Danyo's mother)
Binka Dobreva (soloist), Le Mystere
12:55 AM
Kaufman
Duda e bolna legnala (Duda is ill)
Elena Bojkova, Daniela Stoichkova (soloists), Le Mystere
12:58 AM
Trad.
Alleluia
Daniel Spassov, Milen Ivanov
1:01 AM
Archangelski, Alexander [1846-1924]
Bogorodiste (Mother of God)
Le Mystere
1:05 AM
Spassov, Ivan [1934-1995]
Mehmetyo
Le Mystere
1:09 AM
Kolev, Kosta [1921-2010]
Dreme mi se lega mi se (I feel sleepy)
Violeta Marinova, Mariya Leshkova, Tsvetelina Velyovska, Elichka Krastanova
1:12 AM
Trad.
Shopski
Elena Bojkova, Evelina Hristova (soloists), Le Mystere
1:16 AM
Lassus, Orlande de [1532-1594]
Matona mia cara (My lovely lady)
Gergana Kostadinova, Sofia Yaneva, Evelina Hristova, Daniela Dimitrova
1:18 AM
Lyondev, Petar
Ergen deda (The Old Bachelor)
Violeta Marinova, Radka Alexova, Le Mystere
1:22 AM
Kaufman
Majstor Manol (Master Builder Manol)
Le Mystere
1:25 AM
Kyurkchiyski
Daj mi Bozhe (Please give me eagles' wings)
Daniel Spassov, Le Mystere
1:29 AM
Kyurkchiyski
Dilmano, dilbero (Beautiful Dilmano)
Le Mystere
1:31 AM
Kuter, Franz
Polegnala e Todora (Todora's dream)
Le Mystere
1:34 AM
Todorov, Hristo [1927-1980]
Svatba (Wedding Party)
Le Mystere
1:37 AM
Stainov, Petko [1896-1977]
Paidoushko Horo
Bulgarian Television and Radio Symphony Orchestra, Vassil Stefanov (conductor)
1:40 AM
Kyurkchiyski
Prayer
Simfonieta Orchestra of the Bulgarian National Radio, Kamen Goleminov (conductor)
1:46 AM
Stoyanov, Veselin (1902-1969)
Suite No.2 from the ballet 'Papessa Joanna'
Bulgarian National Radio Symphony Orchestra, Boris Hinchev (conductor)
2:31 AM
Martinu, Bohuslav (1890-1959)
String sextet (H224)
Wiener Streichsextet
2:48 AM
Respighi, Ottorino (1879-1936)
Poema autunnale
Viktor Šimcisko (violin), Slovak Radio Symphony Orchestra, Ondrej Lenard (conductor)
3:03 AM
Suk, Josef (1874-1935)
Serenade in E flat major (Op.6)
Budapest Strings, Béla Banfalvi (leader)
3:32 AM
Vivaldi, Antonio [1678-1741]
Violin Concerto in D (Op.3 No.9) (RV.230)
Europa Galante, Fabio Biondi (violin/director)
3:40 AM
Handel, Georg Frideric [1685-1759]
Cara sposa - aria from Rinaldo
Delphine Galou (contralto), Les Ambassadeurs, Alexis Kossenko (director)
3:45 AM
Bach, Johann Sebastian (1685-1750)
Keyboard Concerto No.5 in F minor BWV.1056
Leif Ove Andsnes (piano), Risor Festival Strings
3:55 AM
Durufle, Maurice [1902-1986]
Quatre motets sur des thèmes grégoriens (Op.10)
BBC Singers, Stephen Cleobury (conductor)
4:03 AM
Liszt, Franz (1811-1886)
Mephisto Waltz No.1 (S.514)
Janina Fialkowska (piano)
4:15 AM
Klami, Uuno (1900-1961)
Intermezzo
Paivi Kaerkaes (cor anglais), Radion Sinfoniaorkesteri, Sakari Oramo (conductor)
4:20 AM
Grossman, Ludwik (1835-1915)
Csárdás
Polish Radio Symphony Orchestra, Katowice, Miroslaw Blaszczyk (conductor)
4:31 AM
Corelli, Arcangelo (1653-1713)
Concerto Grosso in D (Op.6 No.4)
Europa Galante, Fabio Biondi (violin/director)
4:40 AM
Tradl, arr. Dinev, Petar [1889-1980]
Two Folk Songs from South-Western Bulgaria
Bulgarian National Radio Mixed Chorus, Mihail Milkov (conductor)
4:46 AM
Saint-Saens, Camille (1835-1921)
Morceau de Concert, Op 154
Suzanna Klintcharova (harp), Sofia Philharmonic Orchestra, conductor Dimitar Manolov
5:01 AM
Buxtehude, Dietrich (1637-1707)
Prelude and Fugue in G minor
Mario Penzar (organ)
5:09 AM
Schumann, Robert [1810-1856]
Symphony No.4 in D minor (Op.120), version original (1841)
Norwegian Radio Orchestra, Roy Goodman (conductor)
5:36 AM
Brahms, Johannes (1833-1897)
2 Motets
Danish National Radio Choir, Stefan Parkman (conductor)
5:48 AM
Rota, Nino [1911-1979]
Bassoon Concerto
Christopher Millard (bassoon), CBC Vancouver Orchestra, Mario Bernadi (conductor)
6:07 AM
Tchaikovsky, Peter Ilyich [1840-1893]
Meditation (Op. 72'5)
Yulianna Avdeeva (piano)
6:11 AM
Haydn, Joseph (1732-1809)
Piano Trio (H.15.18) in A major
ATOS Trio
6:26 AM
Koutev, Philip (1903-1982)
Dragana and the Nightingale
Sofia Chamber Choir, Vassil Arnaudov (conductor).