Main content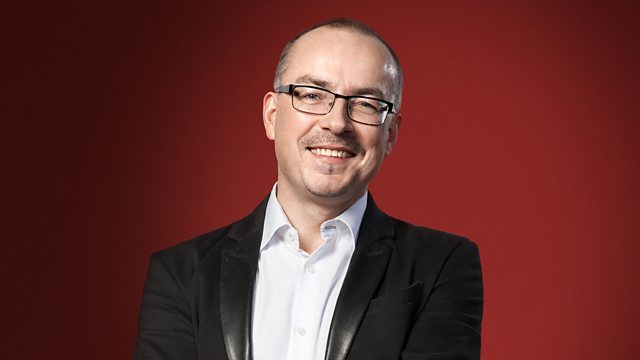 Summer CD Review: Bach, Harrison Birtwistle, Andrew Litton, Mahler
With Andrew McGregor. Including Bach: Concerto in C minor, BWV1060; Proms Composer: Harrison Birtwistle; American conductor Andrew Litton; Mahler: Das Lied von der Erde.
Clips

09.00 am
Lisa Batiashvili: Bach
BACH, C P E: Trio in B minor for flute, violin and basso continuo, Wq 143
BACH, J S: Concerto for Oboe & Violin in C minor, BWV1060; Cantata BWV156 'Ich steh mit einem Fuss im Grabe': I. Sinfonia; Violin Concerto No. 2 in E major, BWV1042; Sonata for solo violin No. 2 in A minor, BWV1003; St Matthew Passion, BWV244: Erbarme dich
Lisa Batiashvili (violin), Emmanuel Pahud (flute), Peter Kofler, Francois Leleux (oboe), Kammerorchester des Bayerischen Rundfunks, Radoslaw Szulc
DG 4792479 (CD)
Bach Cantatas: Recreation for the Soul
BACH, J S: Cantata BWV78 'Jesu der du meine Seele'; Cantata BWV150 'Nach dir, Herr, verlanget mich'; Cantata BWV147 'Herz und Mund und Tat und Leben'
Elin Manahan Thomas, Daniel Taylor, James Gilchrist, Magdalena Consort, Peter Harvey (conductor)
CHANNEL CCSSA35214 (Hybrid SACD)
Brahms: Symphonies Nos. 3 & 4
BRAHMS: Symphony No. 3 in F major Op. 90; Symphony No. 4 in E minor Op. 98
London Symphony Orchestra, Valery Gergiev (conductor)
LSO LIVE LSO0737 (Hybrid SACD mid-price)
9.30am Proms Composer: Sir Harrison Birtwistle
Birtwistle: The Triumph of Time
BIRTWISTLE: The Triumph of Time; Earth Dances; Panic
BBC Symphony Orchestra, Pierre Boulez (conductor), Ensemble Modern Orchestra, John Harle, Paul Clarvis, Andrew Davis (conductor)
DECCA 4784249 (CD mid-price)
Harrison Birtwistle - Refrains and Choruses
BIRTWISTLE: Hoquetus Petrus; Refrains and Choruses; Hector's Dawn; Duets for Storab; Linoi; Berceuse de Jeanne; Verses; Chorale from a Toy-Shop; Sad Song; An interrupted Endless Melody; Oockooing Bird; Five Distances
Richard Shaw (piano), The Galliard Ensemble
DEUX-ELLES DXL1019 (CD)
BIRTWISTLE: Punch and Judy
Stephen Roberts, Phyllis Bryn-Julson, Jan DeGaetani, Philip Langridge, David Wilson- Johnson, John Tomlinson, London Sinfonietta, David Atherton (conductor)
NMC NMCD138 (2CD mid-price)
BIRTWISTLE: Gawain
Marie Angel (soprano), Anne Howells (mezzo soprano), Francois Le Roux (baritone), John Tomlinson (bass baritone), The Royal Opera Chorus, Orchestra of the Royal Opera House, Elgar Howarth (conductor)
NMC NMCD200 (2CD mid-price)
Birtwistle: Night's Black Bird
BIRTWISTLE: The Shadow of Night; Night's Black Bird; The Cry of Anubis
Owen Slade (tuba), The Halle Orchestra, Ryan Wigglesworth
NMC NMCD156 (CD)
Harrison Birtwistle: The Axe Manual
BIRTWISTLE: Axe Manual; Oockooing Bird; Hector's Dawn; Sad Song; Berceuse de Jeanne; Ostinato with Melody; Betty Freeman - Her Tango; Saraband - The Kings' Farewell; Harrison's Clocks; Precis
Nicolas Hodges (piano), Claire Edwards (percussion)
METRONOME METCD1074 (CD)
Birtwistle: The Moth Requiem
BIRTWISTLE: The Moth Requiem (2003); Latin Motets (3) from The Last Supper; Carmen Paschale; Lullaby; On the Sheer Threshold of the Night; The Moth Requiem (2012)
Roderick Williams (baritone), BBC Singers, Nash Ensemble, Nicholas Kok
SIGNUM SIGCD368 (CD)
10.10am Handel arias
Handel: Arias
HANDEL: Quando mai (from Radamisto); Mi lusinga il dolce affetto (from Alcina); Verdi prati (from Alcina); Sta nell'Ircana pietrosa tana (from Alcina); Hercules: There in myrtle shades; Hercules: Cease, ruler of the day, to rise; Hercules: Where shall I fly?; Cara speme (from Giulio Cesare); Con l'ali di costanza (from Ariodante); Scherza, infida (from Ariodante); Dopo notte (from Ariodante)
Alice Coote (mezzo-soprano), The English Concert, Harry Bicket (conductor)
HYPERION CDA67979 (CD)
10.20am Interview with Andrew Litton
Andrew talks to American conductor Andrew Litton about recording Prokofiev and Wagner in Bergen, as well as a recent labour of love involving his hero, jazz pianist Oscar Peterson. 
James Rutherford sings Wagner
WAGNER: Der fliegende Hollander: Overture; Die Frist ist um (from Der fliegende Hollander); Blick ich umher in diesem edlen Kreise (from Tannhauser); Wie Todesahnung...O du, mein holder Abendstern (from Tannhauser); Du furchterliches Weib! (from Lohengrin); Was duftet doch der Flieder (from Die Meistersinger von Nurnberg); Die Meistersinger von Nurnberg: Prelude to Act 3; Wahn! Wahn! Uberall Wahn! (from Die Meistersinger von Nurnberg); Ja, wehe! Wehe! Weh uber mich! (from Parsifal); Leb wohl, du kuhnes, herrliches Kind! (from Die Walkure)
James Rutherford (baritone), Bergen Philharmonic Orchestra, Andrew Litton (conductor)
BIS BIS2080 (Hybrid SACD)
Prokofiev: Symphony No. 6
PROKOFIEV: Symphony No. 6 in E flat minor Op. 111; Lieutenant Kije Suite Op. 60; The Love for Three Oranges: Suite Op. 33a
Andrei Bondarenko (baritone), Bergen Philharmonic Orchestra, Andrew Litton (conductor)
BIS BIS1994 (Hybrid SACD)
Grieg & Liszt: Piano Concertos
GRIEG: Piano Concerto in A minor Op. 16
LISZT: Piano Concerto No. 1 in E flat major, S124; Piano Concerto No. 2 in A major, S125
Stephen Hough (piano), Bergen Philharmonic Orchestra, Andrew Litton (conductor)
HYPERION CDA67824 (CD)
A Tribute to Oscar Peterson
Andrew Litton (piano)
BIS BIS2034 (Hybrid SACD)
11.15am Frans Bruggen recordings
Mozart: Clarinet Concerto
MOZART: Clarinet Concerto in A major, K622; Masonic Funeral Music in C minor, K477; Parto, parto, ma tu ben mio (from La Clemenza di Tito); Adagio in B flat Major, K411
Erich Hoeprich (clarinet), Joyce DiDonato (mezzo), Orchestra of the Eighteenth Century, Frans Bruggen (conductor)
GLOSSA GCDC81107 (CD mid-price)
Mozart: The last three symphonies
MOZART: Symphony No. 39 in E flat major, K543; Symphony No. 40 in G minor, K550; Symphony No. 41 in C major, K551 'Jupiter'
Orchestra of the Eighteenth Century, Frans Bruggen (conductor)
GLOSSA GCD921119 (2CD mid-price)
Chopin: Piano Concertos Nos. 1 & 2
CHOPIN: Piano Concerto No. 1 in E minor Op. 11; Piano Concerto No. 2 in F minor Op. 21
Yulianna Avdeeva (piano), Orchestra of the 18th Century, Frans Bruggen (conductor)
FREDERICK CHOPIN INSTITUTE NIFCCD029 (CD)
Beethoven: Complete Symphonies, Violin Concerto & Prometheus
BEETHOVEN: Symphonies Nos. 1-9 (complete); Egmont Overture Op. 84; Coriolan Overture Op. 62; Romance No. 1 for Violin and Orchestra in G major Op. 40; Romance No. 2 for Violin and Orchestra in F major Op. 50; Violin Concerto in D major Op. 61; The Creatures of Prometheus Op. 43
Lynne Dawson (soprano), Jard van Nes (contralto), Anthony Rolfe Johnson (tenor), Eike Wilm Schulte (bass), Gulbenkian Choir, Thomas Zehetmair (violin), Orchestra Of The 18th Century, Frans Bruggen (conductor)
DECCA 4787436 (7CD budget)
11.40am
Mahler: Das Lied von der Erde
BUSONI: Berceuse elegiaque Op. 42
MAHLER: Das Lied von der Erde
Susan Graham (mezzo), Christian Elsner (tenor), Tonhalle Orchestra Zurich, David Zinman (conductor)
RCA 88765438152 (Hybrid SACD)