Main content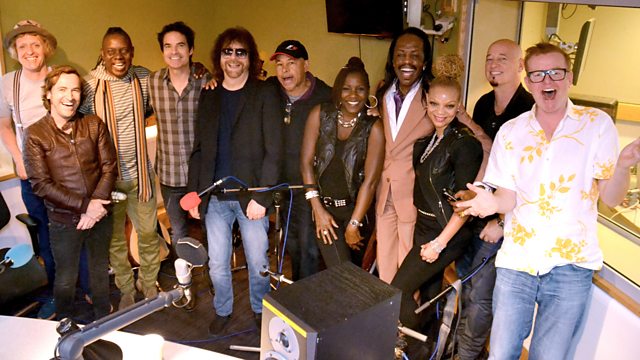 Train, Jeff Lynne, Grayson Perry, Earth, Wind & Fire
Chris is joined by Train, Jeff Lynne, Grayson Perry and Earth, Wind & Fire.
Clips

Pause for Thought
From Abdul-Rehman Malik, journalist and broadcaster
This month marks an important anniversary in my life. Two decades ago I embarked on what has turned out to be  a truly long-term relationship. It started a little patchy, it took time to grow and when it finally started to take shape it was messy and a little wild. At times I wished I could let it all go - to replace it with the smooth, easy days that had preceded it, but I persevered and now I can't imagine life without it.
So, it's with a fair degree of pride that I wish a Happy 20th - to my beard.
Growing up, I was usually so far behind the fashion curve that I couldn't even keep up with the high street.
But When it came to the beard, I was way ahead of the crowd, being one of a very few 19 year olds sporting one. I associated the beard with rugged strength and earthy wisdom. I wanted to channel the creativity of bearded men like Jeff Lynne, but I had other reasons for growing the beard - spiritual reasons.
In my tradition, the beard is synonymous with being a man. It's a physical reminder of our duty to God - to live an honourable, dare I say, chivalrous life. We patiently grow this thing out, deal with the naysayers when they say it makes us look old, stroke it when we're deep in thought. I feel it connects me with the great philosophers, prophets and revolutionaries of the past.
"God does look at your appearances or what you possess", counselled the Prophet Muhammad. "God scans your hearts and looks at your deeds."
The hipsters who surround me in London's East End have made the beard not just acceptable, but fashionable - and I thank them for it. But for me, my beard will always be visual cue about who I am and who I aspire to be.
With every white hair that now sprouts from my chin - and there are far too many - I am reminded of growing older and the urgency of life. To live well is to live beautifully and for the benefit of others - and of course you don't need to be bearded to that.