Main content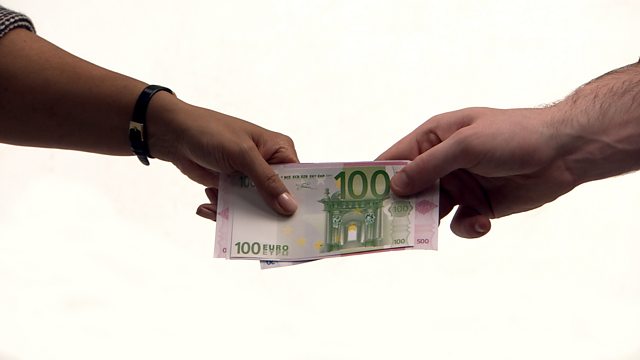 Greed Is Good
By Hugh Costello. Following Ireland's recent financial crash, the author delves into a sector that is constantly inviting you to take what you can get. Sequel to The Bail-Out.
A fast-paced and blackly funny parable about the difficulty of leading a virtuous life in a financial sector that's constantly inviting you to take what you can get.
Inspired by the recent public enquiry into Ireland's financial crash Greed Is Good is a blackly funny, entirely fictional sequel to the same writer's The Bail-Out, broadcast in 2011.
Greed is Good asks the question - if the Bankers had the chance to do it all over again would they do it any differently? And the answer comes back loud and clear - are you kidding?
In a packed Dublin courtroom, the soul of modern Ireland is laid bare as a fictional former banker goes on trial. Among those giving evidence against him are a one-time colleague and a disgraced government regulator, both complicit in the bank's collapse. As they take turns testifying, they begin to realise that with their shared expertise they could make an illegal fortune without getting caught. And they convince themselves that if they put their wealth to socially responsible use, greed could turn out to be good....... But of course they know that that is just the thin end of a wedge which has left every man woman and child in Ireland owing £30k over the next 25 years.
An inside out look at the greed culture which just might conclude that many of those involved in finance could be suffering from a psychological illness - there must surely be some explanation for such reprehensible and even treasonous behaviour.
Writer ..... Hugh Costello
Producer ..... Eoin O'Callaghan.
Credits
| Role | Contributor |
| --- | --- |
| Elaine Cosgrove | Karen Ardiff |
| Arthur Warnock | Declan Conlon |
| Liam O'Donnell | John Kavanagh |
| Frank Cosgrove | Stuart Graham |
| Joyce Carroll | Aine McCartney |
| Orla McKnight | Ali White |
| Judge | Hugh Costello |
| Writer | Hugh Costello |
| Producer | Eoin O'Callaghan |