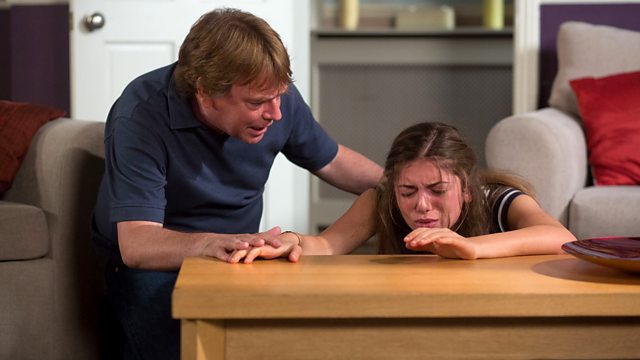 28/08/2014
Denise asks Ian whether what Rainie has told her is true – his immediate denial says it all. Rainie tells Ian that she told Denise because Mick called her scum in front of everyone in the Vic and anyway; hadn't he told her? Linda watches on from the upstairs window of the Vic as she sees Denise lock herself in the Minute Mart. Ian bangs on the door – pleading with Denise to talk to him about what's happened.
He's surprised to turn around to see a very pregnant Cindy, and tells her to go into the house. Cindy does so, and as she goes to grab a glass of water, is struck by crippling stomach cramps. Ian bursts into the Vic and desperately asks Mick to go and speak to Denise for him. Linda clocks this exchange and tells Mick not to get involved. Ian returns to the house and asks Cindy whether Gina knows where she is, as he has a number of missed calls from her. Back at the Vic, Linda is wound up about what Ian has asked Mick to do - what would Mick say to Denise anyway? When Mick tries to be sympathetic about Ian losing Lucy, Linda reminds him that he's upset his own daughter and that should be his primary concern.
Cindy confesses to Ian that Gina wants to adopt her baby – she had to come back to Walford to get away from her. Ian grabs the keys to the Minute Mart and lets himself in, but she is nowhere to be found. - Denise has headed to the Vic to see Mick. Meanwhile, Mick finds Nancy sulking in the Square Gardens. When he tries to talk to her about why he lied for Ian, she storms off. Back at Ian's house, Cindy is still suffering from severe stomach cramps. As Ian goes to head off and find Denise, Cindy begs him not to leave. Linda joins Denise at a table and hands her a drink. When Denise questions how long she knew about Ian sleeping with Rainie, she lies, saying that she only just found out.
As Cindy's contractions get worse, Ian tells her that he's heard from Gina – Cindy's waters broke that morning. When Ian comes to the conclusion that she is in an early labour, Cindy panics. Ian tries to calm Cindy down, telling her that when this set of contractions have passed; they will get in the car and head to hospital. Mick follows Nancy to the playground. She is adamant that she doesn't want to talk to him. Mick questions Nancy's behaviour – it seems like an overreaction. Nancy admits that she is appalled by the way that Mick spoke to Rainie – it's shown her who he really is; she can't believe that he and Linda have lied to her.
Mick admits that he was in the wrong, but he'd given Ian his word and he had no idea that it would have panned out the way that it did. Nancy tells Mick that if he respected her he would have been honest with her upfront – Mick agrees, that's exactly what he should have done. He reaches out his hand in a peace offering, and she takes it. As Ian tries to get Cindy in the car, she refuses to go to hospital. Ian rings for an ambulance, telling them that Cindy's contractions are two and a half minutes apart. Ian finds Cindy at the front door, bent over in pain, trying to leave – believing Ian hates her.
Ian confesses to Cindy that he was angry at her because she kept mentioning his alibi – he shouldn't have treated her so badly; the truth is out now anyway. Ian picks the phone back up to the hospital – Cindy is desperate to push and Ian can see the head! Linda finds Denise looking across to the Beales' from the Vic living room window. She tells Linda that she is waiting for Ian to leave the house, so that she can pack a bag and leave. As Denise sees Cindy's ambulance pull up at the Beales', she assumes that it's for Patrick and dashes across the Square. Cindy gives birth to a little girl – Denise runs in as a relieved Ian and Cindy are thrilled.
As Ian and Cindy watch the midwife wrap up baby Beth, the two have a heart to heart. Cindy admits that being at the Beales' makes her feel closer to her mum. Ian tells Cindy that his house is her home too and that he's going to look after her. Denise comes back downstairs to see Beth being handed back over to Cindy. As Ian tells Denise that he doesn't know what to say, Denise tells him that she forgives him, but her face tells a different story...
Last on
Credits
| Role | Contributor |
| --- | --- |
| Denise Fox | Diane Parish |
| Ian Beale | Adam Woodyatt |
| Cindy Williams | Mimi Keene |
| Mick Carter | Danny Dyer |
| Linda Carter | Kellie Bright |
| Nancy Carter | Maddy Hill |
| Patrick Trueman | Rudolph Walker |
| Rainie Cross | Tanya Franks |
| Executive Producer | Dominic Treadwell-Collins |
| Director | Toby Frow |
| Writer | Richard Davidson |