Main content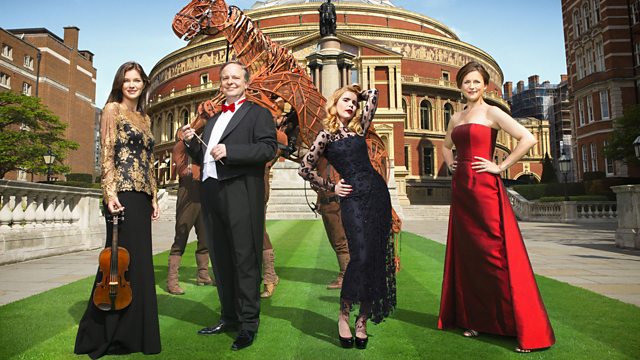 Live from the Royal Albert Hall, London, the conclusion of a Prom with the Royal Philharmonic under Charles Dutoit. Respighi: Roman Festivals; Fountains of Rome; Pines of Rome.
Live from the Royal Albert Hall, London
Presented by Martin Handley
The Royal Philharmonic Orchestra & Charles Dutoit live at the BBC Proms with a celebration of Italy and especially the city of Rome. Music by Berlioz, Walton and Respighi.
Berlioz: Overture 'Le carnaval romain'
Walton: Sinfonia concertante (original version)
8:05pm Interval
8:25pm
Respighi: Roman Festivals; Fountains of Rome; Pines of Rome
Danny Driver (piano),
Royal Philharmonic Orchestra,
Charles Dutoit (conductor).
Italian sunshine floods the Royal Albert Hall Tonight's Prom - with a Swiss conductor, a British orchestra, and music by an Italian, an Englishman and (first) a Frenchman. Hector Berlioz's opera Benvenuto Cellini - featuring the riotous Roman Carnival from which he took the Overture we'll hear tonight - was inspired by Berlioz's experiences during eighteen months in Italy after winning the French Prix de Rome in 1830. Ottorino Respighi settled in Rome for most of his adult life, and celebrated his adopted city in a triptych of increasingly flamboyant orchestral showpieces - depicting not just fountains, pines and festivals, but the children of Rome at play, the mysterious catacombs and the ancient Roman legions on the march. Charles Dutoit offers a rare chance to hear all three works in sequence. William Walton - one of the featured composers in the 2014 BBC Proms - dedicated the three movements of his original Sinfonia concertante to the three Sitwell siblings, Osbert, Edith and Sacheverell, who took him under their wing and (crucially) introduced him to Italy. "I've never forgotten it," Walton said of the experience of emerging from a tunnel under the Alps into the Italian sunlight: "a new world".
More episodes
Next
You are at the last episode
In this Proms Music Guide, Suzy Klein talks about Respighi's The Pines of Rome.