Main content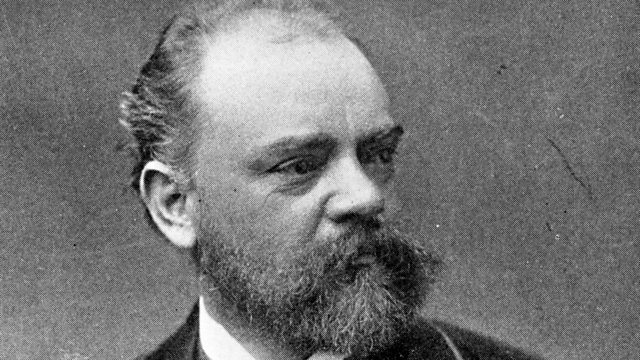 Donald Macleod focuses on the British origins of Dvorak's Eighth Symphony and the Requiem, as well as his being awarded a doctorate.
Between 1884 and 1896, Dvorák visited Britain nine times - with enormous benefit both to himself and to musical life on these shores. The platforms offered by London's conductors and concert venues helped to launch him as a composer of international stature. Before his first visit to London, he was known only in the German-speaking world and his native Bohemia. By his fifth visit, his fame was on a par with that of his friend and untiring advocate Brahms.
Donald Macleod explores the origins of Dvorák's 8th Symphony, commissioned by the Royal Philharmonic Society, and his Requiem, written for the Birmingham Festival of 1891. The RPS had been trying to persuade Dvorák to compose something new for them for several years but he remained busy with other projects until the end of 1889. Eventually, he wrote to say that he had started sketching "something new for your concerts". His new symphony was a huge success at its British première the following April. By now, Dvorák was practically a member of the British musical establishment so it was a logical step for Cambridge University to award him an honorary doctorate. He attended the ceremony in June 1891 - an all-Latin affair that evidently made him extremely uncomfortable. In the wake of the rapturous reception given to The Spectre's Bride at the Birmingham Festival of 1885, Dvorák was commissioned to write a new oratorio. At first it was suggested to him that he should set The Dream of Gerontius, a poem by Cardinal Newman, but Dvorák found the text alien and opted instead for a setting of the Requiem mass, which received its world première in Birmingham in October 1891, under the baton of the composer.
Requiem, Op 89; Dies Irae
Czech Philharmonic Orchestra
Karel An?erl, conductor
Symphonic Variations, Op 78
Czech Philharmonic Orchestra
Charles Mackerras, conductor
Symphony No 8 in G, Op 88; 3rd and 4th mvts
London Symphony Orchestra
István Kertész, conductor
Requiem, Op 89; 'Domine, Jesu Christe'
Maria Stader (soprano)
Sieglinde Wagner (alto)
Ernst Haefliger (tenor)
Kim Borg (bass)
Czech Philharmonic Orchestra
Karel Ancerl, conductor
Producer: Chris Barstow.