Main content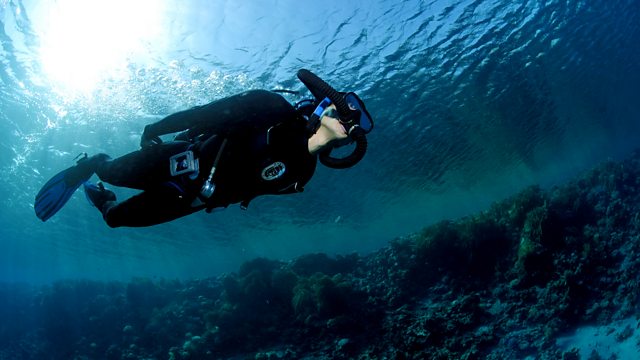 The Life Sub-Aquatic
Helen Scales explores our long-held dreams of living under the sea, from Jules Verne through to Jacques Cousteau. From 2014.
Marine biologist and avid scuba diver, Helen Scales, explores the human obsession with inhabiting the depths and meets aquanauts who want to go down and stay down. From Jules Verne to Jacques Cousteau, the dream of a life sub-aquatic has endured. But could it ever become a reality?
At the moment, there is one place on Earth where you can live deep underwater for weeks at a time: The Aquarius Reef Base, a research station run by Florida International University which sits on the seabed some 20 metres down. As Helen discovers herself on a short visit to Aquarius, this is paradise for marine scientists who can wave goodbye to the surface and conduct experiments in situ, 24/7. It also hosts astronauts who use the unique conditions to train for life on the International Space Station as well as voyages deeper into space. Helen talks to Commander Chris Hadfield (recently made famous through his rendition of Space Oddity) about his time testing space suits for NASA and meeting sharks face to face on night time sorties.
Aquarius stands alone today but the dream of working – and living – under the sea has a rich history that began years before we ever stepped foot on the surface of the moon. It was undersea pioneer Jacques Cousteau, co-inventor of the Aqua-Lung, who captured the world's imagination when he created the Conshelf underwater village in the Red Sea. This was followed by the US Navy's Sea Lab and NASA's own 'Tektite' house (built in 1969 by General Electric and described by inhabitant Sylvia Earle as looking like a giant kitchen appliance).
Interest from philanthropists, corporations and even individuals is keeping alive the dream of life as an aquanaut. Helen meets Lloyd Godson, a young Australian adventurer who is working on his third project - BioSub 3 - a submerged habitat powered by sustainable energy. As Helen discovers, there's a long way to go to meet the many challenges this hostile environment throws up - not least how our bodies and our brains cope with the pressure and confined conditions that come with living underwater.
Producer: Helen Scales
First broadcast on BBC Radio 4 in September 2014.
Last on
Presenter Helen Scales on dry land
Broadcasts