Main content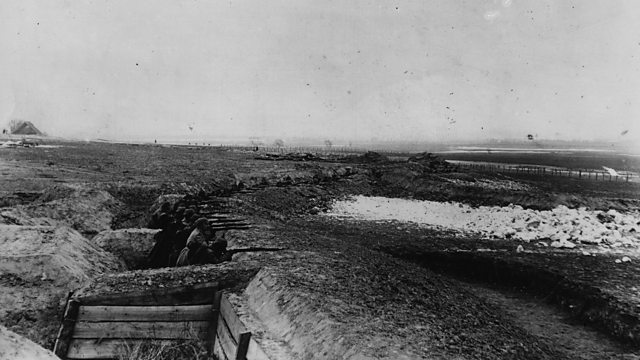 August 1914
Robin Brooks's dramatisation of Aleksandr Solzhenitsyn's novel about the Russian army's defeat at the hands of Germany in 1914 as they advanced into East Prussia.
A new adaptation for radio of Nobel Prize-winner Aleksandr Solzhenitsyn's epic story of the first battle of the Eastern Front in 1914 - which was a disaster for Russia. Solzhenitsyn's book was published in the West one year after he won the prize - with sections about Lenin omitted. It was only after his expulsion from the USSR that the complete book was available. This new production is narrated by Fiona Shaw.
In August 1914, Colonel Vorotyntsev advances into East Prussia in search of the elusive front line. As he encounters the truth about the German war-machine his military ideals rapidly tarnish and he must decide whether to volunteer his men for certain death or retreat. At the outbreak of the First World War, the Russian advance met with catastrophic results. Bungled orders, poor and insufficient supplies, out-dated equipment and tactics, and deliberate misinformation resulted in chaos and the near-annihiliation of the army at the hands of the Germans. Three years later the tsarist regime fell as Lenin led the October Revolution.
Dramatised by Robin Brooks from the translation by H.T.Willett
Sound Nigel Lewis & Catherine Robinson
BBC Cymru Wales production.
Credits
| Role | Contributor |
| --- | --- |
| Writer | Aleksandr Solzhenitsyn |
| Adaptor | Robin Brooks |
| Narrator | Fiona Shaw |
| Vorotyntsev | Alex Waldmann |
| Samsonov | Michael Bertenshaw |
| Arseni | Sion Pritchard |
| Sasha Lenartovich | Mark Edel-Hunt |
| Yaroslav Kharitonov | Will Howard |
| Lenin | Clive Hayward |
| Grokholets | Robert Pugh |
| Filimonov | Sam Dale |
| Krymov | Simon Armstrong |
| Ofrosimov | Matthew Watson |
| Artamonov | David Cann |
| Tanya | Melangell Dolma |
| Kramchatkin | Chris Gordon |
| Luntsov | Sion Ifan |
| Agafon | Alex Hope |
| Director | Alison Hindell |