Main content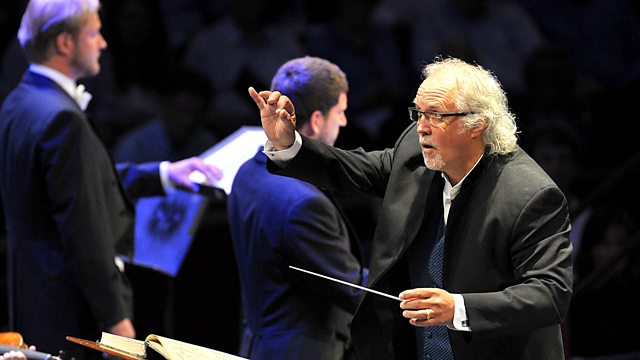 Live from the Royal Albert Hall, London, Donald Runnicles conducts Deutsche Oper Berlin in Strauss's tragic opera Salome, marking the 150th anniversary of the composer's birth.
Live from the Royal Albert Hall, London
Presented by Donald Macleod
In Richard Strauss's 150th-anniversary year the Proms presents a double bill of his two great tragedies. On consecutive nights his heroines Salome and Elektra meet their bloody ends in the Royal Albert Hall. Tonight, Donald Runnicles brings his Deutsche Oper Berlin forces to the Proms for Salome. Star soprano Nina Stemme leads the cast as the troubled princess.
Richard Strauss: Salome
Herod: Burkhard Ulrich (Tenor)
Herodias: Doris Soffel (Mezzo-Soprano)
Salome: Nina Stemme (Soprano)
Jokanaan: Samuel Youn (Baritone)
Narraboth: Thomas Blondelle (Tenor)
Herodias Page: Ronnita Miller (Alto)
1st Jew: Paul Kaufmann (Tenor)
3rd Jew: Jörg Schörner (Tenor)
4th Jew: Clemens Bieber (Tenor)
5th Jew: Andrew Harris (Bass)
1st Nazarene: Noel Bouley (Bass-Baritone)
2nd Nazarene: Carlton Ford (Baritone)
1st Soldier: Marko Mimica (Bass-Baritone)
2nd Soldier: Tobias Kehrer (Bass)
Cappadocian: Seth Carico (Bass)
2nd Jew/A Slave: Gideon Poppe (Tenor)
Deutsche Oper Berlin
Donald Runnicles (Conductor)
After seeing Oscar Wilde's play Salomé, Richard Strauss was overcome with the feeling that it "cried out for music."
Wilde wrote his drama on "the sinfulness of innocence" in French and Strauss used a German translation by Hedwig Lachmann as his libretto. First performed in Dresden in December 1905, Salome gave Richard Strauss his first international opera success.
The story is one that takes passion to its extreme and beyond. Salome is the sultry princess of ancient Judea. Her stepfather, Herod, has promised Salome half of his kingdom in exchange for a sensual dance. In return, she asks that he gives her the head of John the Baptist on a silver platter...
In the title role, for which Strauss famously wished for a 16-year-old princess with the voice of an Isolde, is one of the world's leading dramatic sopranos, Nina Stemme.
Howard Goodall and Suzy Klein discuss Dance of the Seven Veils from Strauss' Salome.
Featured in...
Global visitors at the BBC Proms 2014.

Celebrating 150 years since the birth of Richard Strauss at the BBC Proms 2014.