Main content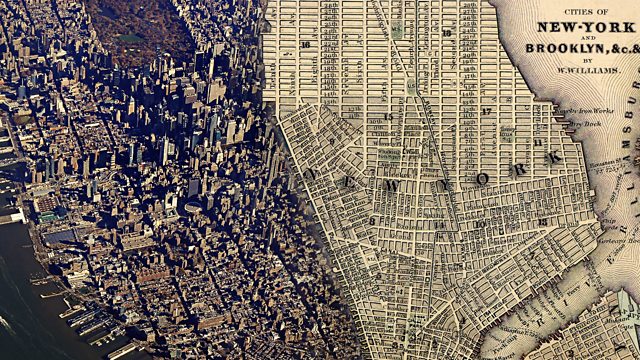 The Map That Made Manhattan
4 Extra Debut. An exploration of the evolution, and lasting impact, of a visionary urban design: the Manhattan street grid. From 2014.
Over two hundred years since the beginning of its construction, this feature explores the New York grid system as real and imagined - architectural matrix, psychic space and site of continuing cultural-political argument.
The Commissioners' Plan of 1811 divided the island of Manhattan into an orthogonal grid of intersecting avenues running North-South and cross-streets running East-West, from river to river. Attacked for being nothing more than "a grid of money making", it was in fact a great democratic leveller. And if it fostered what de Tocqueville viewed as relentless monotony, its coordinates also enabled drivers and pedestrians to figure out where they stood, physically and metaphorically.
The debate continues. Urban critic Tony Hiss ('In Motion: The Experience of Travel') has written about the grid's primal orderliness: "I still think it distances us from our natural surroundings and it has given us a spurious and diminished mental geometry".
Condemned for dehumanizing and mechanising the city's inhabitants (Henry James, writing in the grid-free enclave of Greenwich Village, called it "a primal topographic curse") others saw it as a modern, rational system in step with the ethos of a young republic.
And New Yorkers themselves are of course a great source of wit and comment on the grid system.
Filled with the sounds and atmosphere of New York, and hearing entirely from its residents - from city architects and historians to taxi drivers and subway engineers - this programme considers the geometry of the grid as the brilliant intersection of architectural vision with psychic and cultural space, and as footprint for the awesome city skyline.
Producer: Simon Hollis
A Brook Lapping Production
First broadcast on BBC Radio 4 in 2014.
Last on
Broadcasts