Main content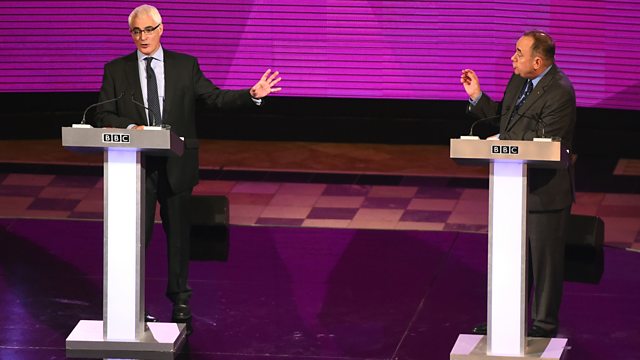 Jihadis on social media; Exploitation in S Yorkshire; TV debates
How Brit jihadis use social media, plus Times reporter Andrew Norfolk on his investigations into sexual exploitation in South Yorkshire, and how to construct TV election debates.
Social media companies have tried to stop the distribution of the video of James Foley's execution by blocking the accounts of those who shared it. The clip, posted by the group IS, sparked a debate about the ethics of sharing the content. To try and stifle the message, hashtags like #ISISmediaBlackout emerged to starve IS of coverage, and it quickly gained traction. Steve Hewlett talks to Hend Amry, the Syrian activist who instigated the hashtag, and Professor Peter Neumann, the director of the International Center for the Study of Radicalisation at King's College London, about the role social media is playing in the spread of jihadist activity.
A report has found how at least 1,400 children were subjected to appalling sexual exploitation in Rotherham between 1997 and 2013. In September 2012, Andrew Norfolk, a journalist on The Times newspaper, published an investigation which revealed a confidential 2010 police report had warned thousands of such crimes were being committed in South Yorkshire each year by networks of Asian men. We speak to Andrew about the challenges he faced in covering the story.
Scotland's First Minister Alex Salmond and Better Together leader Alistair Darling went head-to-head in their second televised referendum debate this week on the BBC. It's been been criticised by some for descending in to a slanging match, with poor moderation and too much audience response. Steve Hewlett talks to John Curtice, Professor of Politics at Strathclyde about whether such debates influences voting behaviour. And he discusses challenges of staging events with John Mullin, the BBC's referendum editor, and John McAndrew, who was in charge of the first ever live Sky News Leaders' debate in 2010.
Producer: Katy Takatsuki.
Last on
Chapters
Child sexual exploitation in South Yorkshire

Andrew Norfolk, journalist for The Times on the challenges in covering the story.

Duration: 08:10

Scottish referendum debates

With Prof John Curtice, BBC's John Mullin and Sky's John McAndrew.

Duration: 11:30

The role social media is playing in the spread of jihadist activity

With Hend Amry, syrian activist and Professor Peter Neumann, King's College London.

Duration: 03:31

Broadcast