Main content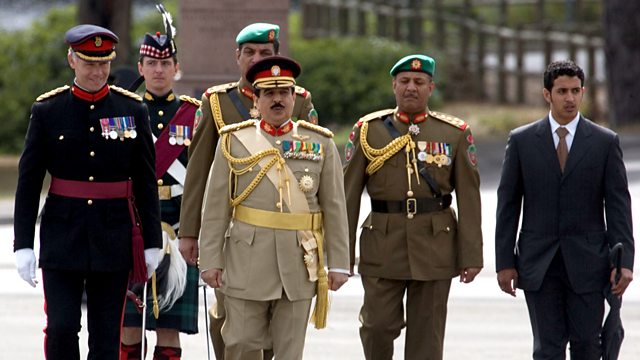 Sandhurst and the Sheikhs
Matthew Teller examines how Sandhurst networks bolster militarised Arab monarchies, and asks what sort of geopolitical influence Sandhurst is providing across the Middle East.
Four reigning Arab monarchs have passed through the Royal Military Academy Sandhurst or its associated institutions - the kings of Bahrain and Jordan, the Emir of Qatar and the Sultan of Oman, alongside a long list of lesser sheikhs and princes, and many of the region's military chiefs of staff.
Matthew Teller uses archive, analysis and new interviews to examine Sandhurst's longstanding links with the Gulf, exploring whether there is a detectable 'Sandhurst influence' on the repression of popular protests across the Middle East, and asking whether Sandhurst should help deliver officer-trained military leaders to Middle Eastern allies if they have questionable records on rights and accountability.
Links between Sandhurst and the elite families of the Middle East stretch back over a century. King Hussein of Jordan attended Sandhurst and later said, "I have always felt that my experience at Sandhurst was one which had the greatest impact on my formative years."
Today, the region has started to turn the tables. Gulf monarchies are deploying 21st-century techniques (and, above all, money) to extend their own soft power. Latterly Sandhurst sparked debate by accepting £3m from Bahrain and £15m from the UAE to rededicate two buildings. These controversially included the former Mons Hall, originally named for the first major British-fought battle of WW1, but now retitled the King Hamad Hall after the Bahraini monarch.
Sandhurst insiders - including a former commandant, Middle Eastern activists and exiled academics - debate the rights and wrongs of Sandhurst's role in bolstering at best undemocratic, and at worst repressive, regimes.
Presenter: Matthew Teller
Producer: Karen Pirie
A Whistledown production for BBC Radio 4.
Last on

Broadcast