Main content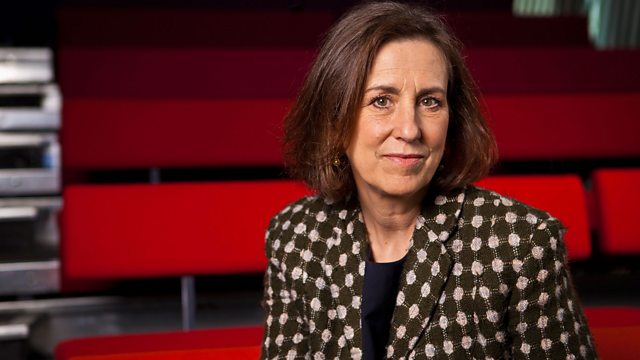 Kirsty Wark presents the best theatre, art, dance and performance at the Edinburgh Festivals. Game of Thrones creator George RR Martin talks about his Song of Ice and Fire books.
Game of Thrones creator George RR Martin talks about his phenomenally successful series of Song of Ice and Fire books, and we explore the raft of Game of Thrones spin-off shows in Edinburgh this year.
Professor Mary Beard delves into the Ancient Roman joke book to find out what made them laugh, and comedians on this year's fringe show just how little our sense of humour has changed since then.
Strictly Come Dancing's most effervescent judge, Bruno Tonioli, hotfoots his way around Edinburgh to find the most dazzling dance productions in town.
Marking the centenary of the outbreak of the First World War, the festival features a host of artistic responses to conflict - from the Trojan War right up to recent wars in Afghanistan and Iraq. Kirsty asks a number of writers, artists and performers why war is such an enduring inspiration.
The summer exhibition at the National Museum of Scotland tells the story of the remarkable rise of the Ming dynasty, a period of almost three centuries of social, economic and artistic transformation in China. Kirsty takes a tour in the company of Chinese ceramics expert and Antiques Roadshow regular Lars Tharp.
Each year at the festival, a number of performers stage shows with the intention of shattering stereotypes of gender and sexuality. There are interviews with those performers pushing the envelope this year.
Also featuring special performances filmed on an Edinburgh tram as it weaves its way through the city.
More episodes
Next
You are at the last episode
War
The Edinburgh Festival was established in the aftermath of World War Two with the aim of providing a platform for the flowering of the human spirit through the power of the arts.  This year's event, staged 100 years after the outbreak of World War One, features a wide range of artistic responses to conflict – from the Trojan War to WW1 and right up to recent wars in Afghanistan and Iraq. 
Kirsty explores why artists are continually drawn to war as an inspiration, talking to Flemish theatre maker Valentijn Dhaenens about his multimedia production Small War, which is inspired by testimonies of nurses working in World War One, and to the lead actor in the award-winning play Britannia Waves the Rules, which follows the effects of a tour in Afghanistan on a young English soldier.
She also meets American soldier-turned-poet Brian Turner whose work lent its name to the Oscar-winning film The Hurt Locker, and art collaborators kennardphillipps whose work comments on the West's invasion of Iraq.   
Image copyright Jeremy Abrahams.
Game of Thrones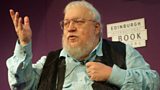 If you've missed out on the global phenomenon that is Game of Thrones, where on earth have you been? The creator of the hugely popular fantasy series (HBO's most successful ever) - and the author of the books that inspired it (which have sold 15 million copies worldwide) - is American novelist and screenwriter George RR Martin, who appeared at the Edinburgh International Book Festival this week, surrounded by legions of fans.   
Thrones aficionado Grace Dent jumped at the chance to meet Martin, and to speak to some of those involved in Thrones-related shows on this year's Fringe.   
Comedy in Ancient Rome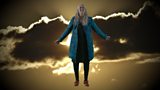 It's often said that the old jokes are the best, but perhaps that's truer than you might think.  Next week in Edinburgh Professor Mary Beard is giving a talk about the jokes that tickled the Ancient Romans.  But could it be that we're still cracking up at the same old gags today?  Has our sense of humour changed all that much over the centuries?  
Ably assisted by actor Simon Callow, whose Edinburgh Fringe show draws on the writings of the Roman satirist Juvenal, Mary travelled through time to find out.  And extracts from contemporary stand-up shows appear to show how little has changed since Roman times.   
Gender in Edinburgh
Each year at the Edinburgh Festival performers attempt to shatter stereotypes of gender and sexuality, often through burlesque and cabaret.  This year though, gender's even higher on the agenda, with performers offering a bit more than just the usual titillating fun, and examining the blurred lines of our gender identities in greater detail.  
Psychotherapist Philippa Perry went to probe the writers and artists who are pushing the envelope – meeting the director of an all-male production of Wuthering Heights, transgender playwright Jo Clifford, and sisters Amy and Rosana Cade whose theatre productions Sister explores female sexuality.
Dance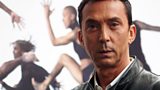 Strictly Come Dancing's most effervescent judge, Bruno Tonioli hotfoots it around Edinburgh's most dazzling dance productions, learning some Samoan dance moves from the choreographer of the stunning Black Grace, talking to the creative team from Le Patin Libre, a Canadian company who are hoping to transform the traditional image of figure skating, and meeting the Scottish company who are tackling family dysfunction through dance.  
Ming: The Golden Empire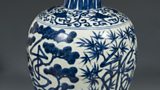 Think of a Ming vase and you're likely to conjure up an object of great rarity, beauty and value.   But there's far more to the Ming Era than just exquisite porcelain.  A new exhibition traces a period of social, economic and artistic transformation and explores China's place in the wider world, through calligraphy, furniture, maps and of course iconic blue and white porcelain.  
Lars Tharp – an expert in Chinese ceramics - guides Kirsty around. 
Image copyright Nanjing Museum / Nomad Exhibitions.
Paco Peňa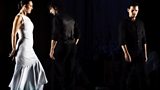 Flamenco guitar legend Paco Peňa comes to the Edinburgh International Festival later this month with Patrias, his production which commemorates the atrocities of the Spanish Civil War and the life and death of writer Federico Garcia Lorca.  
Tonight, a special preview as Peňa performs especially for us.   
Performances on Edinburgh Trams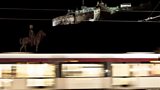 After a controversial construction project, trams finally returned to Edinburgh earlier this year and are now providing a new addition to an already striking cityscape. 

We took over a tram earlier this week and treated commuters and tourists to some special performances from acts who are performing at the Festival.
Credits
| Role | Contributor |
| --- | --- |
| Presenter | Kirsty Wark |
| Producer | Mark Crossan |
| Executive Producer | Pauline Law |