Main content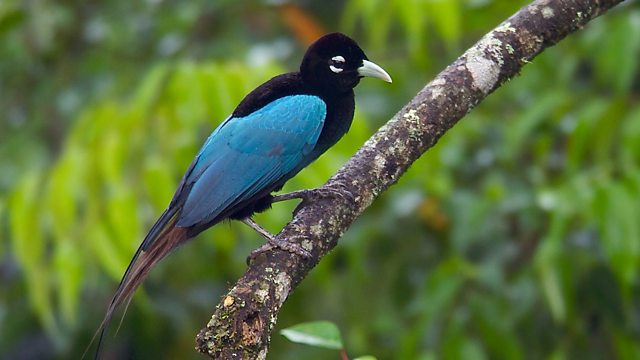 Blue Bird of Paradise
Sir David Attenborough on the blue bird of paradise.
Tweet of the Day is the voice of birds and our relationship with them, from around the world.
Sir David Attenborough begins the series with the blue bird of paradise. The crow sized blue birds of paradise provide a spectacular flash of blue in the Papua New Guinea rainforests yet it is the males dazzling courtship performance which grabs a female's attention. Tipping forward from his perch he hangs upside down fluffing out and shimmering his gauzy breast feathers. As if this weren't enough, as the female approaches, he increases the frequency of his calls to produce a hypnotic mechanical buzzing, more like the song of a giant cicada than any bird.
Last on