Main content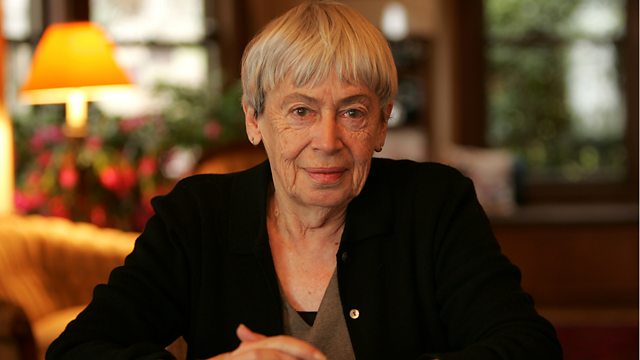 Ursula Le Guin; Holiday hunger; Meeting Dora Black; Women Mormons
Presenting the female perspective. In a series on classic feminist literature, Jenni Murray re-examines Ursula Le Guin's The Left Hand of Darkness.
We re-examine The left Hand of Darkness, by Ursula Le Guin, in our series on classic feminist literature.
Foodbanks say they've seen a rise in the number of families asking for help to feed their children during the school holidays. During term time hard-up families have access to free school lunches - which is often the main meal of the day for some children, but the summer break means many parents are having to rely on foodbanks and lunch clubs to provide a decent meal. The Trussell Trust, which runs the country's largest network of food banks, says this is the busiest summer it's ever experienced. Alison Inglis-Jones from the Trust explains what needs to be done to help struggling parents.
Dora Black was a feminist, sex radical, progressive educator, peace activist, and second wife of the philosopher and mathematician Bertrand Russell. In 1979 the writer Don Shaw met, the then 86 year old Dora, at her cliff top home in Cornwall. What resulted was a far more personal meeting for Don himself. Thirty five years later, using a mixture of fact and fiction, Don has re-created that meeting, in a play for Radio 4: 'A Meeting With Dora'. Jenni Murray is joined by Don Shaw, and the actor Eleanor Bron, who plays Dora, to discuss the play and the remarkable woman behind it.
The women campaigning for their right to be ordained to the priesthood in the Mormon Church.
Presenter: Jenni Murray
Producer: Cecile Wright.
Listen in full to Jenni's interview with Ursula Le Guin from September 1990.
Chapters
Holiday hunger

Duration: 12:07

Classic feminist fiction - Ursula Le Guin

Duration: 09:01

Women Mormons

Duration: 10:40

Dora Black

Duration: 09:54

Holiday hunger

Foodbanks say they've seen a rise in the number of families asking for help to feed their children during the school holidays.  During term time hard-up families have access to free school lunches - which is often the main meal of the day for some children, but the summer break means many parents are having to rely on foodbanks and lunch clubs to provide a decent meal.  The Trussell Trust, which runs the country's largest network of food banks, says this is the busiest summer it's ever experienced. Alison Inglis-Jones from the Trust joins Jenni Murray to explain what needs to be done to help struggling parents.    

Classic feminist fiction - Ursula Le Guin

In 1969 Ursula Le Guin's The Left Hand of Darkness was published. It received critical acclaim and a number of literary awards, and has never been out of print since. Set on the frozen planet of Gethen, which is populated by androgynous inhabitants who only adopt a gender once a month, the novel explores what a world without sex or gender might be like. From the Woman's Hour archive, hear Jenni's interview with Ursula Le Guin from 1990. Jenni is also joined by Dr Emma Parker, Senior Lecturer in English at the University of Leicester and founding member of the Contemporary Women's Writing Association, to discuss the book's influence and Ursula Le Guin's legacy in Feminist Science Fiction. 

Women Mormons

Last month women priests in the Church of England won a vote that finally allowed them to become bishops. But across the Atlantic, women from another faith tradition are fighting what they see as a modest campaign for equality. The all-male leadership views it very differently and Kate Kelly, the founder of a campaign to ordain women into the Church of Jesus Christ of Latter Day Saints – commonly known as Mormons – has been kicked out  for questioning church teaching on the all-male priesthood.  Jane Little reports from Salt Lake City, Utah, on the fallout from the affair.

Dora Black

Dora Black was a feminist, sex radical, progressive educator, peace activist, and second wife of the philosopher and mathematician Bertrand Russell.  In 1979 the writer Don Shaw met, the then 86 year old Dora, at her cliff top home in Cornwall. What resulted was a far more personal meeting for Don himself.  Thirty five years later, using a mixture of fact and fiction, Don has re-created that meeting, in a play for Radio 4:  'A Meeting With Dora'. Don Shaw, and the actor Eleanor Bron, who plays Dora, discuss the play and the remarkable woman behind it.    

 

 

Credits

| Role | Contributor |
| --- | --- |
| Presenter | Jenni Murray |
| Interviewed Guest | Emma Parker |
| Interviewed Guest | Alison Inglis-Jones |
| Interviewed Guest | Don Shaw |
| Interviewed Guest | Eleanor Bron |
| Producer | Cecile Wright |