Main content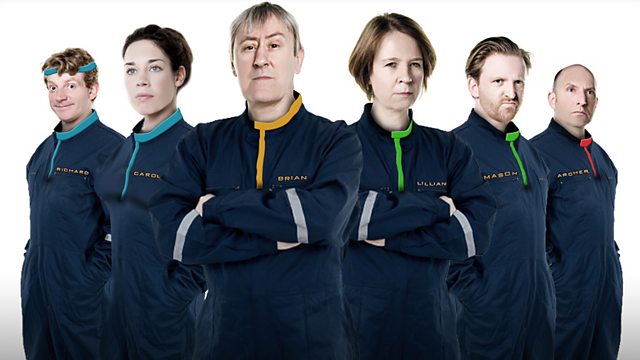 Discovering a poet on the colony sets off a bomb, a monster, a sword fight and a poem. Stars Nicholas Lyndhurst. From August 2014.
The discovery of a poet on the colony sets off a bomb, a monster, a sword fight and a poem. But is Archer really capable of murder?
The return of the hit sitcom starring Nicholas Lyndhurst and Vicki Pepperdine ("Getting On") set on a shiny new planet.
Welcome to the colony. We're aware that, having been in deep cryosleep for 73 years, you may be in need of some supplementary information.
Personnel:
Unfortunately, Burrows the leader of the colony has died on the voyage so his Number 2, Brian (Nicholas Lyndhurst), is now in charge. He's a nice enough chap, but no alpha male, and his desire to sort things out with a nice friendly meeting infuriates the colony's Chief Physician Lillian (Vicki Pepperdine), who'd really rather everyone was walking round in tight colour-coded tunics and saluting each other. She's also in charge of Project Adam, the plan to conceive and give birth to the first colony-born baby. Unfortunately, the two people hand-picked for this purpose - Carol and Richard - were rather fibbing about being a couple, just to get on the trip.
Add in an entirely unscrupulous Chief Scientist, Mason and also Archer, an idiot maintenance man who believes he's an "empath" rather than a plumber, and you're all set to answer the question - if humankind were to colonise space, is it destined to succumb to self-interest, prejudice and infighting? (By the way, the answer's "yes". Sorry.)
Written by Phil Whelans
Produced and Directed by David Tyler.
Credits
| Role | Contributor |
| --- | --- |
| Brian | Nicholas Lyndhurst |
| Lillian | Vicki Pepperdine |
| Mason | Tom Goodman-Hill |
| Archer | Phil Whelans |
| Carol | Letty Butler |
| Richard | John Dorney |
| The Poet Hopkin | Thom Tuck |
| Writer | Phil Whelans |
| Director | David Tyler |
| Producer | David Tyler |