Main content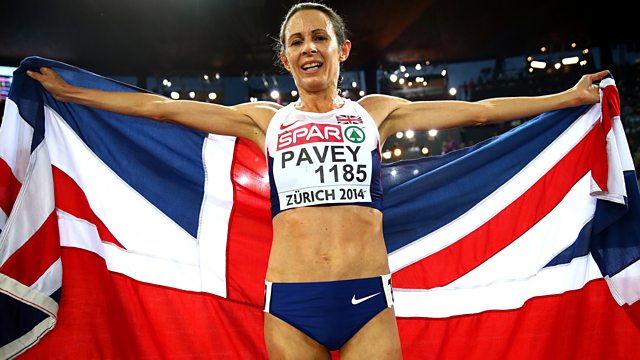 Jo Pavey; Helen McCrory
Jo Pavey on running and motherhood, vocational training for young women, Helen McCrory plays Medea, pelvic floor dysfunction in men and Rudyard Kipling's sister Trix.
Athlete Jo Pavey has become the oldest female European Athletics Champion after winning gold in the 10,000 metres - she joins Jenni Murray to talk about victory at the age of 40 and combining running with motherhood. Thursday is GCSE results day in England, Wales and Northern Ireland and youngsters will be thinking about their future career options. So how do we encourage young women to consider the vocational training which could lead to traditionally male-dominated careers like IT and engineering? Helen McCrory talks about her latest role as the ultimate anti-heroine, Medea, in a new National Theatre production. Dr Ruth Jones on pelvic floor dysfunction in men and what can be done about it. The story of Rudyard Kipling's sister, Trix. She was determined to be a writer and published a novel when she was just 22, but family disapproval led to her voice being stifled. Mary Hamer, from the Kipling Society, has been inspired to write a novel based around what is known of Trix's life.
Presenter Jenni Murray
Producer Louise Adamson.
Chapters
Girls and Vocational Courses

Duration: 10:22

Helen McCrory

Duration: 07:41

Male Pelvic Floor Dysfunction

Duration: 04:01

The Story of Trix Kipling

Duration: 07:53

Jo Pavey

In August Jo Pavey became the oldest female European Athletics champion after winning gold in the 10,000m in Zurich. The extraordinary win came just ten days after winning a bronze medal at the Commonwealth Games in Glasgow. At the age of forty and only eleven months after giving birth to her second child, Jo was unsure if she would even qualify for the championships, let alone win it. Jo joins Jenni to discuss her thrilling win and why she puts her success down to being a busy mum.

Girls and Vocational Courses

Thursday is GCSE result day and often the first time that young people seriously start considering their next steps and thinking about career options. Research shows young women are still being discouraged from traditionally male-dominated careers like IT and engineering. If they're taking a vocational route how are those stereotyped choices being challenged? 

Jenni speaks to Marion Plant OBE, Joint Principal of North Warwickshire & Hinckley College and South Leicestershire College and Tiana Locker, youth engagement officer for City and Guilds.

Helen McCrory

Over a lengthy career, Helen McCrory has played an impressive range of roles. On stage she's been Rosalind in 'As You Like it'; and Libby in 'The Last of the Haussmans'; her film roles have included Cherie Blair in 'The Queen', Narcissa Malfoy in the Harry Potter movies and Clair Dowar in the James Bond film, Skyfall. On the small screen she has played a raft of roles including the older woman who falls for a much younger man in Tony Marchant's Leaving.

Now she stars as the ultimate anti-heroine, Euripides's Medea, in a new National Theatre production. Medea tells the story of a jilted wife, who breaks the ultimate taboo by murdering her children as a way of revenge against her ex-husband. Jenni Murray talks to Helen about playing the title role in one of the most horrifying of the Greek tragedies.

The production  will be broadcast from the National Theatre live to over 550 cinemas in the UK on 4 September. 

 

Male Pelvic Floor Dysfunction

Last week on Woman's Hour we discussed the problems faced by women if their pelvic floor becomes too tight. Pelvic floor dysfunction is a condition which we usually associate with women, but men can also suffer from this condition. It's something which can be difficult to talk about, but it can lead to incontinence, pain and sexual problems. Dr Ruth Jones joins Jenni to talk about the symptoms, the problems which this condition can cause and how it can be treated.

The Story of Trix Kipling, Neglected Sister of Rudyard

Trix Kipling, the talented sister of Rudyard, was determined to write and published a promising novel aged 22. Her family, particularly her husband, disapproved and after her own voice was stifled she started to hear the voices of others. Mary Hamer tells Jenni how the story of Trix Kipling inspired her to weave the scraps of biographical information about Trix into a novel. 

Credits

| Role | Contributor |
| --- | --- |
| Presenter | Jenni Murray |
| Interviewed Guest | Jo Pavey |
| Interviewed Guest | Rachael Carr |
| Interviewed Guest | Marion Plant |
| Interviewed Guest | Tiana Locker |
| Interviewed Guest | Helen McCrory |
| Interviewed Guest | Ruth Jones |
| Interviewed Guest | Mary Hamer |
| Producer | Louise Adamson |