Main content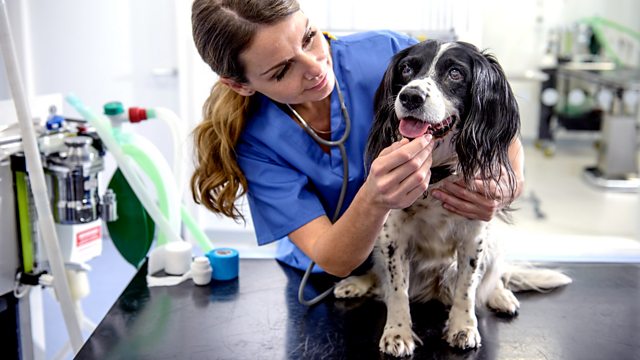 Rose of Tralee; Eating disorders over 30; Why so many female vets?
The Rose of Tralee - anachronistic or empowering? Eating disorders in later life, why are so many veterinary students women, and Jane Garvey meets a French female Master of Wine.
Austin Mitchell, MP on the 'feminisation' of politics with Isabel Hardman and Ivana Bartoletti.
The Rose of Tralee International Festival is one of Ireland most loved pageants but there are no bikinis in sight and the women are judge by personality and achievements. So, is it just an outmoded beauty parade or a harmless TV show that promotes the brightest young women from Ireland? Jane finds out from journalist Katy Harrington, a 'Rose' critic, and broadcaster Aoibhinn Ní Shúilleabháin who won the competition in 2005.
Last year the actress Briony McRoberts took her own life, she was 56. Her husband, the Downton Abbey actor David Robb, has more recently attributed her death to her eating disorder, which she had battled with since she was a teenager. So why, even in the wake of cases like Briony's, do we still see eating disorders as a young women's disease? Jane is joined by two women over 40 with first hand experience and Dr Paul Robinson, consultant psychiatrist at the Eating Disorders Unit at St Ann's Hospital in London.
Almost 80 percent of veterinary students are women. So what does it take to be a young vet? A new BBC2 series Young Vets has followed 10 students of the Royal Veterinary College at work in veterinary practices, farms, and animal hospitals. We discuss the reality of the work and the qualities that it takes to make it as a female vet. Jane is joined by new vets Elli Berry and Judi Puddifoot - who qualified as a mature student - and Louise Allum, Head Veterinary Surgeon of the Royal Veterinary College's Beaumont Sainsbury Animal Hospital in London.
And, Jane meets Isabelle Legeron, the only French female Master of Wine, for a cheeky glass of something fruity.
Last on

Chapters
The 'feminisation' of politics

Duration: 10:12

Eating Disorders in Older Women

Duration: 09:59

Female Vets

Duration: 07:41

Isabelle Legeron

Duration: 06:56

The Rose of Tralee

Duration: 06:10

Eating Disorders in Older Women

Last year the actress Briony McRoberts died when she threw herself in front of a train on the London underground. She was 56. Her husband, the Downton Abbey actor David Robb, has more recently attributed her death to her eating disorder, which she had battled with since she was a teenager. He said "She was murdered by anorexia. It isn't a self-centred, teenage disease. It kills people — middle-aged women… If it gets its hooks in, it suffocates the person."

So why, even in the wake of cases like Briony's, do we still see eating disorders as a young women's disease? Julie Kirkwood is aged 43 and from Dumfries, and Aimee Yates is aged 40 and from Cambridge. Both have been treated for anorexia and Aimee is still battling her binge eating disorder. They join Jane along with Dr Paul Robinson, consultant psychiatrist at the Eating Disorders Unit at St Ann's Hospital in London.

Beat is the UK's leading charity supporting anyone affected by eating disorders or difficulties with food, weight and shape. It provides information and support through its helplines and online support.

Helpline: 0845 634 1414

Female Vets

In the UK today we own 27 million pets and 900 million farm animals.  Increasingly the new vets who have trained to look after these animals are women – 77 percent of Royal Veterinary College new undergraduates in 2011. So why are women flocking to the profession? A new BBC2 series Young Vets has followed 10 students of the Royal Veterinary College in their final year as they go to work in veterinary practices, farms, and animal hospitals. We discuss the reality of the work, the qualities that it takes to make it as a female vet and how to encourage more young people from diverse backgrounds to work as vets. Jane is joined by new vets Elli Berry and Judi Puddifoot  - who qualified as a mature student – and from Louise Allum, Head Veterinary Surgeon of the Royal Veterinary College's Beaumont Sainsbury Animal Hospital in London.

Young Vets will air for the first time on August 19 on BBC2, and will be broadcast at 7pm on week nights over three consecutive weeks.

Isabelle Legeron

Isabelle Legeron is the first French woman to become a Master of Wine and is a crusader for natural wine, which is wine made from grapes and nothing else. Whilst conventional wine is made with additives and has become increasingly processed, natural wine is farmed organically and made with minimum intervention. Isabelle joins Jane to discuss how growing up on a vineyard near Cognac sparked her passion for wine and why she is determined to change the wine world.

Natural Wine: An Introduction to Organic and Biodynamic Wines Made Naturally by Isabelle Legeron is published by CICO Books.

The Rose of Tralee

The Rose of Tralee International Festival is one of Ireland's most loved pageants. Celebrating its 55th anniversary this year, the revelries end with the crowning of a 'Tralee Rose'. 32 young women will compete for the title in rounds which include a talent section, but unlike other beauty shows there are no bikinis in sight and the women are judged by personality and achievements. 

So, is it just an outmoded beauty parade or a harmless TV show that promotes the brightest young women from Ireland? Jane finds out from journalist Katy Harrington, a 'Rose' critic, and broadcaster Aoibhinn Ní Shúilleabháin who won the competition in 2005.

Credits

| Role | Contributor |
| --- | --- |
| Presenter | Jane Garvey |
| Interviewed Guest | Austin Mitchell |
| Interviewed Guest | Isabel Hardman |
| Interviewed Guest | Ivana Bartoletti |
| Interviewed Guest | Katy Harrington |
| Interviewed Guest | Aoibhinn Ní Shúilleabháin |
| Interviewed Guest | Paul Robinson |
| Interviewed Guest | Elli Berry |
| Interviewed Guest | Judi Puddifoot |
| Interviewed Guest | Louise Allum |
| Interviewed Guest | Isabelle Legeron |
| Producer | Erin Riley |

Broadcast