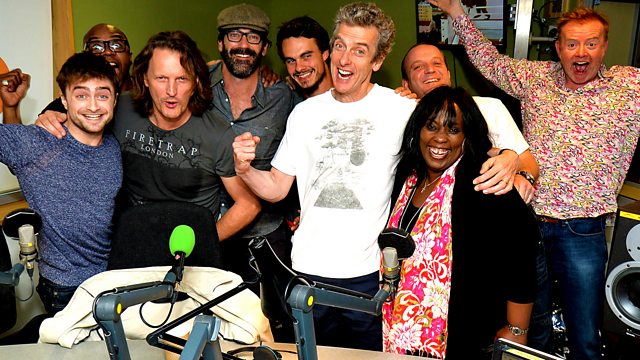 Peter Capaldi, Daniel Radcliffe, Jon Hamm and Ruby Turner
Chris gets that Friday feeling going with Peter Capaldi, Jon Hamm, Daniel Radcliffe and Ruby Turner.
Last on
Pause For Thought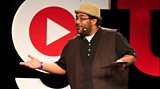 From writer Abdul-Rehman Malik:
As you already know Chris, I have a somewhat ambivalent relationship with cars.  My confession on the eve of Car Fest is that I don't drive. I don't watch Top Gear. My heart does not race at the sight of the latest model. But I do have to admit that there are two exceptions: classic cars and cars that time travel. 
It's hard to believe it's been nearly 30 years since the film Back to the Future conquered our imaginations. I didn't know anyone who didn't dream of getting a Dr Emmett Brown to take them to a time and place "where we'd need no roads".  Perhaps I could hitch a lift in Peter's TARDIS…
What I wouldn't have given to have marched with Rev Martin Luther King Jr, or to have stood with my grandparents on the day they celebrated the birth of their beloved Pakistan or to have been in the shadows as Miles Davis recorded Kind of Blue. I wish I had a Flux Capacitor DeLorean that could take me there.
The aboriginal peoples of the Americas speak of acting in the interests of the seventh generation to come. "Look and listen for the welfare of the whole people," said the elders, "and have always in view not only the present but also the coming generations, even those whose faces are yet beneath the surface of the ground – the unborn of the future."
I always have to remind myself to live in the present.
I hope I'll leave a legacy that my son will feel nostalgic about. A legacy that will be so inspiring that he too will wish that he had been there with me as it all unfolded.
He may indeed end up living in a time when cars require no roads, but I pray that I will have given him enough that he will make his own tracks all the same. Blessed, beautiful paths that will ultimately transform lives and bring beauty to the world. I know Chris, that for so many Children in Need, CarFest represents just such a path. Happy motoring one and all!