Main content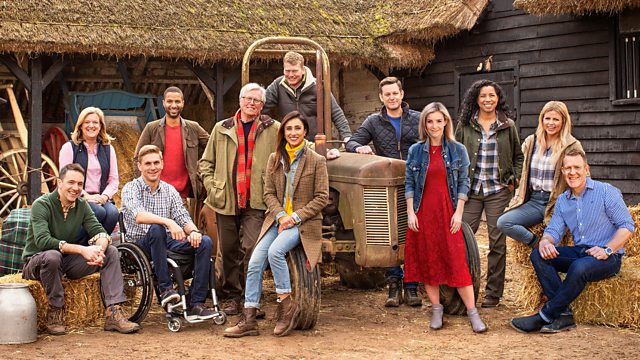 Cornwall
Matt Baker joins foragers scouring the coast of Cornwall for free food and Anita Rani makes an explosive entrance in her first show as she blasts 26,000 tonnes of rock.
Matt Baker joins the foragers scouring the coast of Cornwall for free food. But he's going to have to take to the waves if he wants spider crab, and that means freediving - something he's never done before.
Anita Rani makes an explosive entrance in her first Countryfile as she blasts 26,000 tonnes of rock in the world's biggest china clay quarry. Helen Skelton tells the story of the gardeners from Heligan who went to France to fight in World War I. And she steps back in time with the modern-day gardeners turning the clock back a hundred years in honour of their early forebears.
Adam is like a big kid with a new toy when he takes the keys of a massive new combine harvester. And Tom investigates whether deputy prime minister Nick Clegg's plans to bring back garden cities could have a detrimental impact on our countryside.
China clay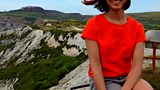 Countryfile newcomer Anita Rani makes an explosive entrance at the largest china clay pit in the world. She discovers how this industry has shaped St Austell's landscape and tries her hand at 'winning' the white gold from the rock using a jet of water so powerful it could overturn a car. Industry expert Ivor Bowditch tells her that aside from crockery, china clay is used in everything from paper to pharmaceuticals to paint.  And artist Jenny Beavan loves the stuff so much she uses it in her work.  Anita joins Jenny just as she's putting the finishing touches to her latest wall panel; a mix of natural ingredients all drawn from the Cornish landscape.
Garden Cities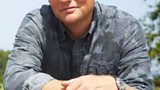 A new wave of Garden Cities is being proposed as part of the solution to the national housing shortage. Tom Heap meets the man behind the scheme, the Deputy Prime Minister, Nick Clegg to find out more. The initial idea is for three brand new Garden Cities, each with at least 15,000 homes, but the Liberal Democrat leader says these will only go ahead if they are proposed and supported by local people. Tom meets those who have already expressed an interest in the plan. He also hears from people who are campaigning against far smaller infrastructure projects taking place in the countryside and asks how Garden Cities could be built without creating even greater protests in the future. But, as Tom discovers, the Deputy Prime Minister has a proposal that he thinks will make things easier. 
Freediving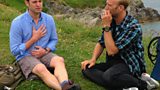 Matt Baker is on the hunt for free food and he fancies seafood.  The waters off Newquay are full of tasty treats like lobster and spider crab but there's a catch; Matt will have to freedive for it.  So he calls on the help of local freediving wiz Ian Donald.  Ian can teach Matt how to hold his breath long enough to stay down beneath the waves.  But will it be long enough to snare his supper?
Lost gardeners of Heligan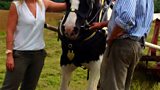 The summer of 1914 was perfect.  In the grounds of the famous Heligan Estate the gardeners were busy laying out vegetable beds and pruning fruit trees.  But the coming of World War 1 put an end to this idyll.  12 gardeners went to war.  Only 3 came back.  Helen Skelton tells the story of the lost gardeners of Heligan.  She visits the gardens they tended, learns about the methods they used and meets the modern day gardeners keeping the old skills alive.  She joins a team of haymakers in the fields cutting hay just as it would have been in 1914. 
Sea shore foraging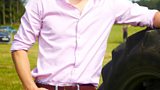 To go with his seafood supper Matt decides on a foraged side dish.  Wild food expert Thom Hunt is on hand to show Matt all the free and fabulous food to be had on our coastline.  Delicacies like spicy wild mustard, sea beet and wild oregano.  Along the way Matt learns the dos and don'ts of foraging; what's safe to eat, what should be left alone and where you can do it.  And in no time at all, his basket is full.  But how do you cook sea beet?  And how much wild oregano is enough?
Barley and bulls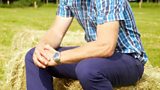 Summer is a relatively quiet time in the farming calendar but there's still plenty to do down on Adam's farm.  First up he's got to introduce Archie his new highland bull to a field full of lady friends.  Will Archie turn on the charm?  Then there's the wheat.  The fine summer has brought it on in record time and Adam's hoping for a bumper harvest.  Just as well he's bought a brand new toy - a cool quarter of a million pounds worth of combine harvester.  It's the biggest machine Adam's ever had on the farm and with a thirty foot bar for cutting the crops he's hoping it'll make short work of the wheat.
Bluebells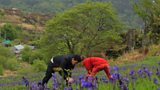 In the spring James Wong went down to the woods on the trail of one of our best loved wildflowers; the native bluebell.  There he discovered that there's more to this pretty little flower than meets the eye.  He joined chemist Vera Thoss in her bluebell garden.  Vera's unlocking the secrets of the bluebell in the hope of finding disease beating chemicals.  James helped her gather some flowers and was shown how to extract these vital chemicals.   He then headed back into the woods where he caught up with artist Jane Bell.  And he had a gift for Jane, an unusual pigment; essence of bluebell!
Seafood supper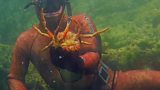 Chef Simon Stallard helps Matt turn his foraged food into a fun and funky free supper. Simon's a dab hand when it comes to cooking al fresco and soon has the fire blazing.  Matt chips in chopping the wild plants and cracking the crabs and between them they cook up a storm.  A bit of lobster here, a little spider crab there, all wrapped in salty sea beet.  And it isn't long before the sizzling seafood has latecomers Helen Skelton and her free food friends licking their lips for a real taste of Cornwall.
Credits
| Role | Contributor |
| --- | --- |
| Presenter | Matt Baker |
| Presenter | Anita Rani |
| Presenter | Helen Skelton |
| Presenter | Adam Henson |
| Presenter | Tom Heap |
| Series Producer | Joanna Brame |
| Executive Producer | William Lyons |