Main content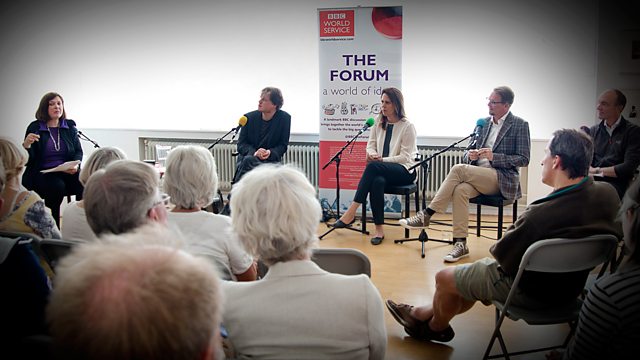 Outcasts: The Forum at Risor Festival, Norway
Bridget Kendal presents a discussion about outsiders and outcasts, social, cultural and political, with Margreth Olin, Bjorn Hofmann, Sjon and Henning Kraggerud.
From the Risor Festival in Norway: Bridget Kendall hears from four distinguished Scandinavians and an attentive festival audience on the topic of the uninvited. With film director Margreth Olin, bioethicist Bjorn Hofmann, Icelandic writer Sjon and violinist Henning Kraggerud.
(Photo: Bridget Kendall, Margreth Olin, Bjorn Hofmann, Sjón and Henning Kraggerud in front of an invited audience. Credit: Liv Øvland/Risør Chamber Music Festival)
Margreth Olin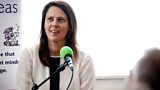 From the beginning of her career, Margreth Olin's documentary films, such as  In the House of Angels,  My Body and Raw Youth have been winning international accolades as well as stimulating discussion about difficult social issues at home in Norway.  Her first feature fiction film, The Angel, was the Norwegian candidate for the 2010 Academy Awards for Best Foreign Language Film. Her latest work is Cathedrals of Culture, a 3D collaboration with the likes of Wim Wenders and Robert Redford about the soul of buildings. In the Forum, Margreth reveals how Norwegian attitudes to her uncle's disability inspired her film-making.
Photo: Liv Øvland/Risør Chamber Music Festival
Bjørn Hofmann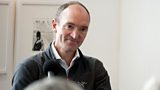 Bjørn Hofmann is a Norwegian researcher in philosophy of medicine with special interest for the relationship between epistemology and ethics. His main subjects in the philosophy of medicine have been the concepts of health and disease. In the philosophy of the health sciences he has studied causation, rationality, and evidence. His main interests include reproductive technologies, biobanks, and organ transplantation. In the programme, Bjorn looks to the future and wonders whether some new medical interventions, such as pre-natal screening of people's genomes, risk creating a new generation of outcasts.
Photo: Liv Øvland/Risør Chamber Music Festival  
Sjón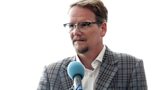 Novelist, poet, librettist and lyricist Sjón has won the Nordic Council's Literary Prize for his novel 'The Blue Fox' (the equivalent of the Man Booker Prize). His novels 'From The Mouth Of The Whale' and 'Moonstone – The Boy Who Never Was' were also awarded prestigious awards. He has frequently worked with his fellow Icelander Björk, including writing songs for her most recent musical project, Biophilia. In the Forum, Sjón discusses the unique geographical position of Iceland in Europe and how that's contributed to Icelandic literature. He also cautions that the more we try to keep foreigners from coming in, the greater the risk of dangerous outsiders arising in our midst.
Photo: Liv Øvland/Risør Chamber Music Festival  
Henning Kraggerud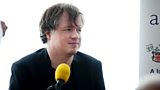 Such is the musicianship of violinist, composer and co-director of the Risor Festival, Henning Kraggerud, that he is invited time and time again to many of the world's most important orchestras, such as the Hallé, Oslo Philharmonic and Toronto and Cincinnati Symphony orchestras to name a few. Similarly, Henning's collaborative nature earns him the respect of leading conductors with whom he has formed strong connections; examples include Stéphane Denève, Jukka Pekka Saraste,  Thomas Dausgaard, Osmo Vänskä and Nicholas McGegan. During the Forum, Henning warns about trying to protect Norwegian culture from outside influences too much: not least because some of the best Norwegian music, he says, is actually a fusion of several different cultures.
Photo: Liv Øvland/Risør Chamber Music Festival