Main content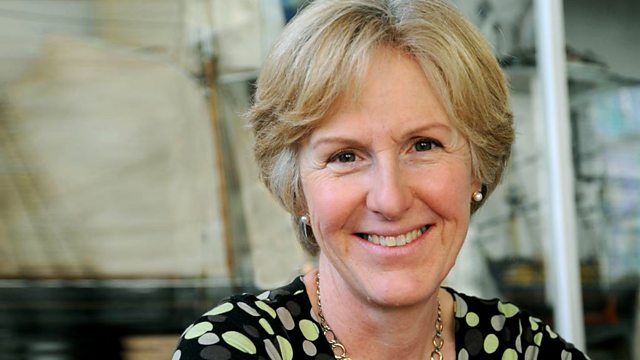 Nicola Benedetti and the Bergen Philharmonic Orchestra
Catriona Young's selection includes a concert of Svendsen, Bruch and Prokofiev, featuring the Bergen Philharmonic Orchestra.
Nicola Benedetti is the soloist in Bruch's First Violin Concerto with the Bergen Philharmonic Orchestra, conducted by Andrew Litton. Catriona Young presents.
1:01 AM
Svendsen, Johan [1840-1911]
Carnival in Paris - episode Op.9 for orchestra
Bergen Philharmonic Orchestra, Andrew Litton (conductor)
1:14 AM
Bruch, Max [1838-1920]
Concerto no. 1 in G minor Op.26 for violin and orchestra
Nicola Benedetti (violin), Bergen Philharmonic Orchestra, Andrew Litton (conductor)
1:41 AM
Prokofiev, Sergei [1891-1953]
Symphony no. 5 in B flat major Op.100
Bergen Philharmonic Orchestra, Andrew Litton (conductor)
2:27 AM
Mendelssohn, Felix (1809-1847)
String Octet (Op.20) in E flat major
Yoshiko Arai & Ik-Hwan Bae (violins), Yuko Inoue (viola), Christoph Richter (cello), Vogler Quartet
3:01 AM
Bach, Carl Philipp Emanuel (1714-1788)
Magnificat in D major (Wq.215)
Linda Øvrebø (soprano), Anna Einarsson (alto), Anders J.Dahlin (tenor), Johannes Mannov (bass), Norwegian Radio Orchestra, Oslo Chamber Choir, Alessandro de Marchi (conductor)
3:37 AM
Stenhammar, Wilhelm (1871-1927)
String Quartet No.3 in F major (Op.18)
Yggdrasil String Quartet: Henrik Peterson & Per Öman (violins); Robert Westlund (viola); Per Nyström (cello)
4:09 AM
Liszt, Franz (1811-1886)
Tarantella from Venezia e Napoli (S.162)
Janina Fialkowska (piano)
4:19 AM
Koussevitsky, Serge (1874-1951)
Andante cantabile & Valse Miniature (Op.1, Nos. 1 & 2)
Gary Carr (double bass), Harmon Lewis (piano)
4:28 AM
Gilse, Jan van (1881-1944)
Concert Overture in C minor
Netherlands Radio Symphony Orchestra, Jac van Steen (conductor)
4:38 AM
Debussy, Claude (1862-1918)
L'isle joyeuse (1904)
Philippe Cassard (piano)
4:45 AM
Pandolfi Mealli, Giovanni Antonio [fl.1660-1669]
Sonata in A minor Op.3'2 (La Cesta) for violin and continuo
Daniel Sepec (violin), Hille Perl (viola da gamba), Lee Santana (theorbo), Michael Behringer (harpsichord)
4:52 AM
Kilar, Wojciech (b. 1932)
Little Overture (1955)
National Polish Radio Symphony Orchestra, Stanislav Macura (conductor)
5:01 AM
Grieg, Edvard (1843-1907)
Two Lyric Pieces: Evening in the Mountains (Op.68 No.4); At the cradle (Op.68 No.5)
CBC Vancouver Orchestra, Mario Bernardi (conductor)
5:09 AM
Nielsen, Carl (1865-1931)
Chaconne for piano (Op.32)
Anders Kilström (piano)
5:19 AM
Platti, Giovanni Benedetto (1697-1763)
Trio in C minor for oboe, bassoon and continuo
Ensemble Zefiro
5:28 AM
Schutz, Heinrich [1585-1672]
3 sacred pieces - Saul, Saul, was verfolgst du mich SWV.415; Nun will sich scheiden Nacht und Tag, after SWV.138; Herr, unser Herrscher (Psalm 8) SWV.27
Kölner Kammerchor , Collegium Cartusianum, Peter Neumann (conductor)
5:40 AM
Debussy, Claude (1862-1918)
Sonata for cello and piano in D minor
Elizabeth Dolin (cello), Francine Kay (piano)
5:52 AM
Rossini, Gioachino [1792-1868]
William Tell - Overture
BBC Philharmonic, Paul Watkins (conductor)
6:05 AM
Brahms, Johannes (1833-1897)
4 Ballades for piano (Op.10) (1. D minor 'Edward'; 2. D major; 3. B minor; 4. B major)
Paul Lewis (piano)
6:27 AM
Gesualdo Da Venosa (1561?-1613)
Miserere
Camerata Silesia, Anna Szostak (conductor)
6:38 AM
Bach, Johann Sebastian (1685-1750)
Brandenburg concerto No.5 (BWV.1050) in D major
Per Flemstrøm (flute), Andrew Manze (violin), Andreas Staier (harpsichord), Risør Festival Strings.