Main content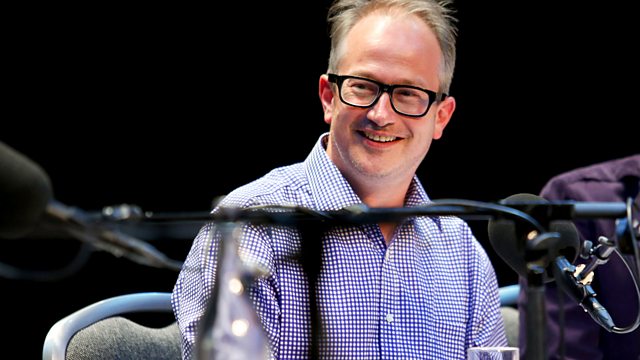 Robin Ince looks at how enlightenment self-help thinking took old medical and philosophical ideas and re-packaged them for contemporary society.
Episode 2/3
The learned men of the scientific revolution - the likes of Wren, Hooke, Boyle and Newton - were obsessed by how their daily routines and diets affected their moods and ability to work.
In the 16th century diets, and "regimens", were published in medical texts printed in English, rather than Latin. Previously, medical theory was more or less only published in Latin, and only aimed at medical practitioners.
Now, many more could read up and do their homework.
Robert Burton's "Anatomy of Melancholy" went to many editions in its time and was popular for its style as much as its authority. It was an attempt to digest all that was known about wellbeing into one massive book, but it spread well beyond its stated aims.
George Cheyne's "Essay on Health and Long Life" over a century later also sold well and was a call for moderation "in immoderate times".
But it was the Industrial Revolution and growth of cities that really led to the rise of the genre.
Samuel Smiles' "Self-Help", published the same year as, and out-selling, Darwin's "On The Origin of Species", was the literary sensation of aspirational, reform-minded Victorian Britain.
Its suggestion, that if you read and followed the examples of the successful contained within, you too could lift yourself, would have far-reaching consequences, not least in the United States.
Last on
Heal Thyself: A History of Self Help 2/3 - Programme Transcript
Downloaded from www.bbc.co.uk/radio4
THE ATTACHED TRANSCRIPT WAS TYPED FROM A RECORDING AND NOT COPIED FROM AN ORIGINAL SCRIPT.  BECAUSE OF THE RISK OF MISHEARING AND THE DIFFICULTY IN SOME CASES OF IDENTIFYING INDIVIDUAL SPEAKERS, THE BBC CANNOT VOUCH FOR ITS COMPLETE ACCURACY.
HEAL THYSELF – A HISTORY OF SELF HELP
TX:  12.08.14  1530-1600
PRESENTER:  ROBIN INCE
PRODUCER:  ALEX MANSFIELD
Music
Actuality – Anthony Robbins
Actuality Stand Up – Ince
I am slightly angry, I'm a little bit angry because I've – I'm doing a documentary for Radio 4 and if it was – I had to spend the whole day trying to do an introduction and make it authentic and if it was telly I could just stand there and go – Hello, I'm Robin Ince, I decided to go on a journey into self-help that's fascinated me since I was a child.  But as it's Radio 4 I've got to come up with something wry and pithy that Clive Anderson might say at a séance.
Muisc
Ince
I am Robin Ince.  Shouting in arts theatres and comedy clubs has been my self-help, though when I was younger I turned to Manchester bands rather than self-help gurus like Anthony Robbins to steer myself through existence.
Music
Actuality Stand Up – Ince
I would say we're better than Anthony Robbins at doing self-help, I think in terms of a sense of people feeling empowered, a sense that people really feel that anyone can go on the Fringe and I think we've almost covered Cartesian dualism.   We only just missed that didn't we?  We were very close to discovering whether the body ruled the mind or the mind ruled the body.
Music
Golinski
Descartes was famous for his dualistic theory, which is to say that he made an absolute distinction between the mind and the body, he thought they weren't the same kind of substance at all.  The mind was a completely immaterial thing.  And yet Descartes had to acknowledge that the body interferes with the mind in various ways and many English thinkers who read Descartes concluded that the absolute dualism that he had advocated was not in fact sustainable.
Ince
It was the dawn of the scientific era and this was the time of the natural philosophers that we now credit with kick-starting the enlightenment - Wren, Hook, Boyle, Newton, many more -  theirs was a new way of experimenting, theirs was a new philosophy – empiricism.  And though they were drawing on older ideas they were the New Age thinkers of their day and their subjects of inquiry included their own selves.  Jan Golinski of the University of New Hampshire has studied their daily routines.
Golinski
Many of the individuals who were at the forefront of what we call the scientific revolution, the new science of the 17th Century, thought about themselves in terms of their health, their fitness, the ways they were taking care of themselves.  They thought about it a lot.  And they thought about it because it was a condition of them being able to do the scientific work that they wanted to do that they'd be in good shape physically and mentally.
Chanting
My body's the temple.
Do you skip meals?
Never go to bed hungry.
My body's the temple.
Robert Boyle, for example, a leading member of the Royal Society in the 1660s, Robert Boyle was very concerned with all sorts of aspects of his intellectual and physical wellbeing.  He believed he had to discipline his mind in order to make it fit for use in his scientific investigations.
Clip – Self-Help Guide
Do you want improved concentration?  Do you want to start right now with one simple brain exercise?  Got a few short minutes to learn something that might just change your life?  This mental fitness personal training video will teach you one of the most powerful…
So he would do arithmetic and mathematics to make his mind work more efficiently.  He was very worried that sometimes his thoughts would spin out of control and he would have the sense that his mind was wandering or as he called it "raving" and this was something that needed to be reined in in order for the mind to work properly.  And he also took a great deal of care of his physical wellbeing, so diet was important, diet should be in general very modest, not involve too much meat or wine but vegetables and foods that were thought to not excite the system too much.  And Boyle was also celibate – he was never married and he may or may not have had any sexual experience in his life.  For him celibacy was a deliberate policy, he thought that that was the appropriate state for somebody who intended to be a philosopher or a thinker.
Ince
I think Newton as well, as far as I know, never partook in any sexual activity either.
Golinski
That is what he apparently told his doctor on his deathbed.
Ince
In the 17th Century universities were still a bit like monasteries, so it doesn't surprise me that the almost ascetic attitude to mind and body was explored there, but what does the wider world of specifically medical literature of the time tell us? Erin Sullivan of the Shakespeare Institute, University of Birmingham.
Sullivan
I think really from the mid-16th Century you start to see medical handbooks are what are sometimes called regimens being printed.  So something like Thomas Elyot's The Castle of Helth and then lots of other books like that which are really using humoral galenic medicine, as it was called at the time, a kind of medicine that came from ancient Greece and Rome and then through the Medieval period into the early modern period and really focused on the idea of moderation and balance.  So you wanted to keep everything in your body in balance and you could do that by changing what you ate, how much you exercised, what kind of air you breathed, how you regulated your emotions.  There were these six kind of factors that people had some sort of control over and a lot of these books were a kind of guide to what the different humours or substances in the body were and how you could affect their sort of ebb and flow inside yourself.
Ince
I wonder for how long do we really see - how many centuries are we seeing just rewritings of what the great classical philosophers had already written about?
Sullivan
I think it's a period - we tend to think of progress in terms of the future being better than the past but I think you kind of have often an inversion in the early modern periods of actually the past was better and we're kind of slowing decaying from it.  So actually a recapturing of that classical knowledge was really important.  But I think it's also important to say that sometimes we just think oh well they were simply just taking what other people said and just using that over again.  But often there's a kind of a careful editing and re-contextualisation, so in something like Burton's book, which is huge and compendious and thousands and thousands of words and it sometimes seems like quotations from all these different authors.  But the way that he puts them together, the way that he reads through this whole library of different authors and then brings them together in this anademy which eytomologically is linked to the idea of analysis, this kind of cutting up and ordering is really important and it gives a kind of new spin on what is absolutely a sort of celebration of old knowledge.
Ince
I've been holding for the whole of this this tremendous weight copy of The Anatomy of Melancholy, which is a very good exercise, it's actually one of the bits of advice, it says – it says "hold this book for a while for health".  And what is about the The Anatomy of Melancholy by Robert Burton which means that it is still published now, that you have – Anthony Burgess talked about how much he enjoyed reading it, we've had various different introductions in the 20th Century, a 21st Century introduction and it is an incredibly hefty tome?
Sullivan
Burton's Anatomy of Melancholy follows on in the tradition of medical regimens, these handbooks to health, but it does so in a much more extraordinary way, it literally bursts the sort of boundaries of what was being done before.  Burton's book draws on that tradition of talking about the four humours of the body, so the idea that the body is composed of these four liquid substances that need to be in balance and when they're not in balance that's when you start to have disease.  So it draws on the tradition of thinking about how we start to try to regulate those because it is a period in which, at least from our point of view, there's not too much that can be done once disease is really extreme.  So although they do have therapies in the period that they think help disease there's certainly a really strong emphasis on preventing it from the start – living a healthy life so that you don't have some kind of imbalance that becomes a disease that can't really be stopped.  But Burton's book takes all of that and expands it, in some ways it's a classic tome of humanism because it has that medical thought, it has the philosophy that a lot of the medicine is based on but it expands it in all different directions and he's a great reader and it's also important to remember that he's not actually a doctor himself, it's something he talks about in the book, he's trained as a theologian, so it's very religious as well but he says that he's done lots of discussions with people who are doctors.  And also in the period there's definitely an idea that the physician and the theologian work together because in a sense they're both doctors, one of the body and one of the soul, so he says in order to have, what he calls an "absolute cure" you have to have knowledge from both kind of realms to treat yourself, to help yourself.
Ince
Do you think in the 21st Century you – you've studied it a great deal – do you – can you still personally get something from it, do you think beyond the fact that it's a witty piece of work, it's a beautifully written piece of work, do you still – do you find yourself thinking do you know what that is a good way of thinking about this particular part of my existence, can it still work in that way?
Sullivan
Yes, I mean I think so.  I just find – I think the thing for me that really makes the anatomy a great book is how funny it is and that's not something that people would necessarily expect going into it both in terms of the size and the topic and the period that it was written in, given the fact that Burton was basically a very cloistered theologian in Oxford.  But actually it is very funny and it is more conversational than I think people expect.  He's kind of in conversation with all these different writers but also these different ideas and in that sense, actually, although the book is talking about a lot of therapies that we might describe as self-help therapies, how to feel better, how to think better, how to live better and how to do that, actually probably the biggest therapy in the book is reading the book itself.
Ince
We're in the Royal College of Physicians looking at old books in a very modern building, 1964 designed by Dennis Lasdun and he also designed the National Theatre.  I'm joined by Katie Birkwood, who is the rare books librarian, and we're looking in one of those tremendous glass cases which has pewter jugs and various different pieces of the memories of physicians past.  And there's a book in here called An Essay of Health and Long Life.
Birkwood
Some people have described the books written by George Cheyne, the author of An Essay of Health and Long Life as one of the first self-help authors.  This book is a preventative guide to how to stay well, rather than a book that deals with how to cure yourself once you've become sick.  So it deals with eating and drinking primarily and what you should eat and drink to keep yourself healthy and what you shouldn't eat and drink to prevent yourself becoming sick.
Ince
Well you've got a copy there – the fourth edition.
Birkwood
Certainly we could have a look at the list of contents.  He does say in the preface to the fourth edition:  "I have consulted nothing but my own experience and observation on my own crazy carcass and the infirmities of others I have treated in the following rules their reason and philosophy so that if anything is borrowed it has occurred to me as my own".  The first chapter is on air, including the different winds – the westerly wind, the southerly wind – the effects of cold and moist air, various things like that.  The second chapter is on meat and drink and this is extremely extensive.  So, for example, it says that you should have a frugal lifestyle, that you ought to drink milk and not alcoholic drinks, that you should stay away from meat, those sorts of things.
Ince
That does seem to be in a lot of the books it is about ….  I mean what was the diet for – I mean presumably most of these people who would have been reading the book and who it was for had a level of privilege that meant they had some variety beyond kind off green meat and potatoes.  So where were they going wrong, who were they trying to – what were they advising against?
Birkwood
Well I think the traditions that they were trying to fight against was the idea of excess and the huge banquet and the fine dining and the rich foods and the eating a lot because you could demonstrate that you had the resources to do so.  So the rare meats and the lots of sugar in your diet and that sort of thing.  So ill effects, for example, of drinking wine plentifully to digest too full a meal, so if you've had too much to eat don't top it up with lots of wine because it's not going to help.
Clip – The Fat Controller
Unbeknown to Irene Debs has asked the Fat Controller, Gillian McKeith, to spy on her pal's bad habits and having seen what she eats Gillian's about to stop her in her tracks…
Ince
So in some ways we've got no further have we, I mean we still – these books are still being written and is it in the end people's kind of lusts and desires will not be stopped by George Cheyne or anyone in the 21st – what are the other – of our evacuations, of exercise and quiet.
Birkwood
Yes and the further chapters – chapter 3 is of sleeping and waking, chapter 4 is of exercise and quiet, which certainly again you'd find in any modern book wouldn't you – move a bit but do some meditation too, that sort of thing.  Chapter 5 is of our evacuations and their obstructions, this is one of the preoccupations of the early modern physician that the only ways you could diagnose people were by how they looked, by things like their pulse that you could easily feel through their skin and then through what was being emitted from their bodies.  So were they being sick, did they have lots of phlegm coming from their nose and what were their evacuations from the bowels.  And so those analysis of those, analysis especially of the urine as well and what colour is the urine and what does that indicate.  And a lot of the remedies prescribed are to do with balancing the humours by balancing these sorts of excretions so a remedy might be given to you intending that it will give you diarrhoea essentially, something laxative.  It might be as simple as soaking some figs in some wine for a while and then drinking that wine and then get the effects of the figs.
Ince
Well that's still the – is it the Bristol stool chart which is where if you ever go in for a nutrition thing they will go let's have a look, which one matches yours?  And can I just – how many times was that reprinted, I mean how long did George Cheyne's book remain relevant?
Birkwood
Certainly round to nine editions.  When it was first published it ran to several editions very quickly, certainly when it was first published in 1724 and we've reached the fourth edition by 1725, which would be good going for anyone at any point in printing history I think.
Ince
Kate, in the library where do you – is there a change from books which were very specifically written for what one might call the learned men and then to those that were considered for a mass audience, that were written in the vernacular?
Birkwood
Yes I think so, I mean we have books that were written for a popular audience that date back to the very early days of printing, really certainly from the early 1500s onwards, for example handbooks to health, books called – with titles like The Regiment of Life which present various remedies that people can use at home.  But these are very much in a different tradition to the books written by and for medical men, so these books tend to have remedies that have been – I don't want to say they're old wives remedies because that's a whole different issue – but they're remedies that people have passed down or that have been thought to work in a tradition outside I think physicians in a physicianly setting.  So we have books like that but if a book – you can generally tell at that point whether a book was intended for a lay or a popular audience or for physicians because if it's in the vernacular language – in English or French or something – it's for a popular audience and all the books for physicians are in Latin.  By the time you reach the – certainly the 17th Century there's much more a phenomenon of the book and important treaties might be written in Latin first but then if it's well received it will be translated into English.  But I don't think that these translations of physicians' writings were necessarily intended for the lay audience because they're still pretty tough going and they're not hugely practical, they don't say if you keep having dizzy spells there's something wrong with your neurology and you should do this, they more just describe the structures and the theories and it's not a practical guide, it's still not intended for people to help themselves.
Ince
Erin, who was Burton writing for?  I mean he talks about the clash between writing in English and Latin. 
Sullivan
It's hard to say really, Burton also is quite a literary writer, so I think that the way he addresses this issue of language also it's not unlike what you get 50 or so years later with John Milton when he's talking about why he didn't write Paradise Lost in Latin.  Basically he has a bit of a moan and he says I wanted to write this in Latin because that's the proper language not just for medicine but for all important things but the publishers told me that they wouldn't print it, so I had to write it in English in order to appease them.  Now scholars have debated whether or not this is disingenuous, as they have with Milton, but it certainly is the case that it means that the books takes on a different sort of positioning in the readership, it still wouldn't be kind of widely read, I wouldn't necessarily say a mass audience, but it's definitely – not least because it's so long – but it's definitely true that it's a different kind of audience, it's a home audience because you're not – for the most part – English books aren't going elsewhere so he was writing for England.  And given the fact that actually a lot of medical issues in the period and certainly conditions like melancholy, that are linked to the body but also the kind of spirit and the constitution, a lot of these are cast in nationalistic terms, that this is an especially English condition.  But he does talk about maybe what ways in which the English context is especially vexing for melancholics and that continues actually with Cheyne when you get the English malady, which is taking it in a slightly different direction talking about the spleen and the vapours and the nerves but very much saying that this is an English problem, affliction, and gets wrapped into this idea of national constitution I suppose.
Music
Ince
When the Industrial Revolution came the cities of Britain were transformed leading to a burgeoning middle class of voracious readers, not necessarily well versed in the classics. Science had become alluring. The scientist Humphry Davy, himself a self-made man, was a prototype rock n roll idol, he took drugs and he invented the miners' lamp, not necessarily linked. His last book, Consolations in Travel, was a slightly trippy, if pompous, updated version of a book we heard about in the last episode, Boethius' Consolation of Philosophy. One of the conversations in it is about how science and technology have changed human society forever.
Clip from Consolations in Travel
"Behold", the Genius said, "the printing press; by this invention of Faust the productions of genius are, as it were, made imperishable, capable of indefinite multiplication and rendered an unalienable heritage of the human mind.  By this art, apparently so humble, the progress of society is secured and man is spared the humiliation of witnessing again scenes like those which followed the destruction of the Roman Empire."
The thriving publishing industry was now capable of transporting dangerous ideas vast distances to vast numbers of people.  Ideas like Darwin's on the Origin of Species, but while his work revolutionised the way readers viewed life on earth, Darwin turned to others to try and deal with his own human problems.
Golinski
Darwin experienced all this very personally, I mean he suffered quite severe ill health for much of his life after his return from the voyage on the Beagle and he used to subject himself to various kinds of therapies and he was also very, very cautious about his diet because he suffered all sorts of very embarrassing gastric upsets.  And he even, himself, reflected about this and I think – I think I have the words right, he said:  "What roast beef has to do with the nodal I cannot work out."  In other words he didn't really know what the connection was between what he ate and his process of thinking but he knew there was a connection and he knew that his troubles in his digestive system and elsewhere in his body were severely limiting his abilities to do scientific work.
Ince
Darwin's most famous book was published in 1859, the same year as John Stuart Mills' On Liberty. But neither of those still revered books sold as many copies that year as something written by a Scottish journalist and reformer called Samuel Smiles. Its title was Self-Help and you've probably heard its opening line.
Clip from Self-Help
Heaven helps those who help themselves.
Shapiro
Samuel Smiles was a writer for the Leeds Times and he was approached by the Mutual Improvement Society in 1845 to give a talk and it was later published under the title: The Education of the Working Classes.
Ince
Jessica Lamb Shapiro has written on the history of Self-Help.
Shapiro
These series of talks later became the book Self-Help.  And it basically mixed precept and anecdote and it chronicled the lives of men who succeeded against all odds.
Clip from Self-Help
Biographies of great but especially good men are most instructive and useful as helps, guides and incentives to others.  Some of the best are almost equivalent to gospels, teaching high living, high thinking and energetic action for their own and the world's good.  The valuable examples which they furnish of the power of self-help…
Samuel Smiles really believed that these stories did something.  He wrote that the purpose of his stories was to illustrate and enforce the power of perseverance.  He really believed that biographies were demonstrations of – and this is a quote:  "What men can be and what they can do."
Ince
But despite its title, this was not a manual to mend the broken individual, what Smiles was driving at was a collective excellence, that society itself could realise its full potential if the whole nation could just knuckle down.
Clip from Self-Help
The spirit of self-help is the root of all genuine growth in the individual and exhibited in the lives of many it constitutes the true source of national vigour and strength.
Shapiro
Published in 1859, the same year that Darwin's Origin of the Species was published and Self-Help was the second bestselling book, the first bestselling book was The Bible and Self-Help was number two.  So clearly people connected to these stories and they really clamoured for them.  And I think that in a sense he knew that that was going to happen because his lectures had had such large audiences.
Clip from Self-Help
Keats was a druggist and Sir Humphry Davy a country's apothecaries' apprentice.  Speaking of himself Davy once said:  "What I am I have made myself.  I say this without vanity and in pure simplicity of heart…"
And you know in a sense people liked these stories because they're telling them what they want to hear, so it makes sense that they would be inspirational to them and feel positive feelings when confronted with them.
Ince
In the 19th Century the challenges of living changed for many, from the rural idyll of dropsy and typhus to the urban squalor of cholera and gout.
Shapiro
Well there are two things happening – the Industrial Revolution happens and people are moving into cities for the first time and they're encountering cultures and people that they don't understand and social rules that they don't understand.  So they're really clamouring for guide books and sort of the mid-19th Century there are a lot of etiquette books coming out and they're wide ranging books and these self-help books will tell you everything from how to dress to how to behave at dinner but also how to keep a house, how to raise children, how to be a gentleman and all of these topics would be contained in one book.  So in a sense it's providing rules for an unfamiliar and chaotic new experience.  The other thing is there are a lot of problems happening in cities, a lot of poverty and Victorians were essentially reformers and so I think a lot of the urge to reform was fuelling the self-help movement because it was about reforming the individual and self-help was one way that they could get information to people who again might not have access to it.  So it sort of makes sense that self-help books are coming up at the same time as all of these reform movements.
Music
Ince
While one country was trying to reform society from the bottom up, across the Atlantic, a new country was busy defining itself. The United States was going through the painful adolescence of nationhood. Here was a country eager to pull itself up by its own bootstraps and ready for the self-help sermons of a new breed.
Shapiro
Well there was this idea people were coming to America believing that anything was possible and self-help books were fuelling that idea and a lot of these self-help books at the end of the 19th Century and early 20th Century were stories about people like Andrew Carnegie and the Rockefellers and they were sort of chronicling these very famous men who came and started huge industries.  And that was part of the American dream, is that you could come, you could start over… that we all had equal access to success and that was something that was very closely identified with America as a place where that kind of thing was possible.  And there was more social mobility here than in somewhere like England, the fact that everybody was starting over here and that the country was born only 200 years earlier did actually provide a social mobility that wasn't available in other places.
Clip – Self-help Guide
You have the right to be rich in every way.
Ince
One hundred years on from the charismatic evangelism of 19th Century self-help something feels different:
Clip – Self-help Guide
You deserve to be rich in every way.
Shapiro
Self-help in the 19th Century was very much about duty to society and duty to make the most of oneself and I feel like now in the 20th and 21st Century it's really shifted so much to the individual, where it's no longer – no longer has any connection to society and it's really just about what you can get for yourself.
Ince
There is a paradox in modern self-help ideology, if it ever worked, the industry would die out. Once healed, nobody would need it any more. Next week, we'll explore what the self-helpers did next, how they needed to make friends, influence people, and then take as much of their money as possible.
Music
Broadcasts